Leadership
Indra Nooyi's Leadership Style: Key Insights and Impact
Explore the dynamic leadership style of Indra Nooyi, former CEO of PepsiCo, who revolutionized the company with her vision, empathy, and democratic approach. Discover how her unique journey from India to the United States shaped her perspective and how her impact resonates in today's business world.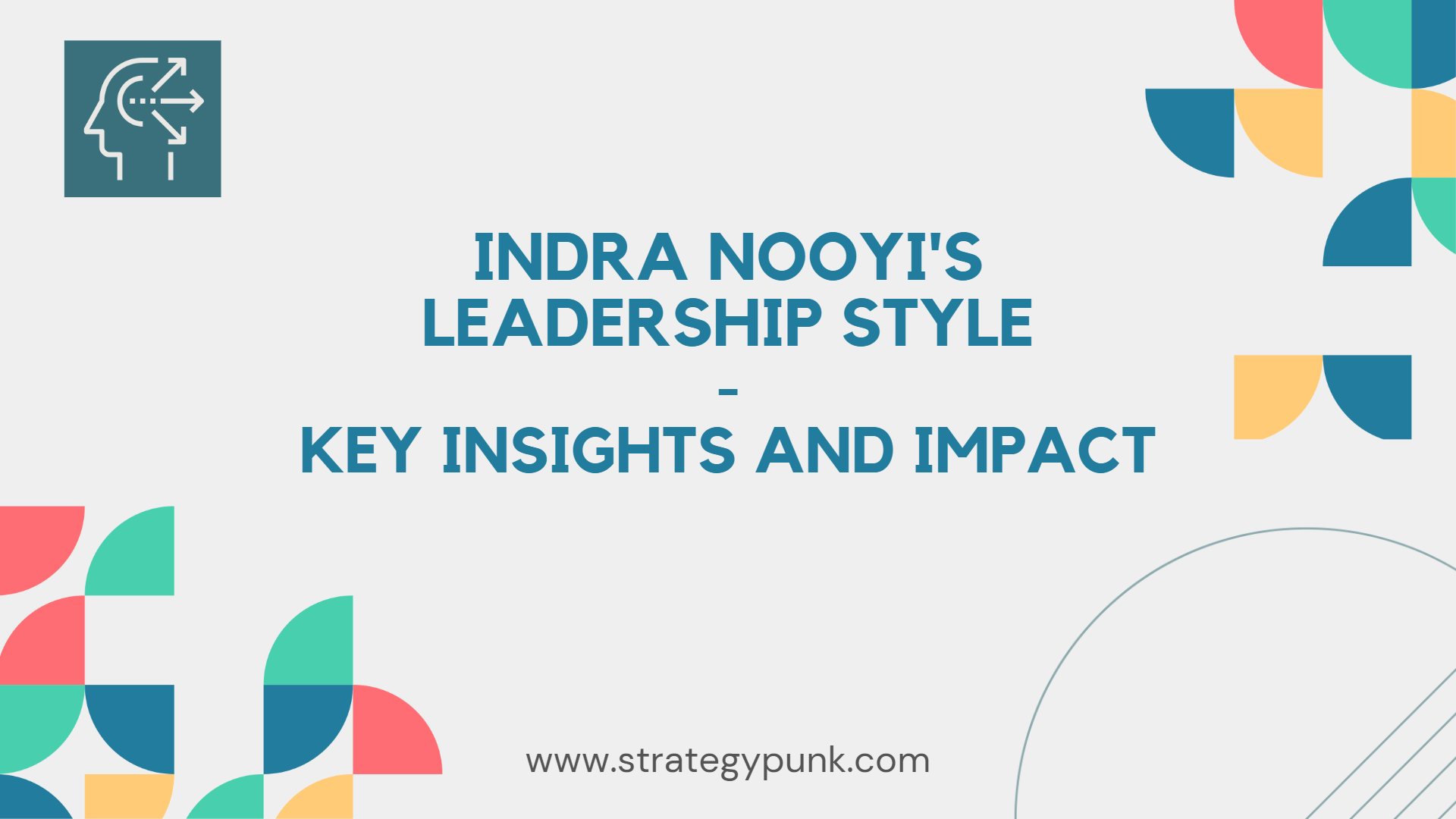 Introduction
Indra Nooyi, the former CEO of PepsiCo, is renowned for her exceptional leadership style that contributed to her success in the business world. Nooyi's journey began in India, where she was born and raised, before going to the United States to pursue a business degree. This culturally diverse background played a significant role in shaping her unique approach to leadership.
One key aspect of Nooyi's leadership style is her democratic approach. This empowered her employees by involving them in the decision-making process. By listening to the opinions of her team members, Nooyi created a collaborative and supportive working environment. This inclusive style allowed PepsiCo to expand under her guidance and brought significant growth and innovation.
In addition to her democratic style, Nooyi demonstrated tremendous empathy and understanding. These qualities allowed her to connect with her employees personally and foster a sense of trust and belonging within the company. Combining these attributes with her strong strategic thinking and commitment to innovation, Nooyi left a lasting impact on PepsiCo and the business world.
Indra Nooyi's Journey to Leadership
Early Life and Education
Indra Krishnamurthy Nooyi was born on October 28, 1955, in Madras (now called Chennai), India. Growing up in a middle-class family, she had a close relationship with her two siblings, parents, and grandparents. Her father worked as a bank official, and her mother was a housewife. Like most neighbors, Nooyi's family was devout Hindus and relatively conservative1.
Indra Nooyi's initial education focused on science, and she obtained a bachelor's degree in physics, chemistry, and mathematics from Madras Christian College in 1976. Her passion for knowledge and a constant drive toward success led her to pursue further education. Nooyi completed her MBA from the Indian Institute of Management Calcutta in 1978. She then moved to the United States as an immigrant to attend Yale School of Management, where she earned her master's degree in Public and Private Management in 1980.
Career Progression
Nooyi's professional career began at Boston Consulting Group (BCG), where she gained valuable experience in strategy and management. Her talent was noticed, and she eventually joined Motorola as a senior executive. Later, she worked at Asea Brown Boveri (ABB), a leading global power and tech company.
In 1994, Indra Nooyi joined PepsiCo, taking on the role of Senior Vice President for Strategic Planning. She quickly made a name for herself by identifying new growth opportunities and focusing on improving the company's overall performance. In 2001, she was promoted to CFO and President. Nooyi's innovative strategies and vision for the company's future led to her appointment as CEO in 2006, making her the first woman of color and immigrant to show a Fortune 50 company.
During her tenure, Indra Nooyi exhibited a democratic leadership style, effectively engaging her workforce in decision-making and ensuring that all opinions relating to the subject matter were considered. Her leadership significantly contributed to PepsiCo's growth, transforming the company into a global powerhouse.
Additional reads
Indra Nooyi's Time as PepsiCo CEO
Major Achievements and Successes
Indra Nooyi served as the CEO of PepsiCo from 2006 to 2018, becoming one of the few female leaders of a Fortune 50 company. She was known for her strong leadership and strategic vision during her tenure, significantly changing the company's product portfolio and operations.
Under Nooyi's leadership, PepsiCo shifted its focus towards healthier products, such as Quaker Oats, Tropicana, and Gatorade, addressing changing consumer preferences and demonstrating a commitment to corporate responsibility. This approach ultimately contributed to increasing the company's overall revenue and performance1.
In addition to product diversification, Nooyi emphasized the importance of sustainable growth and environmental responsibility, spearheading initiatives to reduce water usage, carbon emissions, and waste generation within the company2.
Challenges Faced
Nooyi's time at PepsiCo was challenging. The company faced intense competition from its rivals, such as Coca-Cola, and needed to navigate shifting consumer trends towards healthier food and beverage options3. Moreover, as one of the few women leading a major global company, Nooyi often faced scrutiny and criticism for her decisions, which she addressed with resilience and determination4.
Despite these challenges, Indra Nooyi's tenure as PepsiCo's CEO was marked by a strong vision, dedication to sustainable practices, and growth. She served the company admirably and set the stage for her successor, Ramon Laguarta, to continue leading PepsiCo as a successful and responsible global business5.
Additional reads
Leadership Style and Qualities
Vision and Innovation
Indra Nooyi, former CEO of PepsiCo, is known for her visionary leadership and innovative thinking. She significantly transformed the company's portfolio, prioritizing healthier products and sustainability. Nooyi's strong focus on innovation greatly impacted her ability to navigate PepsiCo through challenging economic times and stay ahead of market trends. Her strategic approach allowed her to identify opportunities for growth and expansion in new areas, such as snacks and healthier beverage options.
Commitment and Passion
Nooyi's commitment to performance and purpose goes hand-in-hand, as she believes in the power of combining business success with social responsibility. Her passion for creating a better future for the company, employees, and the environment helped implement Performance with Purpose within PepsiCo. This strategy resulted in a strong market position and improved the company's social and environmental footprint.
Communication and Approachability
One of Indra Nooyi's most notable leadership qualities is her exceptional communication skills. As a democratic leader, she fostered a culture of openness and approachability, ensuring that her team felt heard and valued. This created an environment where employees could voice their ideas, opinions, and concerns, leading to better collaboration and problem-solving. Nooyi's ability to communicate also allowed her to convey her vision with conviction, inspiring her team to work towards achieving a common goal.
💡
Check out our blog post on the 5 C's of Leadership by Indra Nooyi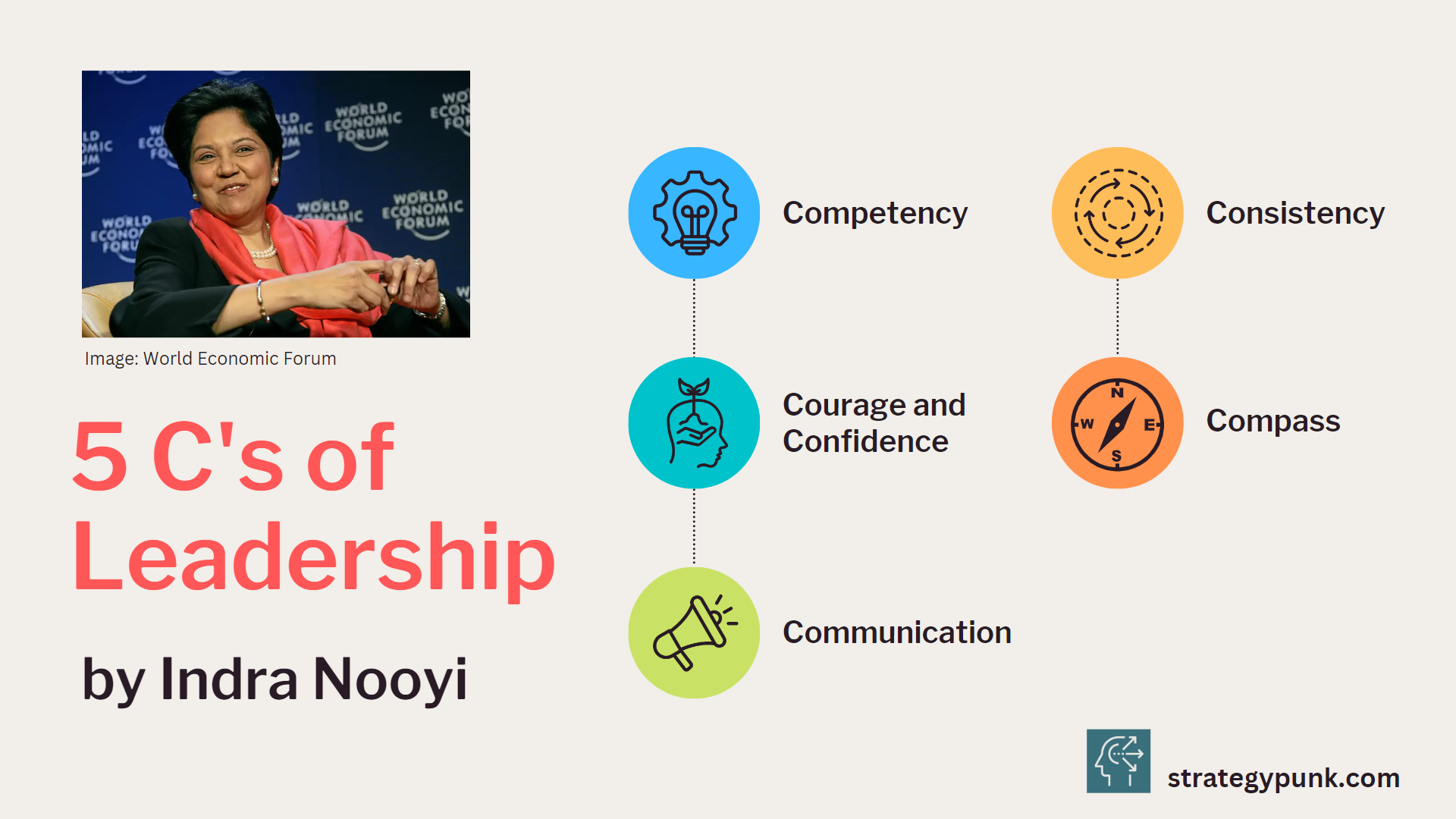 .Impact on Business and Society
Focus on Health and Sustainability
Indra Nooyi's leadership style at PepsiCo had a profound impact on the company as well as society itself. One of her most notable achievements was driving a shift toward health and sustainability. Under her guidance, PepsiCo expanded its portfolio of healthier products, including low-calorie snacks and beverages, while also reducing carbon emissions and promoting water efficiency within the company's operations.
In her tenure at PepsiCo, Nooyi prioritized long-term goals over short-term profits, proving her commitment to society's well-being. Her passion for sustainability extended to the company's supply chain, ensuring that ethical practices and sustainable sourcing were maintained.
Promoting Inclusivity and Diversity
Nooyi's transformative leadership went beyond business operations. As the first woman of color and immigrant to head a Fortune 50 company, Nooyi was pivotal in promoting inclusivity and diversity at PepsiCo. She created an environment that fostered diverse perspectives and backgrounds, empowering her employees to bring their whole selves to work.
Her efforts transcended the boundaries of PepsiCo and inspired other organizations to invest in creating a more inclusive workplace. Nooyi's background as an immigrant and understanding of diversity's value made her a powerful advocate for change within the business world and society.
Nooyi's success is not just limited to her role at PepsiCo but also extends to her influence on future generations. By sharing her journey and experiences in her book, "My Life in Full: Work, Family, and Our Future," she provides guidance and inspiration to young professionals, especially those from minority backgrounds who aspire to succeed in business and life.
In summary, Indra Nooyi's leadership style has left a significant impact on both the business world and society as a whole. Her focus on health, sustainability, inclusivity, and diversity demonstrated her commitment to improving people's lives worldwide, paving the way for a brighter, more inclusive future.
Influential Role Model
Breaking Barriers to Business
Indra Nooyi's leadership style has long been considered an influential role model, especially for young professionals and aspiring executives. As the former CEO of PepsiCo, she nurtured talent in turbulent times and inspired others to follow in her footsteps. She has continuously broken barriers in a field often dominated by male CEOs, illustrating that gender should never be a limiting factor in leadership opportunities.
Personal Life and Achievements
Indra Nooyi, born in India, earned her bachelor's degree in chemistry from Madras Christian College in 1976 before obtaining her master's degree from the Indian Institute of Management two years later. After moving to the United States, she continued to excel in her studies and earned her business degree. Throughout her journey, Nooyi has shown young professionals worldwide that balancing personal life and achievements can lead to great success. Her story has inspired many others to pursue their dreams fearlessly, regardless of cultural or social barriers.
Some critical aspects of her leadership style include:
Consistency: Nooyi has maintained a consistent approach to her work and leadership, which reflects positively on her ability to lead and motivate her team.
Calm self-assurance: Her ability to remain calm and self-assured, even in challenging situations, has set her apart as an effective leader.
Our Future and the Impact of Role Models
Indra Nooyi's story reminds us of the importance of having strong role models in our lives. The lessons she has taught through her success and leadership encourage the next generation of business leaders to dream big, work hard, and break through any barriers that may stand in their way. As a result, she has profoundly impacted shaping our future, urging aspiring leaders to forge their paths in pursuit of success.
In her autobiography My Life in Full, Nooyi candidly shares her experiences, wisdom, and advice that have been instrumental in her success. By being an influential role model, Indra Nooyi continues to impact the lives of many individuals and the broader global community.
Final Thoughts on Indra Nooyi's Leadership
Indra Nooyi's democratic leadership style played a crucial role in her success as the CEO of PepsiCo. By involving her team in the decision-making process, she created a sense of ownership and pride among her employees. This approach built solid relationships and fostered a positive work environment that allowed PepsiCo to thrive.
Nooyi cultivated a strong reputation for nurturing talent in turbulent times by focusing on the power of purpose in driving business success. She encouraged her team to focus on long-term goals, fostering trust and empowering individuals to make meaningful contributions to the company. These qualities have impacted those who worked with her, as many continue to admire and respect her leadership skills.
While Nooyi's tenure at PepsiCo may be over, her leadership influence resonates in business. Her emphasis on collaboration, trust, and a strong sense of purpose guides future leaders looking to make a lasting impact in their organizations.
Additional Resources
If you're interested in learning more about Indra Nooyi's leadership style and her experiences at PepsiCo, consider the following resources:
Check out Nooyi's website, where she shares her thoughts, discusses her principles and goals, and gives insights on how performance and purpose should go hand-in-hand for a company.
For those interested in the lessons Nooyi's leadership offers, this Forbes article highlights the value of a broad education, global thinking, and calm self-assurance that have contributed to her success.
Lastly, it's important to remember that Nooyi's leadership style has evolved as she has faced challenges and learned from her experiences, making her an exceptional leader and an inspiration for many.