Leadership
Panel Discussion: Free PowerPoint Template
Panel Discussion: Free PowerPoint and Google Slides Template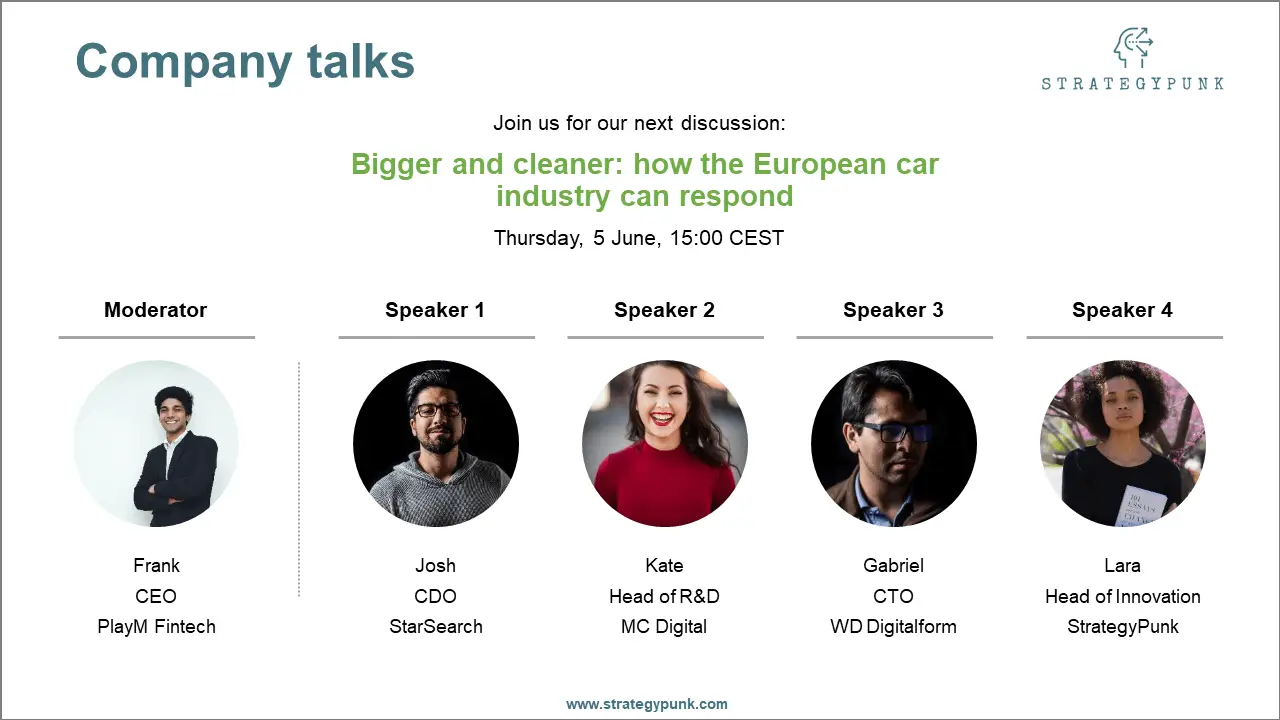 Introduction
Moderating a panel discussion can be a daunting task. But, panel discussions are a great way to bring together people with different viewpoints and opinions to discuss a relevant and vital topic.
With our Panel Discussion Template, you can rest assured that you'll have all the tools to make the experience memorable for all the right reasons.
This PowerPoint template is perfect for anyone who wants to host a successful panel discussion. It has the basic structure to make the experience memorable for all the right reasons.
What is a panel discussion?
A panel discussion, or simply a panel, involves a small group of knowledgeable people gathered to discuss a topic or question in front of an audience.
Typically, panels include a moderator who leads the discussion and often consists of the audience with questions. The overall goal of a well-prepared board is to be informative and, at the same time, entertaining.
Panel discussions are a valuable format for internal and external company events.
How to moderate a panel discussion
Moderating a panel discussion is an art in itself. It requires a lot of patience and engaging with different personalities. There is no one-size-fits-all approach to leading a successful panel. However, there are a few things that all good moderators should keep in mind.
First and foremost, it is essential to set the tone of the discussion. A good moderator will ensure everyone feels comfortable and has a say. This is especially important in a diverse group like a panel.
It is also essential to keep the discussion on track. While letting the panelists speak their minds is good, a moderator should ensure the debate is headed in the right direction.
Finally, a good moderator should be prepared for anything. There is always the chance that things may get heated or out of hand. A good moderator can defuse the situation and keep the discussion going.
How to organize a panel discussion
Panel discussions are ideal for engaging many people about a specific topic. Panel discussions can be held in person or online, and they are especially suited for highly charged issues that need to be discussed calmly and constructively.
To organize a panel discussion, determine the event's purpose and what the attendees expect to learn. When you know what you want to accomplish, planning a successful event is more accessible. Could you consider whom to invite and what topics to include in your presentation?
You can also include an agenda with topics for each speaker so that everyone knows what they will be expected to discuss. Setting up a panel discussion does not have to be difficult or time-consuming, but it does require prior planning and organization.
Lastly, please ensure everyone is comfortable with one another before you start. You want participants to feel confident and relaxed, which can lead to them shutting down or not participating.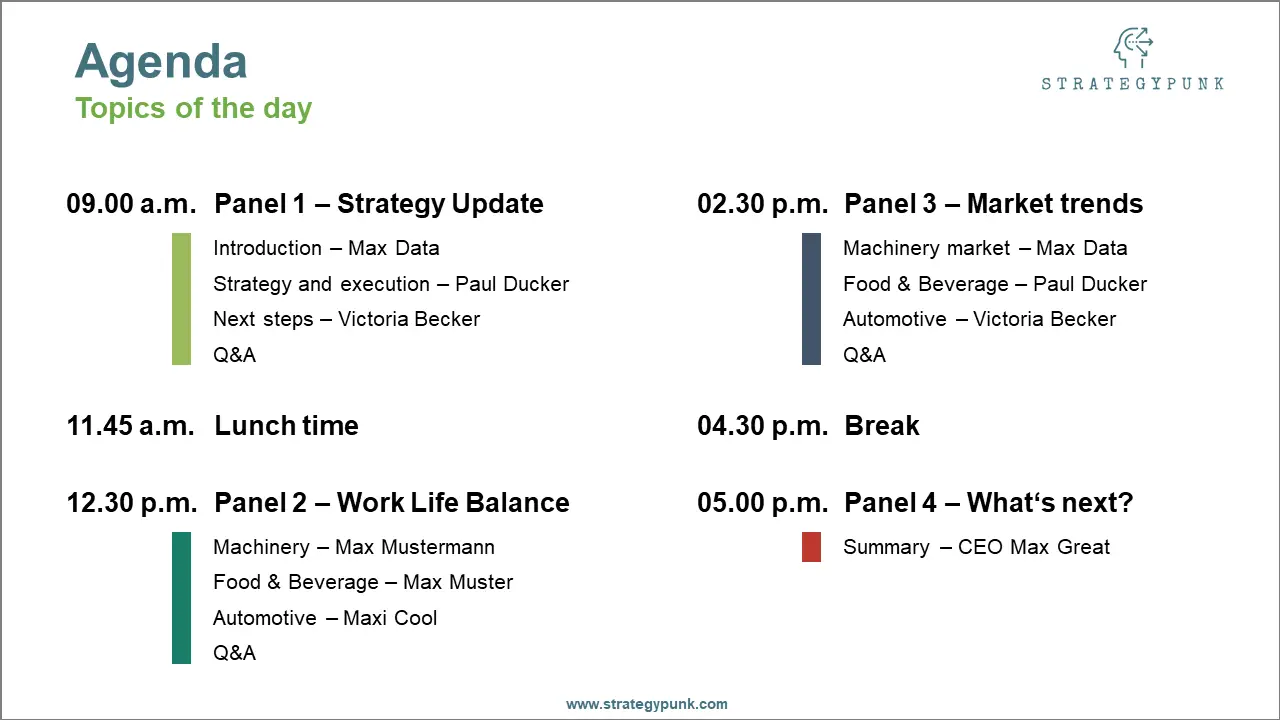 How to conduct a virtual panel discussion
A virtual panel discussion (VPD) is an online format facilitated by a moderator. Participants are invited to submit questions for a group of experts to answer. The moderator can then choose which questions to highlight and add them to the discussion.
In a VPD, participants have a say in the direction of the conversation. They can choose what to talk about and when and jump into the conversation at any point. This leads to more active participation and can foster deeper learning.
To conduct a successful VPD, it's essential to ask yourself the following questions
How do you want your participants to feel after they participate?
How will you keep them engaged throughout the conversation?
What content do you want to present?
What are your goals for the conversation?
What will success look like?
What is a panel discussion example?
A panel discussion occurs when a group of start-up founders hosts an open debate on finding a company and scaling it into a unicorn.
What are typical panel discussion topics?
Typical panel discussion topics could be:
Solutions for the Environmental Crisis
The Crypto Future
How to retain key employees
AI & Automation
Future of Work
How to manage a digital transformation?
Panel Discussion Template
in PowerPoint and Google Slides format
Panel Discussion PowerPoint Template
This slide deck contains three different layouts:
Standard five-people layout
Standard five-people layout with the central panel question and time
Special sofa panel layout for more easygoing panels.
The pictures of your panel participants can be inserted into the slides within seconds via the selected placeholder function.
In addition, two agenda slides are included in the slide deck for several panel rounds throughout a session or day.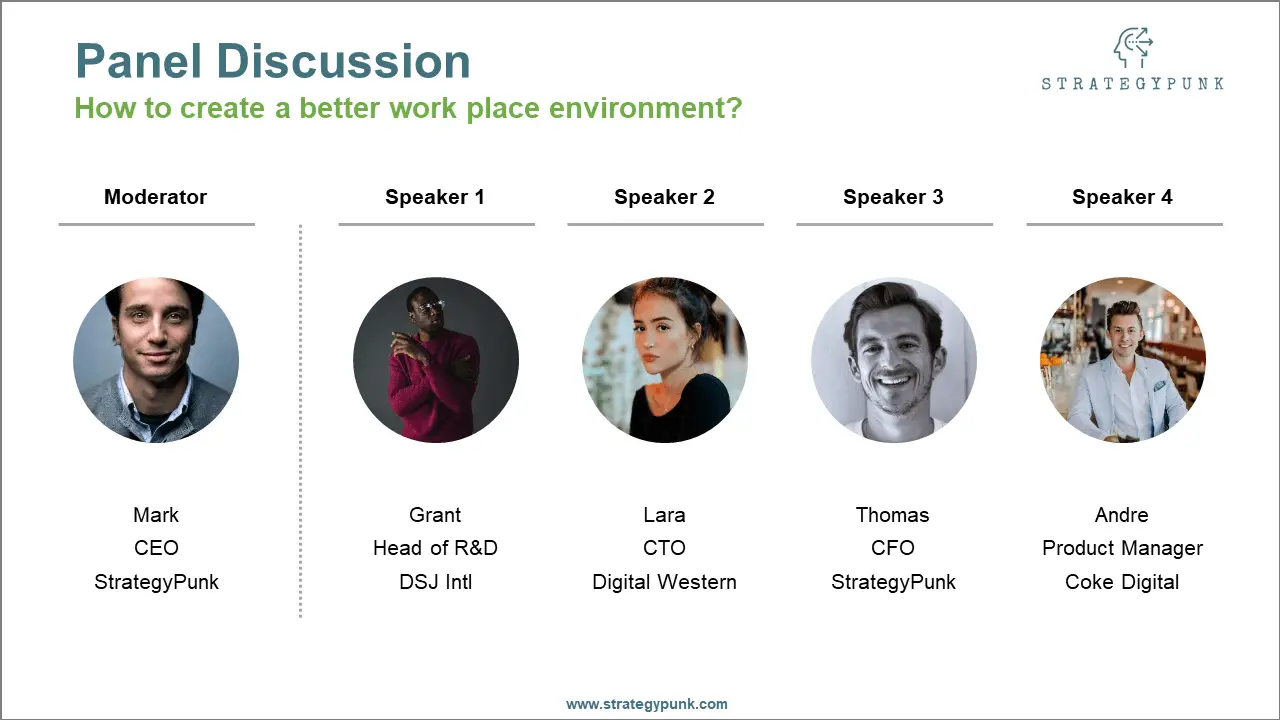 Panel Discussion Template Google Slides:
Panel Discussion Template PowerPoint: