Strategy
Startup idea validation template: 6 criteria to validate your startup idea
Startup idea validation template. 6 criteria framework in PowerPoint, Google Slides, and PDF to validate your startup idea.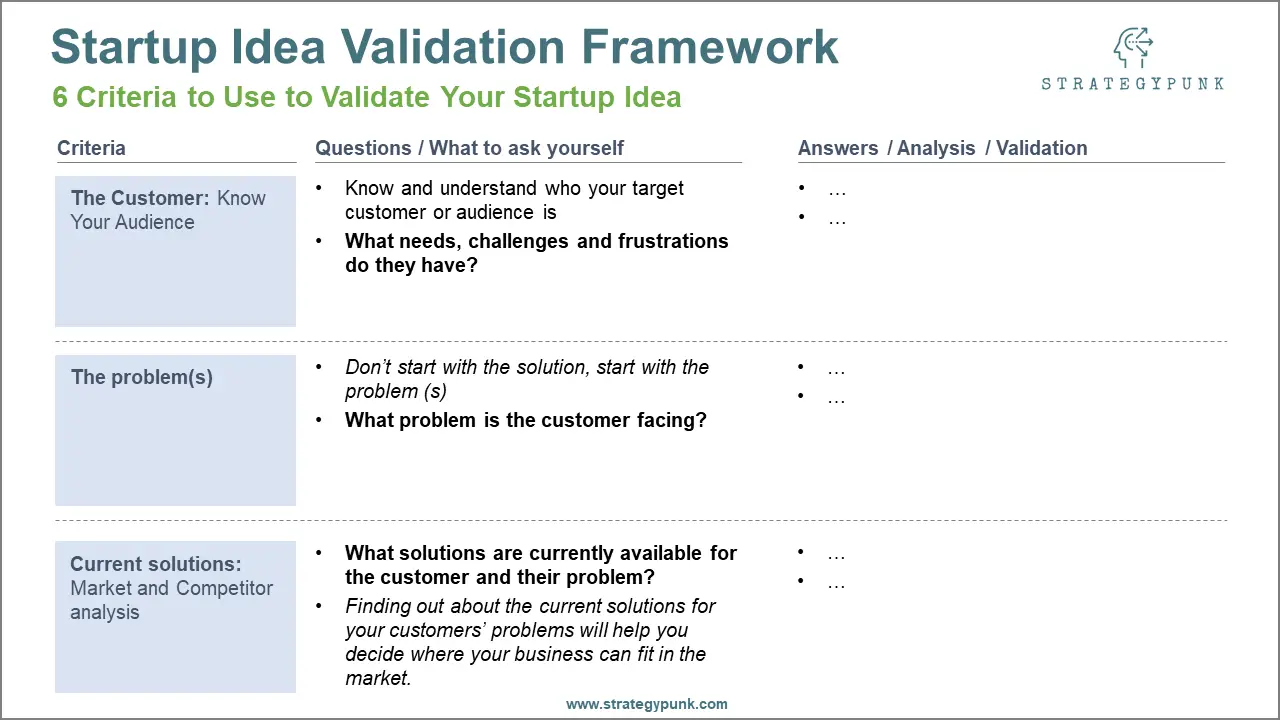 Introduction
You know that sinking feeling you get when you come up with a great idea for a startup, but can't figure out if it's worth your time?
Even the best entrepreneurs struggle when it comes to validating their ideas. The key is not to let it stop you from exploring your ideas. Instead, you need to figure out if your idea has potential and how you can test that.
There are many ways to evaluate a startup idea, but the 6 criteria of our startup idea validation framework will help you determine if your startup idea has wings or falls short.
It's common for people who launch startups not to give themselves enough time to validate their idea before they begin developing their business further. This article will provide helpful steps for evaluating your startup idea so that it has a high chance of succeeding once you begin building your startup. At the end of this post, you find our free and fully editable PowerPoint, PDF, and Google Slides templates.
---
---
What to keep in mind before you apply the startup idea validation template
Don't start with the solution, start with the problem.
Be careful with making assumptions early about the customer, study the data
Tailwinds increase the odds of success (tech disruptions or adoption, regulatory, belief, etc)
Keep a change log of all the changes you make in the development of your startup idea, always go back to your assumptions and challenge them over again
---
When to apply the startup idea validation framework
You haven't picked a startup idea yet
You are worried that your startup idea isn't good enough
You want to challenge your assumptions
You want to discuss your startup idea with family and friends (in a structured way)
---
---
How do you validate a startup idea? 6 criteria to validate your startup idea.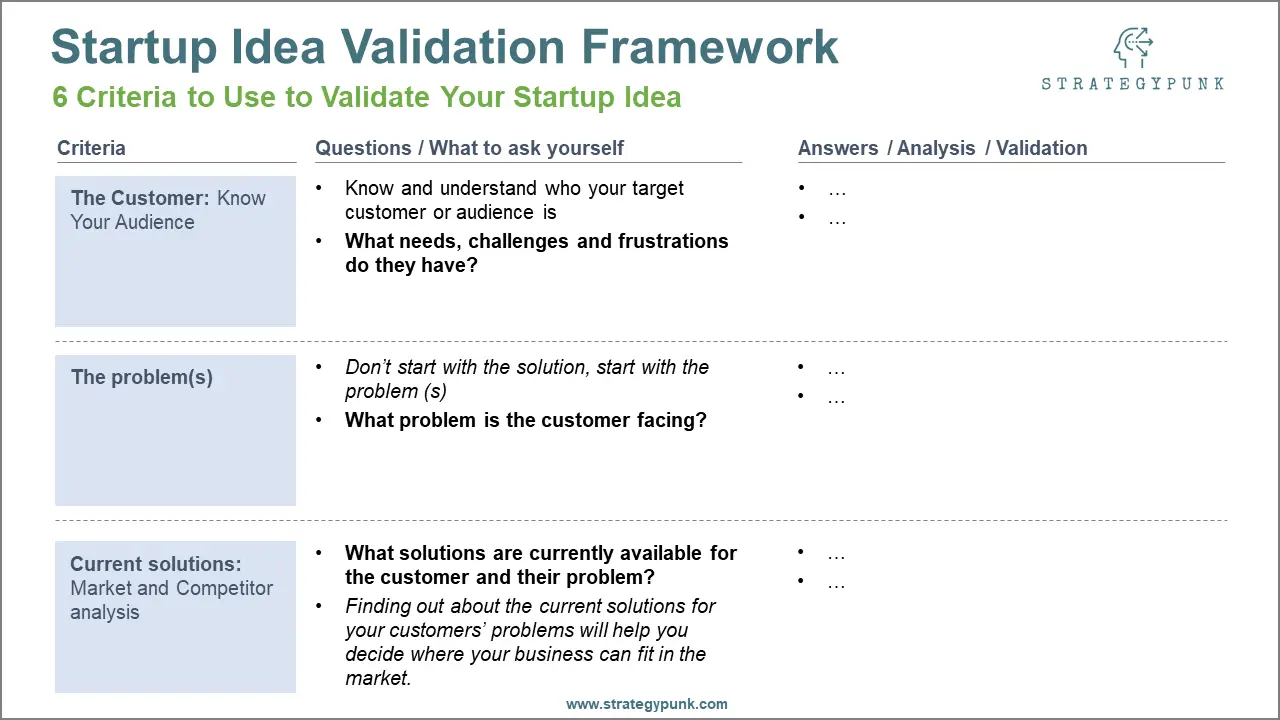 1. The Customer: Know Your Audience
At the start of each business, it is important to know and understand who your target customer is. What needs, challenges and frustrations do they have?
The more you know about them, the easier it will be to create an effective marketing strategy that will lead your customers to you. The first thing you need to know is who your audience is and where they are.
Wherever you go to understand your customer and audience, make sure that you ask questions to get the most out of your conversations and validate the demand. In some cases, it might make sense to create a customer persona.
2. The problem(s)
What problem is the customer facing? You should also learn about the problems your customers are facing. What makes their daily lives difficult? What events in their lives cause them stress? Why are they dissatisfied with their current solutions? Again, talking to your friends and family is a great way to find out. You can also read reviews on popular websites, forums, and blogs, to find out what people are saying about their problems. Once you find out what their problems are, keep these in mind while you create your product or service. This will make it easier to create a solution that solves their problem.
3. Current solutions: Market and Competitor analysis
After you have identified your customers and their problems, you should find out about the solutions that are currently available for them. Where are people going for help? What products and services are they buying? What websites and apps are they visiting? Finding out about the current solutions for your customers' problems will help you decide where your business can fit in the market. If there is already a lot of competition in the market, it might be harder to find a place for your business. But even if there is a lot of competition, there might be ways to find a niche so that your business is still successful.
---
---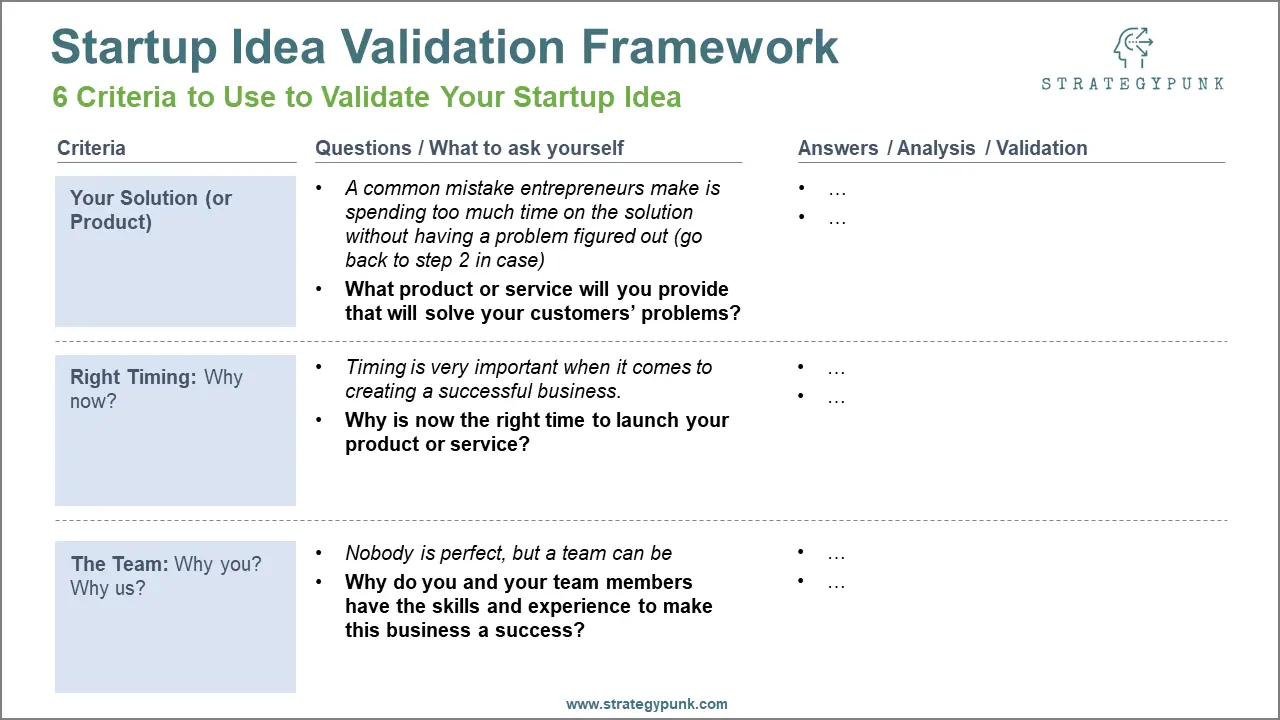 4. Your Solution (or Product)
Next, you should decide what your solution will be. What product or service will you provide that will solve your customers' problems? A common mistake entrepreneurs make is spending too much time on the solution without having a problem figured out (go back to step 2 if this is the case). How is your product or service going to solve your customers' problems? If your solution isn't successful, then it doesn't matter how good your idea was in the first place. One of the best ways to test your solution is to talk to potential customers.
5. Right Timing: Why now?
Timing is very important when it comes to creating a successful business. Why is now the right time to launch your product or service? What makes your product or service different right now than it will be in the future? What is happening in the world that makes your product or service more necessary than it was before? What are your competitors doing that will make it harder for them to compete with you? There are many questions you can ask yourself to determine the best timing for your product or service. If you can find a way to tie your business's launch to current events, you will have a better chance of success.
6. The Team: Why us?
Nobody is perfect, but a team can be. Why do you and your team members have the skills and experience to make this business a success? If you don't have the skills that you need to make your business successful, you can always hire someone who does have those skills. But you should be able to prove that your team has everything they need to make your business a success and get the idea off the ground. What makes your team members great? Why are they the best people for the job? You can do this a few different ways. You can write a compelling team profile on your website. You can also write a detailed resume for each member of your team and include it in your startup deck.
---
Startup idea validation template: Wrapping Up
The last step in validating your idea is to analyze the results of your research. Once you have conducted your research, review the information you gathered and look at it critically to determine if your startup idea is truly valid. If you followed these steps, you will have a clearer understanding of whether or not your idea is strong enough to become a successful business. The better your idea is, the better your chances are of creating a successful startup.
Now you have an idea about how to evaluate your startup idea, so get to work!
---
---
Further Resources and Links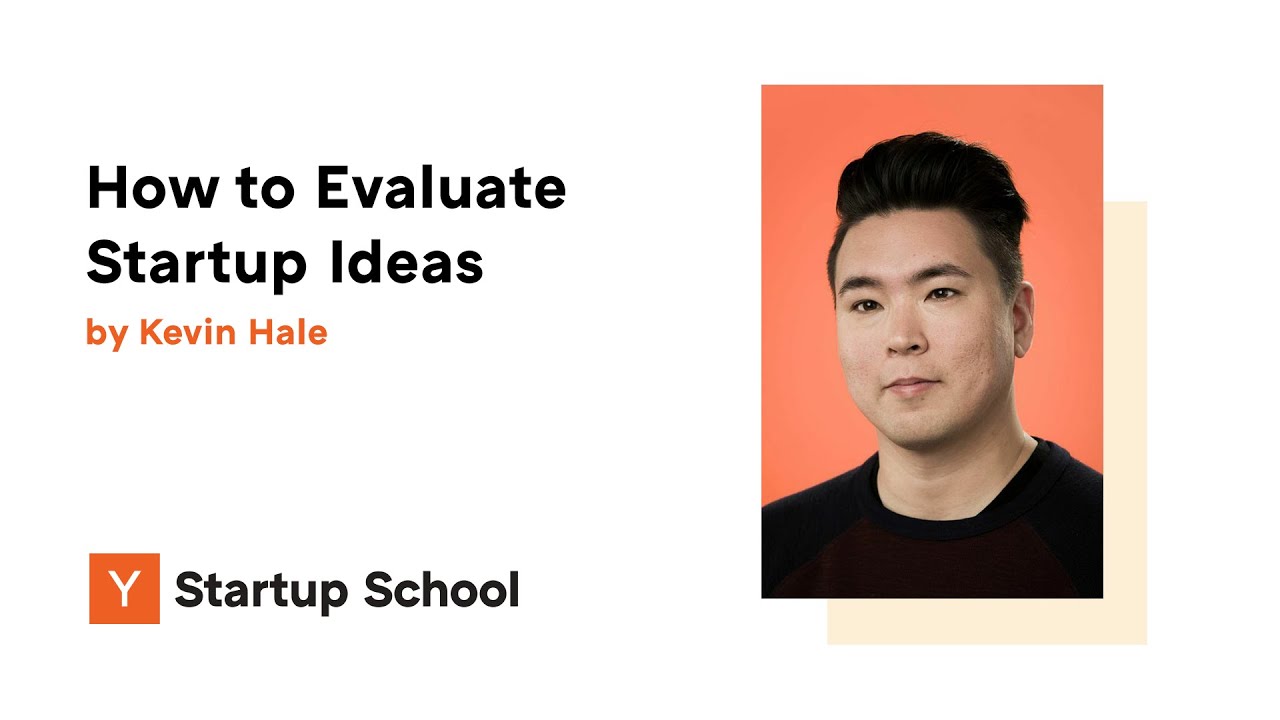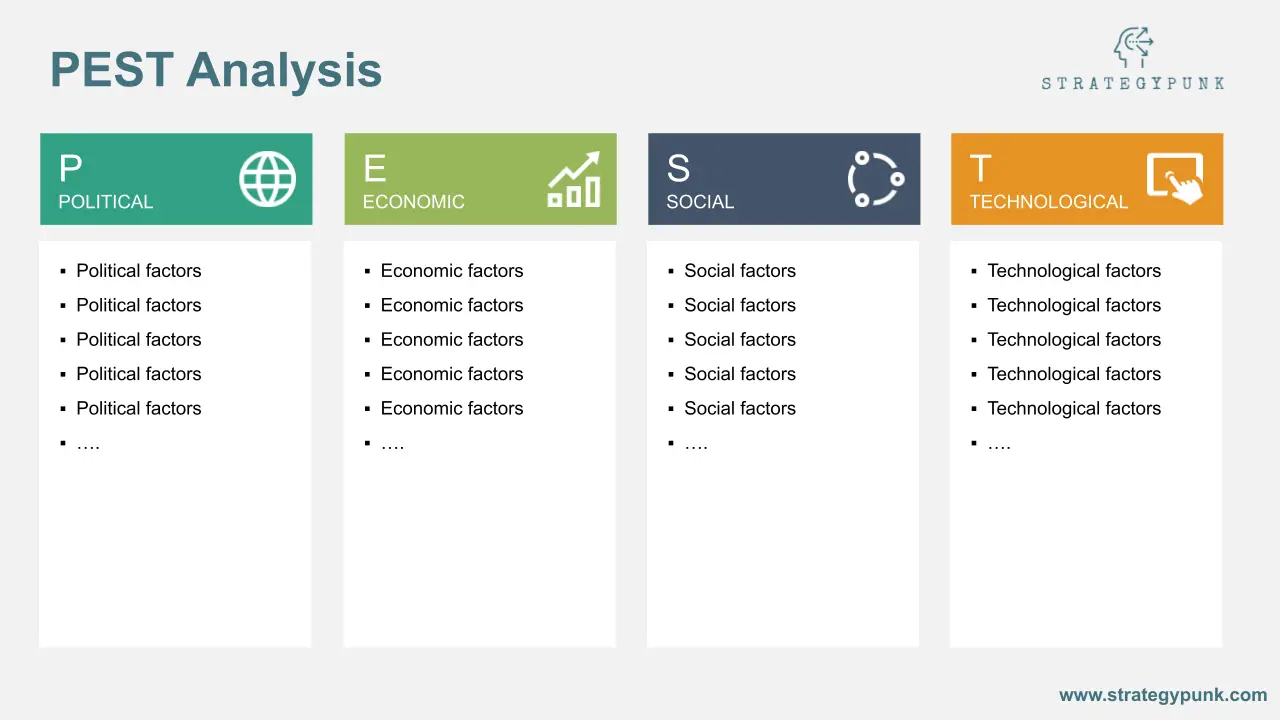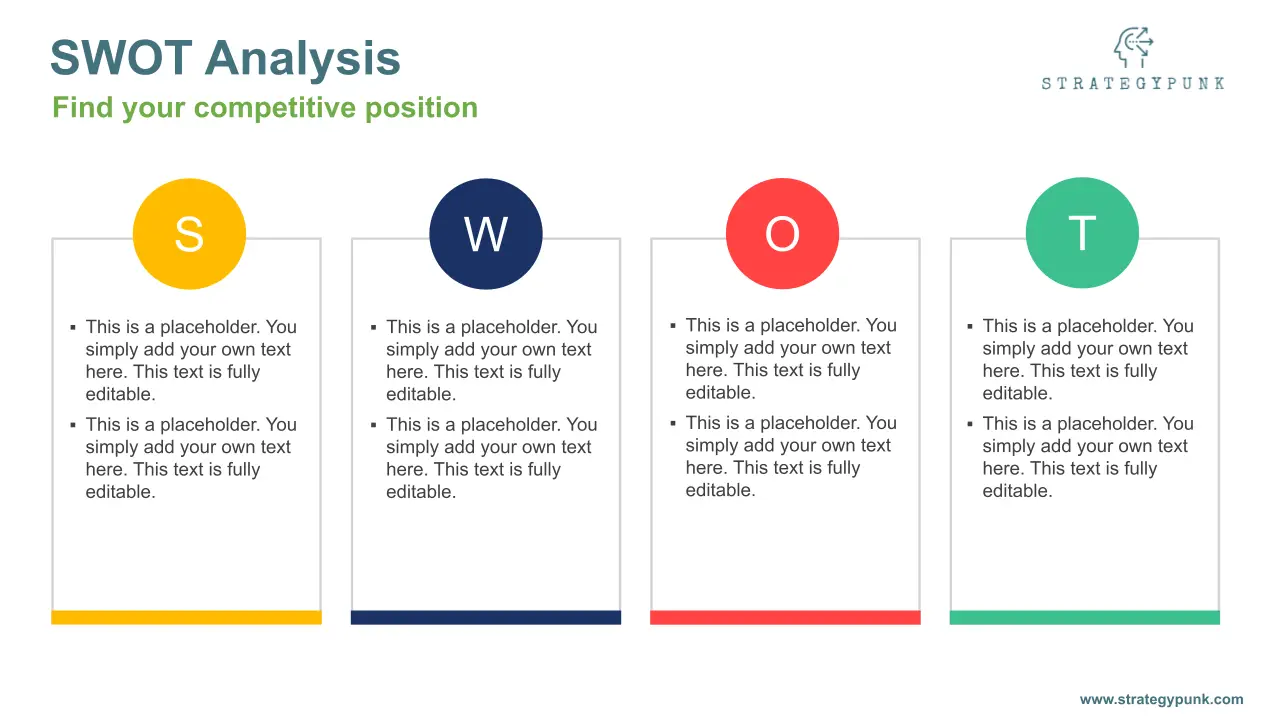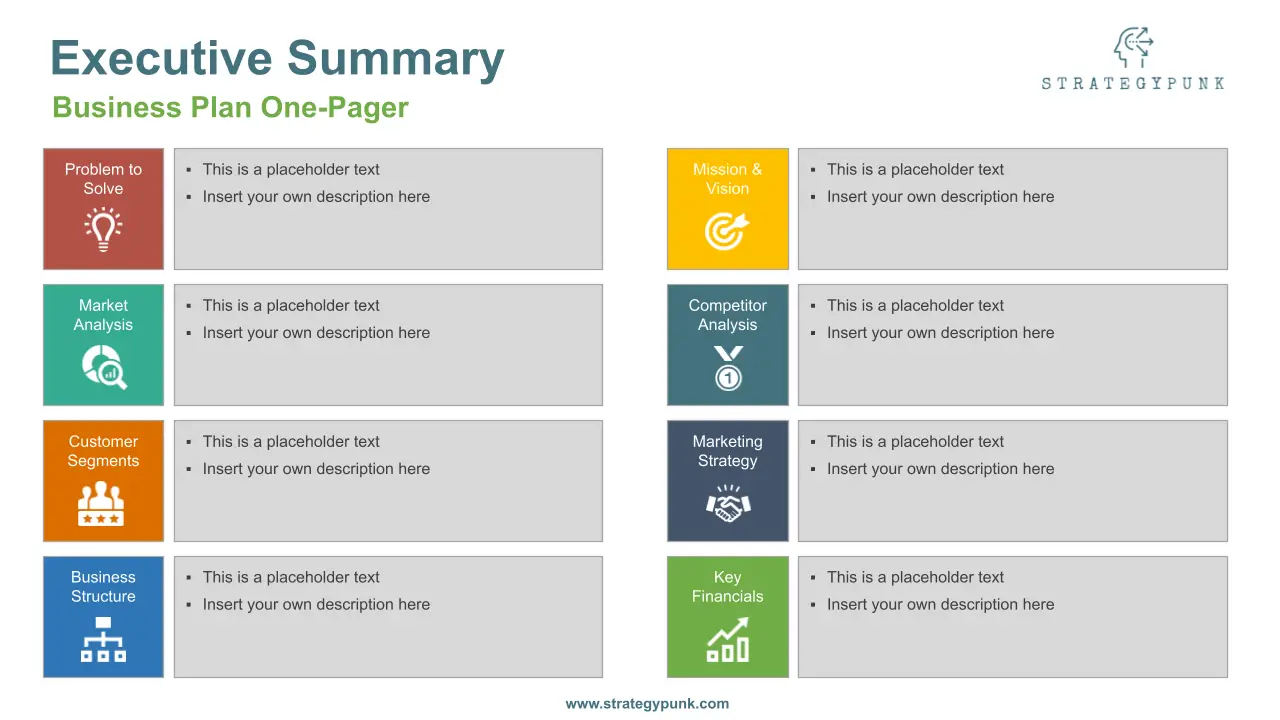 Startup idea validation template
in PDF, PowerPoint and Google Slides format
Startup Idea Validation Template PDF
Please subscribe and sign in to download the template in Google Slides or PowerPoint format for free below.