Strategy Q&A Corner
The 10-Step Guide for a Successful Strategy Presentation
Discover essential steps and best practices in 'How to Write a Strategy Presentation.' Elevate your approach and effectively communicate your strategic vision with our comprehensive guide.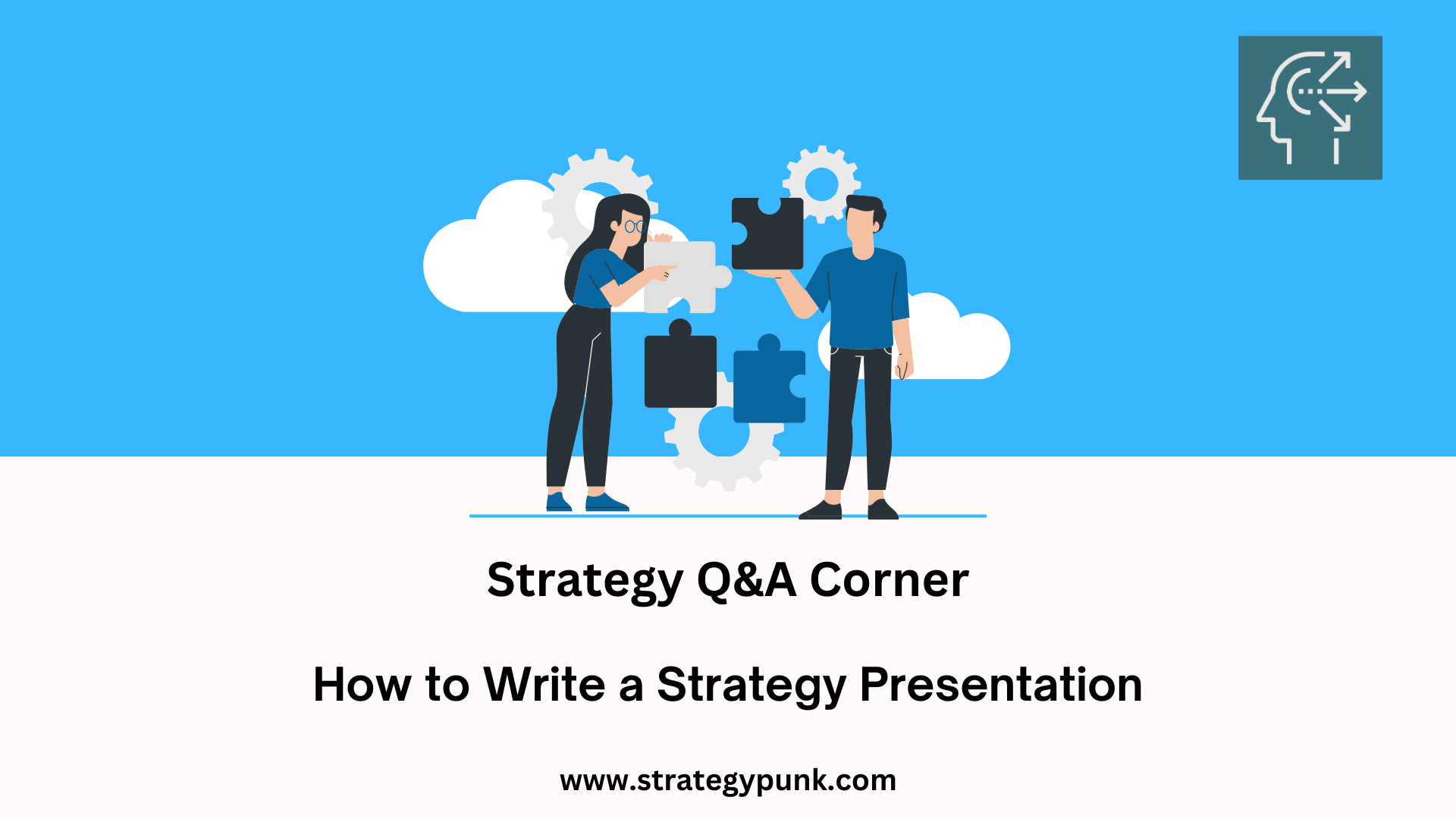 Introduction
Have you ever been trapped in the quicksand of a never-ending strategy presentation?
We've all been there, nodding off while someone drones on.
Now, picture this: a room hanging onto your every word, eyes lit with interest.
Impossible?
Think again. Plunge into our fresh guide, and you'll transform from a presenter to a storyteller.
It's time for your audience to listen and be utterly captivated.
How to Write a Strategy Presentation: 10 Steps
1. Set the Stage Right
You wouldn't host a grand ball without knowing who's attending, right?
In the same way, before you even think of diving into your content, please know your audience.
Are they tech wizards or old-school board members? Millennials or Baby Boomers?
Customize your talk to resonate with them. Understand their needs, their pain points, and their aspirations.
Connect on a personal level, and half your battle is already won. 🎯
2. Define Your Mission
Imagine embarking on a road trip without a map.
A strategy presentation without a clear mission is almost the same – directionless and meandering.
So, ask yourself: Why are you here? What's the core message?
Once you have that clarity, your path becomes straightforward. And trust me; your audience will thank you for it.
3. Craft an Unforgettable Opening
First impressions?
They're everything. You've got 60 seconds to grab your audience's attention. Make those seconds count.
A quirky quote, a compelling statistic, or even a personal anecdote – choose a relevant and riveting opener. It's the appetizer to your main course.
Make sure it's tantalizing!
4. Break Down the Core
a. Highlight the Issue:
Every story needs a conflict.
In your strategy presentation, this is the issue or challenge at hand.
Paint a vivid picture. Make them see what's going awry.
But remember, no doom and gloom—just honest, relatable content.
b. Showcase Your Solution:
Now, for the hero of our story – your solution. Get straight to the point.
How will your idea transform the current scenario?
Make your key the shining beacon. Sell not just the picture but the dream.
c. Unveil the Game Plan:
So, you've hooked them with the problem and dazzled them with your solution.
What next?
The roadmap. Walk them through the how. Detail the journey. Step by step. Action by action. Make it tangible. Make it achievable.
5. Elevate with Design
Yes, content is king. But design?
It's the crown. Incorporate visuals that speak. Charts, infographics, images – let them do the heavy lifting. Remember, a picture's worth a thousand words, but a relevant picture?
That's gold. And hey, always lean into simplicity. Less is more, especially on slides. 🖼️
6. Weave in Stories
Facts need to be remembered. Stories? They stick.
Weave in anecdotes that resonate. Personal tales, success stories, or even fictional scenarios – a narrative touch can bring your presentation alive. Make it relatable.
Could you make it memorable? After all, who doesn't love a good story?
7. Get Them Talking
No one enjoys a monologue. You can turn your presentation into a dialogue.
Ask questions. Seek opinions. Maybe even throw in a mini poll or quiz. Engage them.
The more involved they are, the more invested they become. It's the difference between passive listeners and active participants.
8. Wrap it Up with Pizzazz
You're nearing the end. This is where you cement all you've shared.
Summarize.
Highlight the key points. And end with a zinger. Maybe it's a call to action, a memorable quote, or a challenge.
Leave them thinking, reflecting, and wanting more.
9. Rehearse to Perfection
You've crafted this masterpiece. Now, could you give it the respect it deserves?
Rehearse.
Know each slide, each transition, and each pause. Familiarize yourself with the flow. The more comfortable you are with the material, the more confidently you'll deliver.
And nothing, absolutely nothing, captivates an audience more than genuine confidence.
10. After the Applause: Your Next Moves
The applause fades—the room empties.
But your job? It seems that it still needs to be done. Show gratitude. A simple thank you can work wonders. Could you share your presentation or additional resources?
And always, always be open to feedback. It's the breakfast of champions, after all.
Conclusion
Crafting a killer strategy presentation isn't about big words or fancy jargon. It's about connection, clarity, and confidence. You've got the palette, brush, and canvas.
Now, could you paint your masterpiece? 🎨
Remember, in strategy presentations, it's not just about informing. It's about transforming.
So, go ahead, and inspire change—illuminate minds. And make a lasting impact.🚀
Bonus: Your Strategy Presentation Success Checklist
Please ensure that your strategy presentation is top-notch with our concise Success Checklist.
From understanding your audience to gathering feedback post-presentation, this list will guide you through each crucial step for impactful delivery.
Your trusty companion for every presentation!
Audience insights in place.
Is the Mission crystal clear? ✔️
Powerful start rehearsed.
Core content organized.
Engaging visuals ready.
Personal story integrated.
Interactive segment prepped.
Strong conclusion framed.
Feedback channels open.