Strategy Q&A Corner
What is the purpose of a go-to-market team?
A go-to-market (GTM) team is your strategic compass for product launches, navigating product development, marketing, and sales. Uncover their crucial role and learn how to craft your own successful GTM strategy with our free, editable PPT template.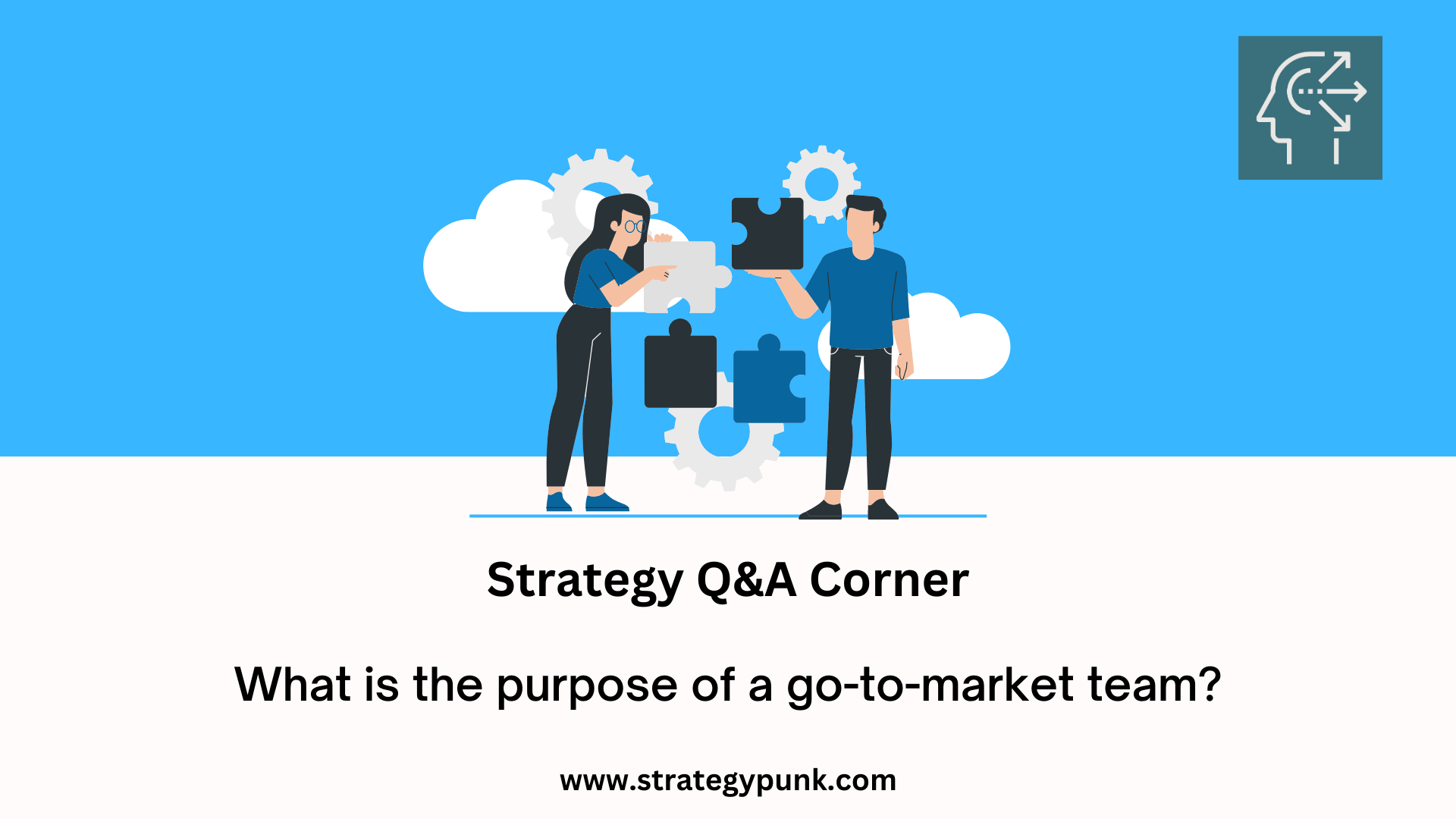 A go-to-market (GTM) team is responsible for successfully developing and implementing the strategy to bring a product or service to market.
This involves an integrated approach encompassing product development, marketing, sales, and customer service.
Here's a detailed breakdown of their key responsibilities:
Market Research: They identify potential markets, customers, and competitors and understand customer needs, preferences, and buying behaviors. This research helps understand the market potential and helps make informed decisions about product development, marketing strategies, pricing, etc.
Product Development: They work closely with the product development team to align its features and benefits with the identified market needs. They provide insights to the product team regarding the market expectations, competition, etc., to ensure the product meets the required specifications.
Marketing Strategy: They develop a comprehensive marketing strategy, including brand positioning, messaging, and communication. The marketing strategy often includes plans for content marketing, advertising, public relations, social media, SEO, etc.
Sales Strategy: They define the sales strategy, including identifying the sales channels (e.g., online, retail, direct sales, etc.), sales tactics, sales team training, and support materials. They also determine the pricing strategy based on market research and financial considerations.
Customer Service and Retention: They plan and manage the customer service strategy to support and ensure customer satisfaction. This also includes methods for customer retention, upselling, cross-selling, etc.
Partnerships: GTM teams might also seek and manage partnerships with other companies, influencers, etc., to help distribute and promote the product.
Monitoring and Evaluation: They monitor the success of the go-to-market strategy, evaluate the results, and make necessary adjustments to improve its effectiveness.
The primary goal of a GTM team is to ensure the successful launch and continued success of a product or service in the market by providing a bridge between the company and its potential customers.
Mastering Your Go-To-Market Strategy: 7 Crucial Steps for Success (Plus Free PPT Template)
Check out another blog post, "Mastering Your Go-To-Market Strategy: 7 Crucial Steps for Success (Plus Free PPT Template)". It's a treasure trove of insights, complete with a free and fully editable PPT to guide you on your quest to conquer the market!