Strategy
5 Steps to Develop a Growth Strategy (Free PowerPoint Template)
Unveil a winning growth strategy with our 5-step guide. From setting SMART goals to adapting to market trends, this roadmap, including a free PowerPoint template, sets your business on the path to success. Explore now!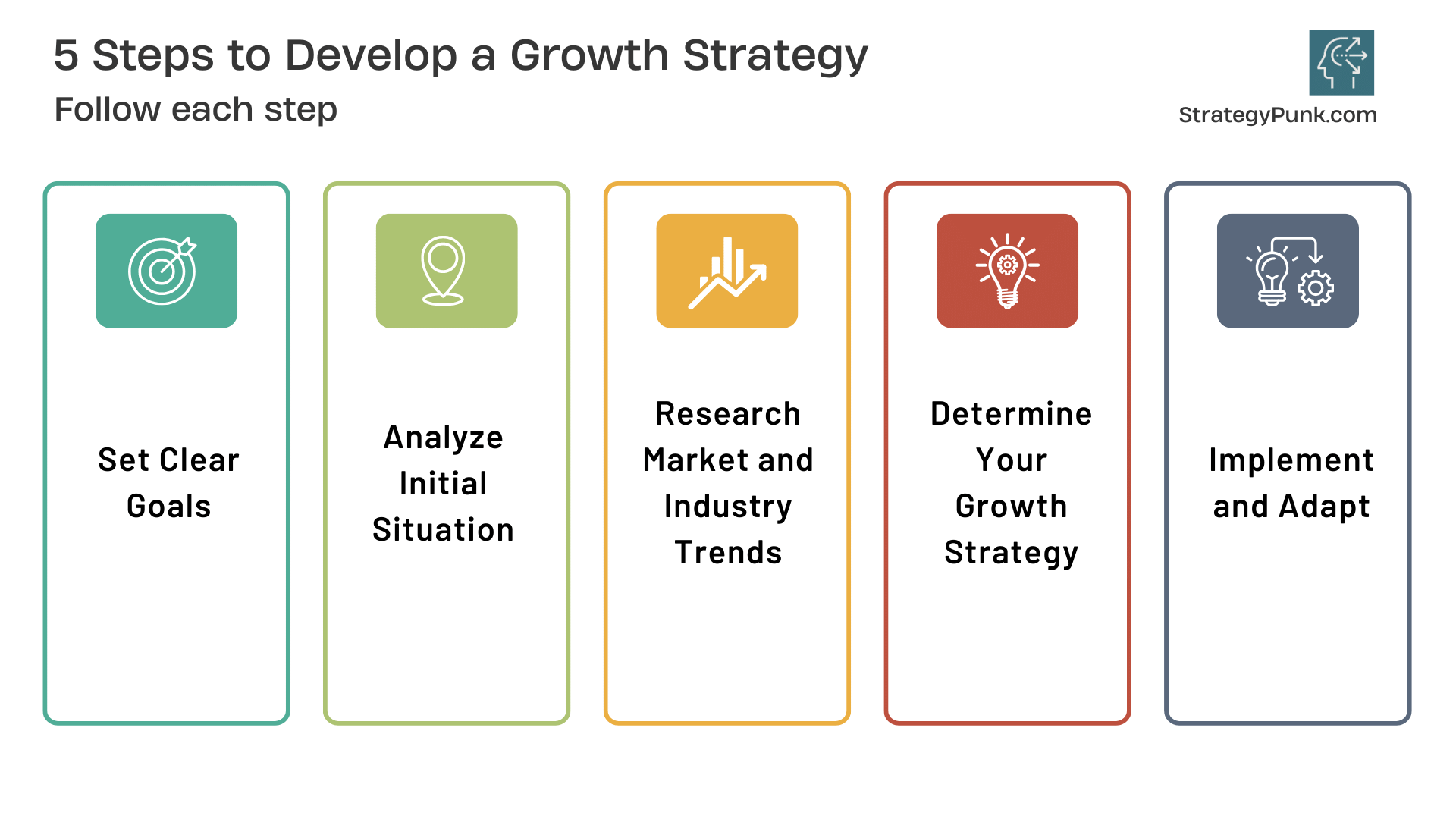 Introduction
In a dynamic business world brimming with competition, having a robust growth strategy is not just a fancy term; it's a necessity. It's the compass guiding your venture through the murky waters towards a land of success.
But how do you construct a strategy that propels you forward?
Here's a simplified roadmap, distilled into a Growth Strategy PowerPoint Template, illustrating the five essential steps to elevate your business game.
5 Steps to Develop a Growth Strategy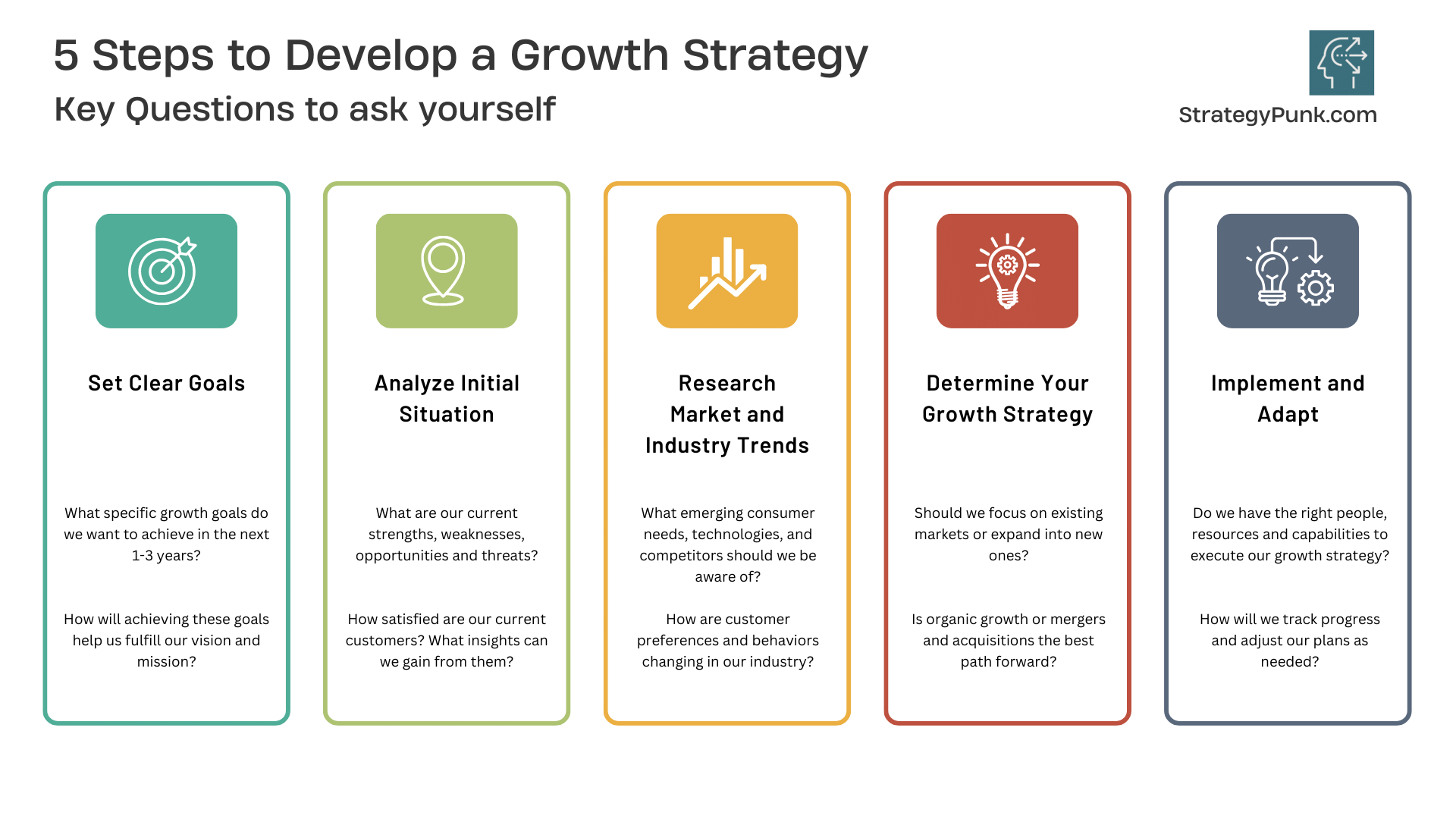 1. Set Clear Goals
Defining exactly where you want your business to go is crucial for growth. Setting SMART goals gives your strategy focus and direction.
💡
Your growth objectives should be Specific, Measurable, Achievable, Relevant and Time-bound (S.M.A.R.T). This gives you tangible targets to plan initiatives around and track progress against.
Take time to decide on specific, measurable objectives for growth. Here are some examples of potential growth goals:
Increase revenue by 30% year-over-year
Expand into a new geographical market or industry sector
Acquire 1,000 new customers
Increase website traffic by 50%
Open 2 new locations
Develop three new product lines
Setting long-term goals (3-5 years) and short-term goals (6-12 months) will provide a roadmap for growth across different timeframes. Ensure your goals are ambitious but realistic, given your business's current position. Clearly defined objectives align your strategy and provide something to measure progress against.
2. Analyze Initial Situation (Your Business's Current State)
Before charting where you want your business to go, you need to understand where it is right now. Take time to thoroughly analyze your company's current market position, strengths and weaknesses, and opportunities for improvement.
Conduct a SWOT analysis (use our free PPT template) to identify your business's:
Strengths - What unique assets, capabilities, or competitive advantages can be leveraged for growth?
Weaknesses - What areas need improvement to support growth objectives?
Opportunities - What external trends or underserved customer needs could drive growth?
Threats - What challenges or competitors could impede growth?
Look at all aspects of your business, including:
Products and services - How can these be expanded or improved?
Operations - Are processes efficient and scalable?
Marketing - What channels work best to acquire and retain customers?
Finances - Is funding adequate for growth plans?
Team - Does the team have the right skills and capacity?
Conducting market research will complement your internal analysis with external data. This could include analyzing industry trends, competitor benchmarking, and gathering customer feedback through surveys or interviews.
The depth of your analysis will depend on the size and complexity of your business. However, thoroughly understanding your company's current position is essential for mapping out a growth strategy grounded in reality.
3. Research Market and Industry Trends
Informed growth strategies consider the broader market context. Dedicate time to researching your industry's landscape, trends, developments, and opportunities. Monitor macro-level trends like economic conditions and micro-level shifts within your specific market. Subscribe to relevant industry reports and publications to stay on top of the latest news. Key market research activities include:
Study your competitors - Track competitors' product launches, marketing campaigns, and growth strategies. Identify what is and isn't working for leaders in your space.
Analyze demographics - Growth may come from expanding to new demographics. Study population and consumption trends.
Talk to customers - Surveys, interviews, and focus groups with current or potential customers can reveal growth opportunities. Ask about unmet needs.
Evaluate new technologies - How are innovations like automation, AI, and new platforms disrupting your industry? Is there an opportunity to adapt these to drive growth?
Identify regulatory changes - Consider how evolving regulations might impact your business positively or negatively. Stay compliant.
Attend conferences and events - Industry gatherings provide visibility into emerging trends and networking opportunities.
The goal is to identify potential sources of growth, whether that's expanding to new markets, capitalizing on emerging trends, or innovating to create new demand. A data-driven understanding of your external environment allows you to focus growth efforts where the opportunities are most vital.
4. Determine Your Growth Strategy
With a clear understanding of your current position, capabilities, and market landscape, you can start defining potential growth strategies. Common strategic focuses include:
New customer acquisition - Attracting new customers is often the fastest path to growth. This may involve expanding geographically, targeting new demographics, or increasing marketing to raise awareness.
Existing customer development - Developing existing customers can be more profitable than acquiring new ones. Strategies include upselling products, increasing purchase frequency, or improving retention.
New product development - Launching new products or services can unlock growth, mainly if they cater to unmet needs or emerging trends.
Strategic partnerships - Partnerships with other companies can help enter new markets or acquire new capabilities.
Mergers and acquisitions - Acquiring another company can fuel rapid growth by consolidating market share.
Franchising - Opening franchised locations expands geographical reach and brand awareness.
Operational expansion - Growth may require expanding facilities, staff, systems, or production capacity.
Avoid trying to pursue too many strategies at once. Prioritize one or two areas to focus resources and execution. The best growth strategies align with your core competencies and market opportunities.
5. Implement and Adapt
With a plan in place, executing it effectively is critical for growth. Build a detailed roadmap for implementing initiatives across departments. Secure appropriate funding and resources. Develop schedules and assign ownership. At the same time, remain flexible and adaptable. Monitor performance closely using key metrics tied to your goals. Be ready to adapt strategies if specific initiatives underperform quickly. Rapidly scale up programs that prove successful. Here are tips for effective strategy implementation and adaptation:
Communicate the plan - Ensure all employees understand growth goals and strategies. Engage them as partners in driving growth.
Invest adequately - Fund growth initiatives sufficiently. Consider financing options if needed.
Focus resources - Prioritize efforts on 2-3 key strategies rather than spreading efforts thinly.
Empower teams - Let those responsible for specific initiatives run them independently. Avoid micromanaging.
Set milestones - Define incremental milestones and targets to track progress.
Measure results - Establish KPIs to quantify performance. Monitor leading and lagging indicators.
Course correct quickly - If metrics indicate an initiative is underperforming, adapt rapidly. Fail fast and move on.
Double down on success - Invest more to accelerate growth when a program outperforms.
Celebrate wins - Recognize and reward teams who help drive growth.
With commitment, investment, and agility, these five steps will put you on the path to executing a successful growth strategy.
Executive Summary
5 Steps to Develop a Growth Strategy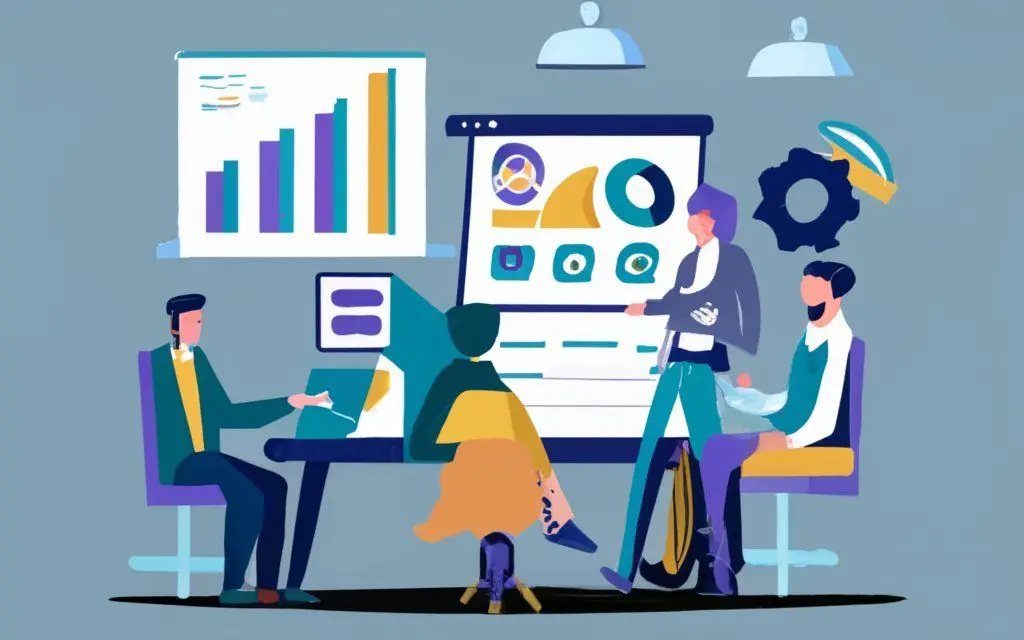 Want your business to reach new heights?
Growth takes strategy.
Follow these 5 steps to set your company up for success: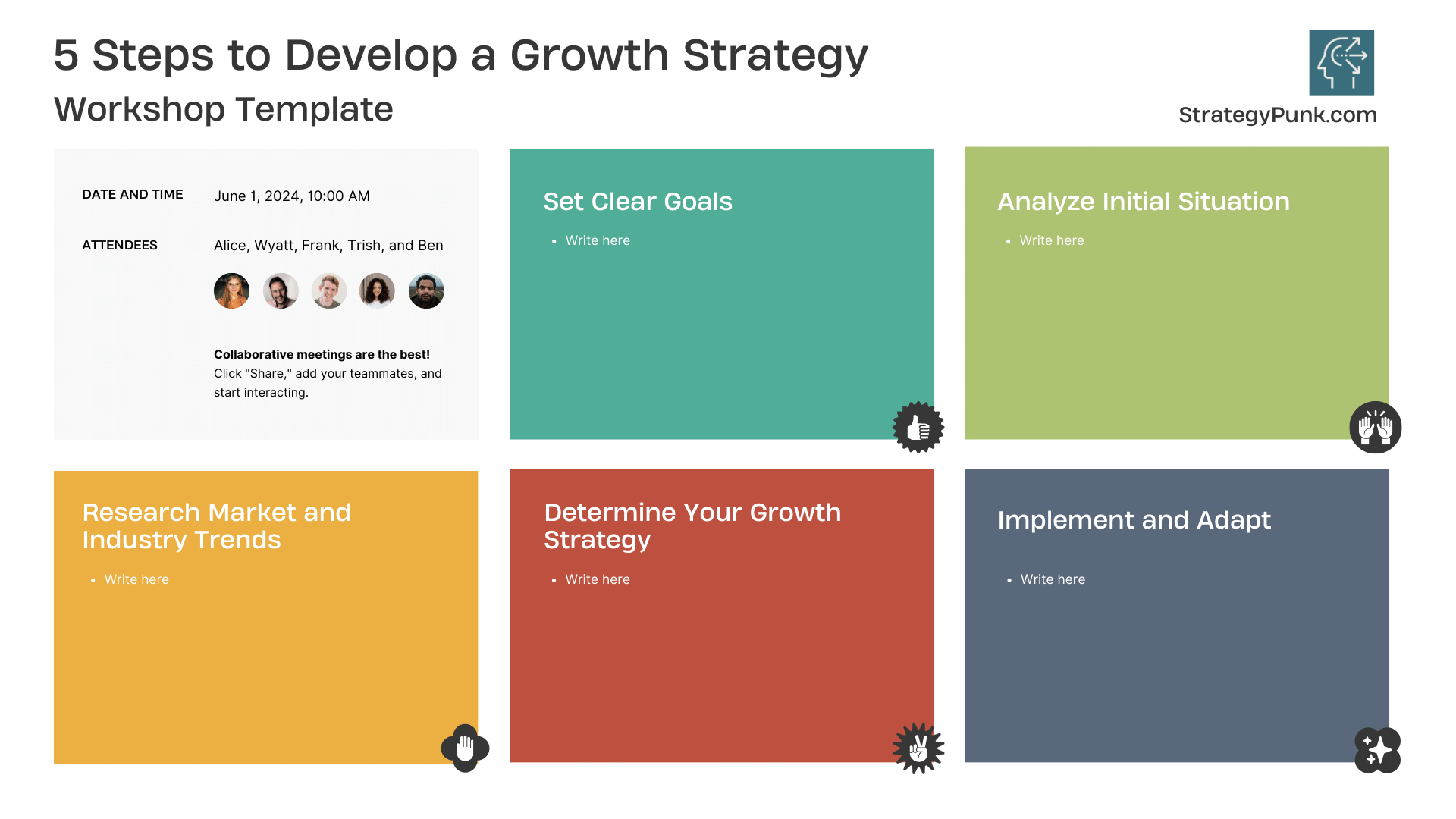 1. Set Clear Goals
Define exactly where you want your business to go. Setting SMART goals gives your strategy focus.
Decide on specific objectives for growth, like increasing revenue by 30% or expanding into a new market.
Key questions
What specific growth goals do we want to achieve in the next 1-3 years?
How will achieving these goals help us fulfill our vision and mission?
2. Analyze Initial Situation
Understand where you are now to chart where you want to go. Look at your current market position, strengths and weaknesses, and opportunities for improvement.
This analysis informs your growth plan.
Key questions
What are our current strengths, weaknesses, opportunities and threats?
How satisfied are our current customers? What insights can we gain from them?
3. Research Market and Industry Trends
Study industry trends and developments. Look at what competitors are doing successfully or where gaps exist.
This external information and your internal analysis give a complete picture.
Key questions
What emerging consumer needs, technologies, and competitors should we know?
How are customer preferences and behaviors changing in our industry?
4. Choose Your Strategies
With goals set and research done, you can decide on strategies to pursue. Will you focus on acquiring new customers or developing new products?
Prioritize 1-2 key strategies to dedicate resources to.
Key questions
Should we focus on existing markets or expand into new ones?
Is organic growth or mergers and acquisitions the best path forward?
5. Execute and Adapt
Implementing your plan is vital. Track progress regularly and adjust when needed. Growth takes commitment but also flexibility to respond to changing conditions.
Key questions
Do we have the right people, resources, and capabilities to execute our growth strategy?
How will we track progress and adjust our plans as needed?
Following these steps will put you on the path to business growth. Ask the right questions to understand your current situation, customers, market landscape, and capabilities. This enables you to set clear goals, determine the best growth strategies, and adapt plans based on progress and changing conditions. 
5 Steps to Develop a Growth Strategy Template
Guide & Workshop Template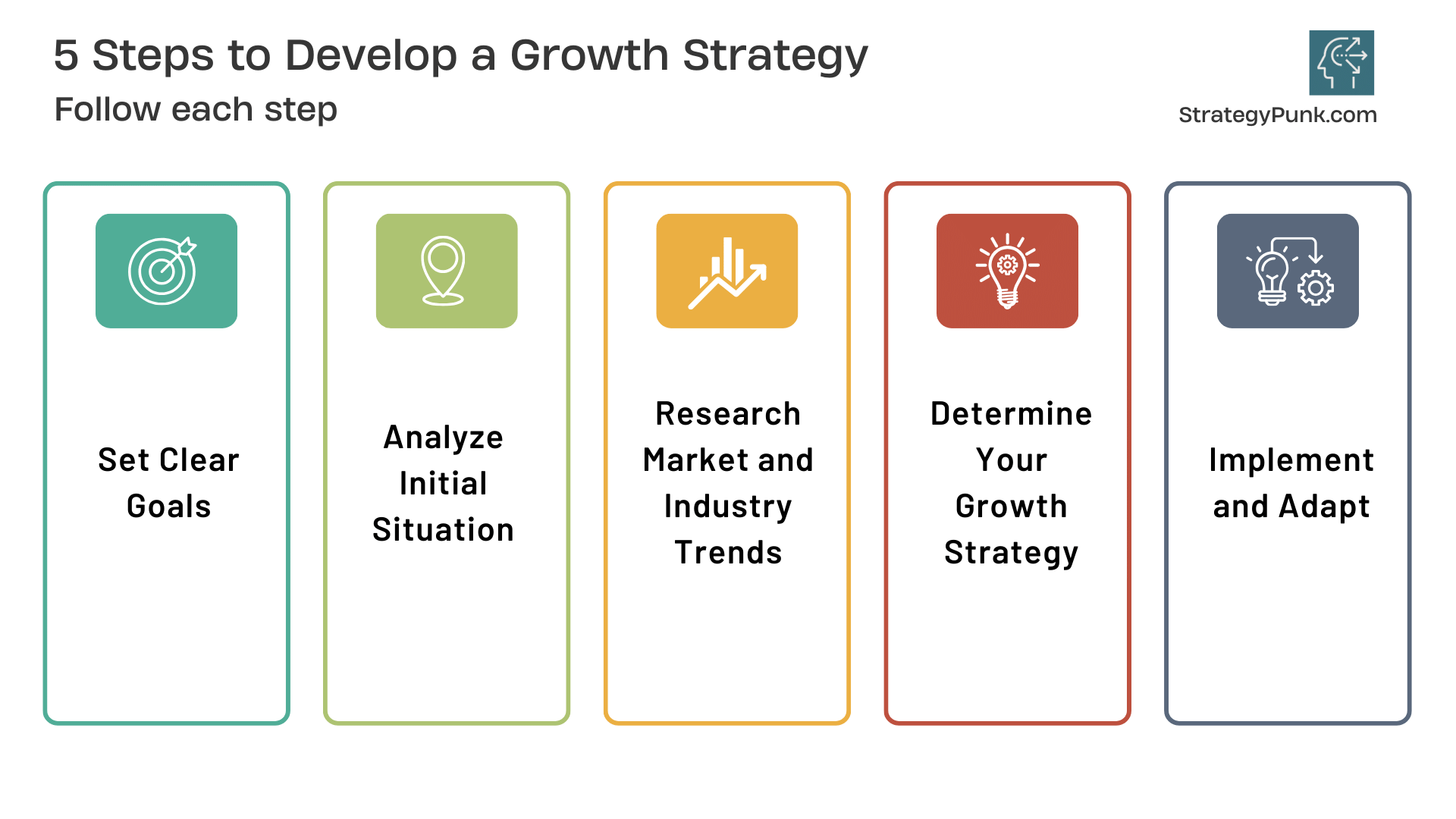 Welcome to the 5 Steps to Develop a Growth Strategy workshop template.
This toolkit guides teams through a structured process to create a growth strategy for their business.
The workshop consists of five actionable steps, focusing on different aspects of growth planning.
Available in PDF and PPT formats, customize the template to fit your organization's needs.
5 Steps to Develop a Growth Strategy - PDF Template
5 Steps to Develop a Growth Strategy - PowerPoint Template
Strategic Alignment Framework: 7 steps to align your team on your strategy
Strategic Alignment Framework: 7 steps to align your team on your strategy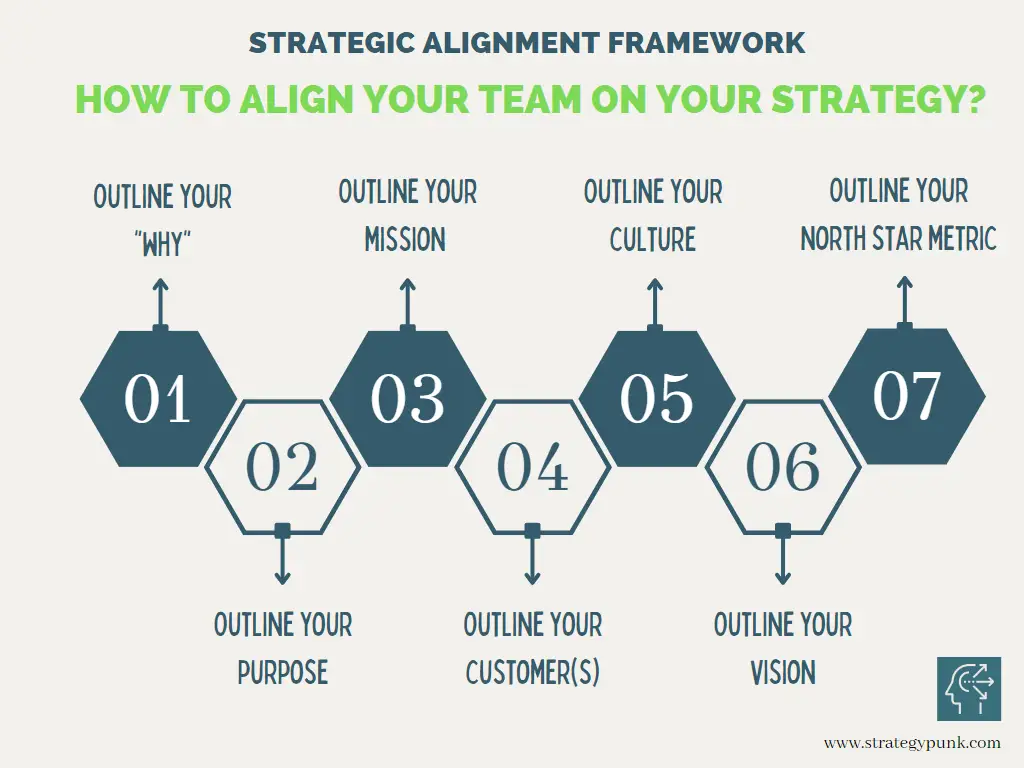 Strategic Planning with The Strategy Pyramid (Free Powerpoint)
Strategic Planning with The Strategy Pyramid (Free Powerpoint). The strategy pyramid is a framework that helps organizations align their actions with their overall vision and mission.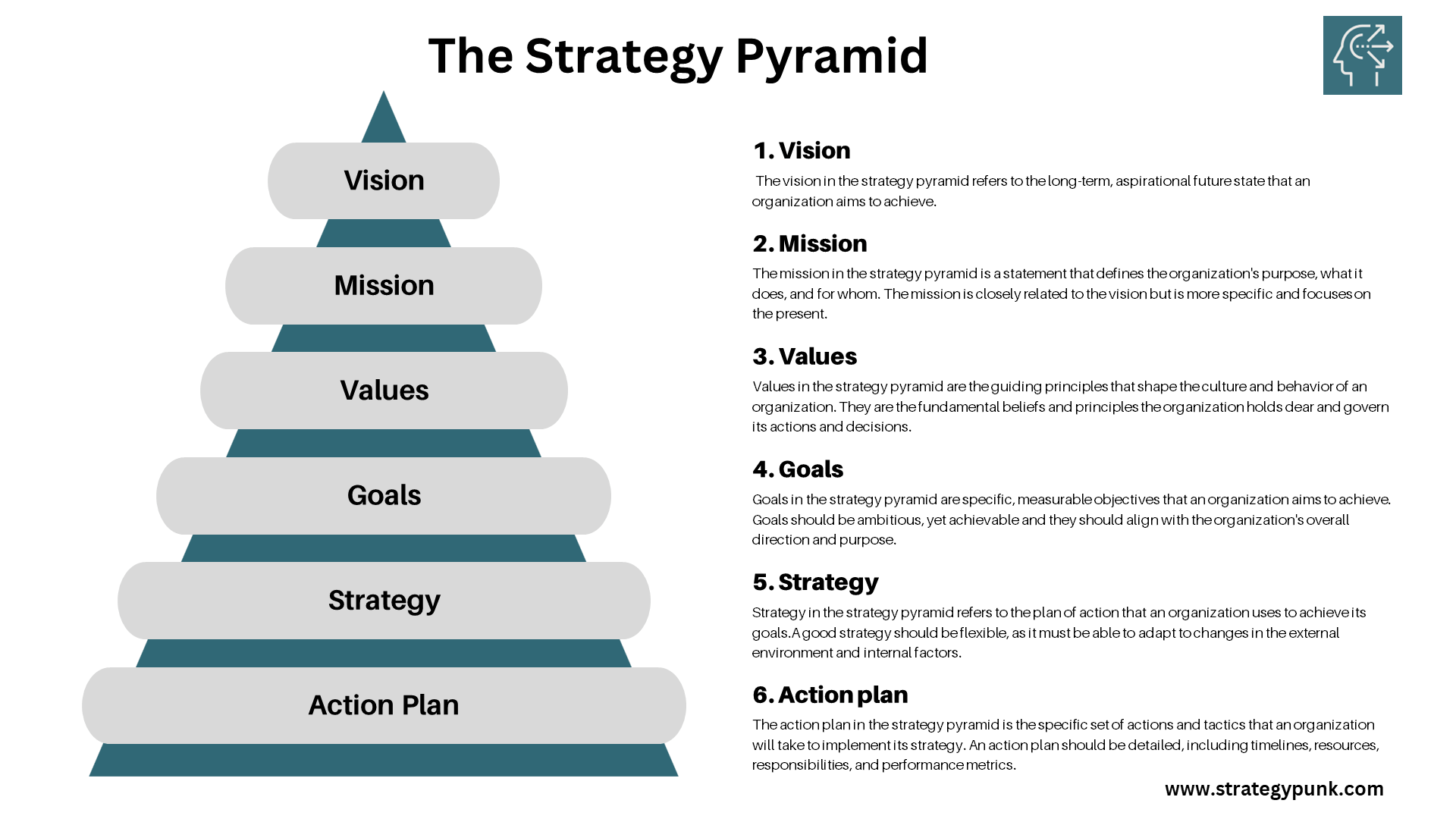 Mastering Your Go-To-Market Strategy: 7 Crucial Steps for Success (Plus Free PPT Template)
Discover the key steps to creating a successful go-to-market strategy plan. Follow our guide and achieve growth with our proven steps.