Leadership
Netflix 4A feedback principles: Free PowerPoint Template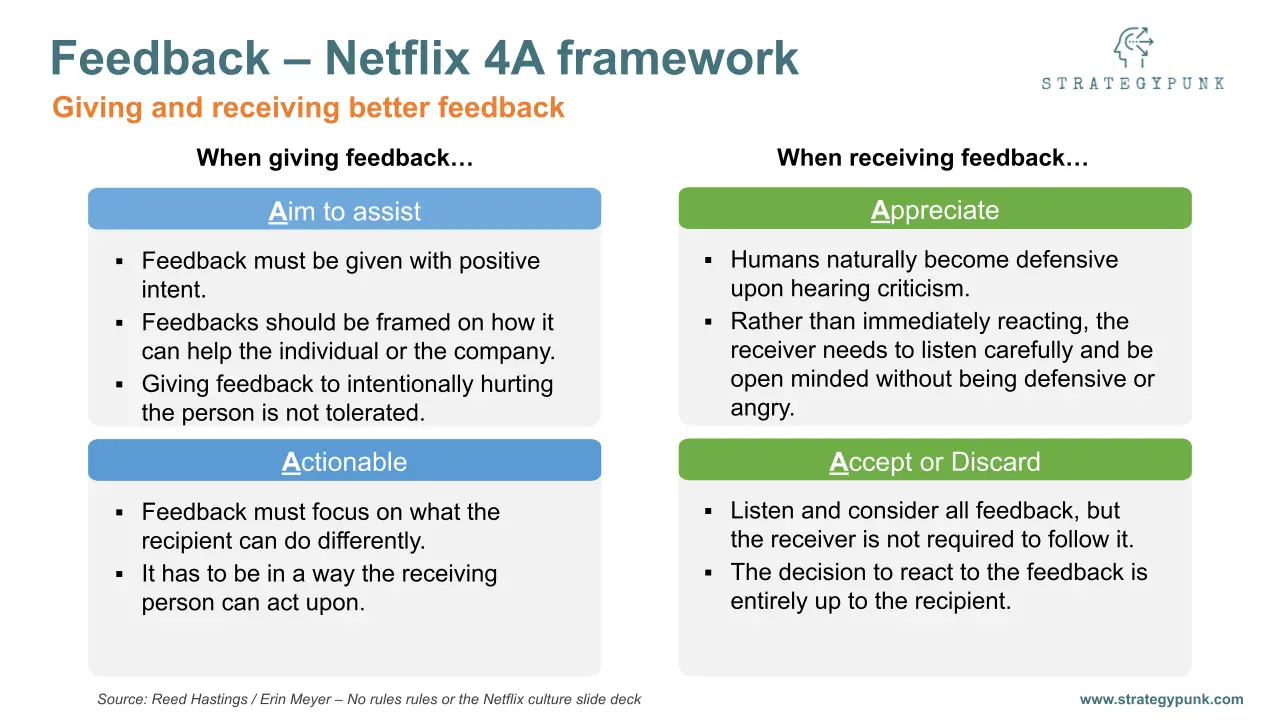 This leadership powerpoint template based on Netflix's 4A feedback principles helps you form an authentic and supportive company culture.
How to give an receive feedback?
People are usually bad at giving and receiving feedback. But knowing how to give and receive candid and open feedback is an extremely valuable leadership skill. It is a major cornerstone of an authentic and supportive company culture.
This template shows netflix's culture and guideline on how to give and receive valuable and supportive feedback. It is based on Reed Hastings and Erin Meyers book "No rules rules" or the Netflix company culture deck.
According to Reed Hastings: 'a successful culture is one where members can disagree openly and move forward with candor'
Reed Hastings philosophy is embodied in Netflix's 4A feedback framework. Thereby, feedback works when it aims to assist (good intention), is actionable and the recipient is appreciative, open-minded and free to accept or discard the feedback.
Netflix's 4A feedback framework
When giving feedback…
1. Aim to assist
Feedback must be given with positive intent.
Feedbacks should be framed on how it can help the individual or the company.
Giving feedback to intentionally hurting the person is not tolerated.
2. Actionable
Feedback must focus on what the recipient can do differently.
It has to be in a way the receiving person can act upon.
When receiving feedback…
3. Appreciate
Humans naturally become defensive upon hearing criticism.
Rather than immediately reacting, the receiver needs to listen carefully and be open minded without being defensive or
angry.
4. Accept or Discard
Listen and consider all feedback, but the receiver is not required to follow it.
The decision to react to the feedback is entirely up to the recipient.
---
Please subscribe and sign in to download all the pusblished templates on StrategyPunk for free (Google Slides or PowerPoint format).