Strategy
SWOT Analysis of Mercedes-Benz: Free Templates and In-Depth Insights 2023
In the ever-evolving landscape of the luxury automotive industry, Mercedes-Benz continues to be a beacon of excellence and innovation. Our latest SWOT Analysis for 2023, available as a free PowerPoint download, offers a meticulous examination of the brand's current standing and future trajectory.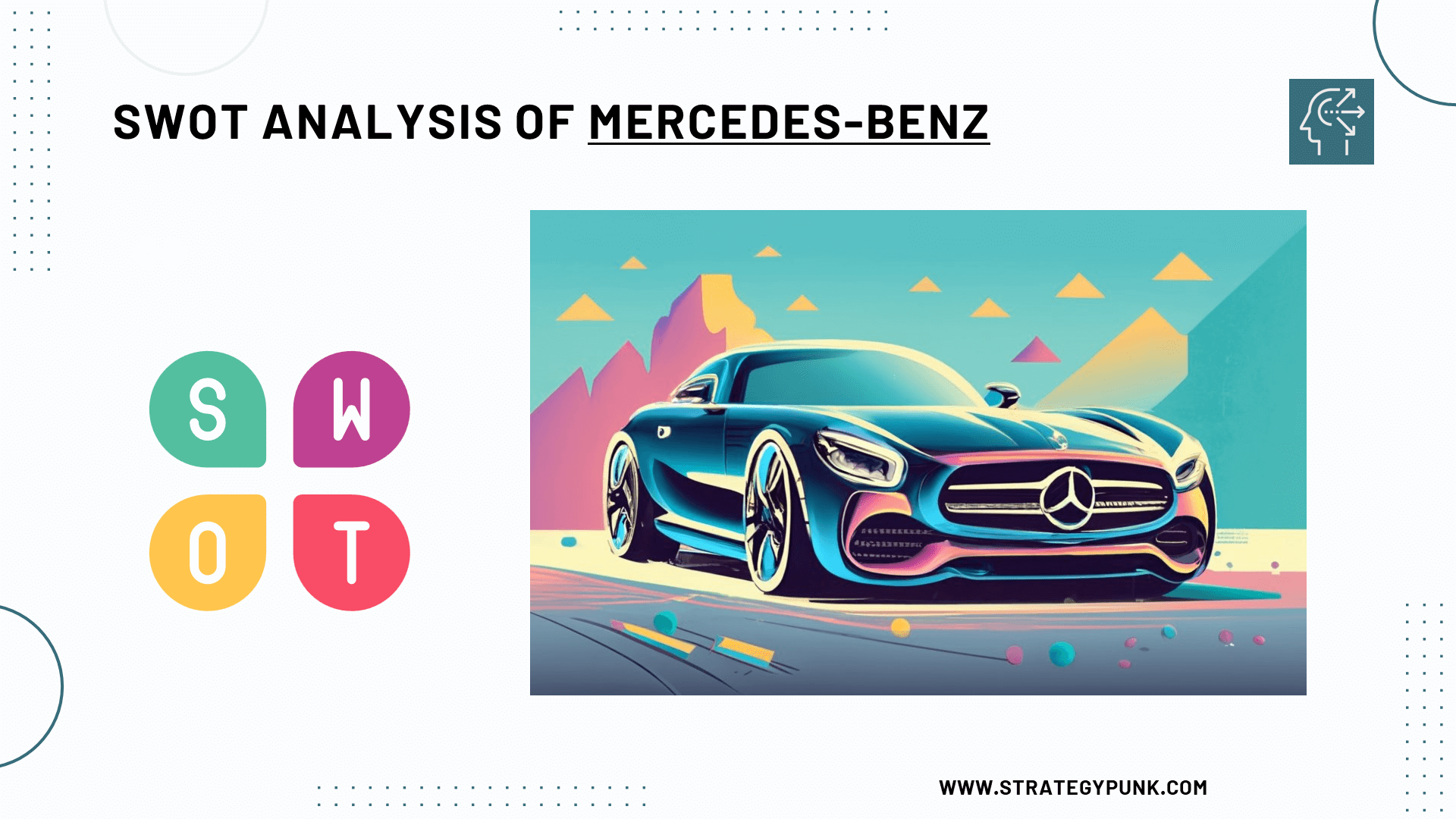 Introduction
Mercedes-Benz is one of the world's most iconic and recognizable automotive brands. Founded in 1926 and headquartered in Stuttgart, Germany, Mercedes-Benz has a long history of innovation, luxury, and high performance.
As an established leader in the premium car segment, Mercedes-Benz continues to set new design, technology, and customer experience standards.
With our free PowerPoint SWOT Analysis of Mercedes-Benz download, gain access to a wealth of knowledge that encapsulates the essence of Mercedes-Benz's strategic environment.
Whether you're a business student, an industry analyst, or an automotive enthusiast, these slides are your compass to understanding and leveraging the dynamics of the luxury car market in 2023.
What Is SWOT Analysis?
SWOT Analysis is a strategic framework used to evaluate the Strengths, Weaknesses, Opportunities, and Threats involved in a business venture.
It helps in understanding internal and external strategic factors.
Conducting a SWOT analysis helps identify strategic insights to capitalize on opportunities, counter threats, build on strengths, and eliminate weaknesses.
It is an essential tool for strategic planning and decision-making.
Introduction to Mercedes-Benz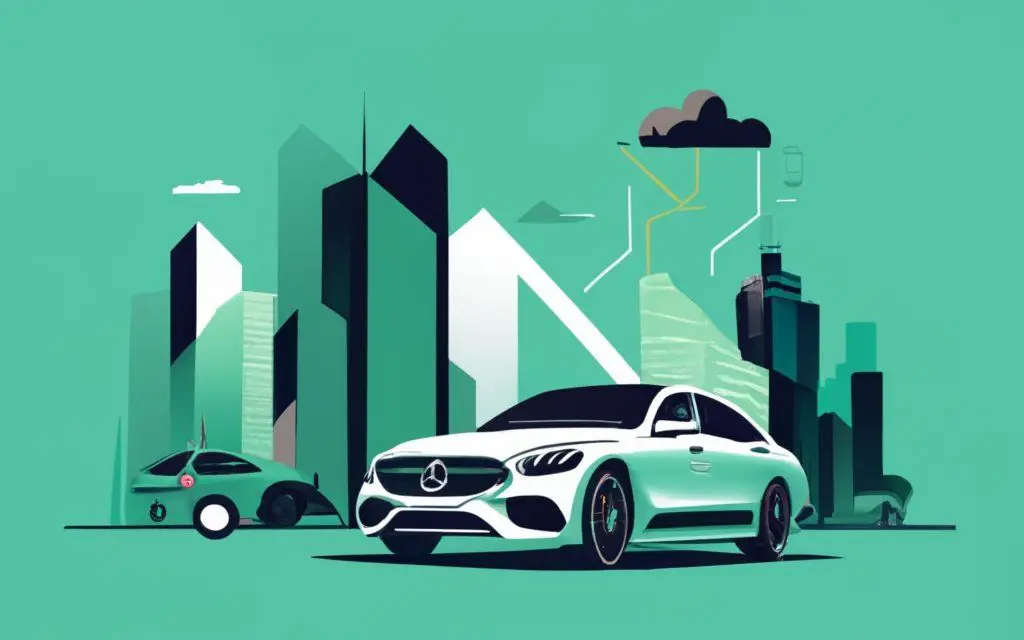 Mercedes-Benz, with its three-pointed star logo, is more than just a car manufacturer. It's a brand that represents heritage, luxury, and cutting-edge technology.
Mercedes-Benz is part of Mercedes-Benz Group AG, one of the world's largest producers of premium passenger cars and commercial vehicles.
The Mercedes-Benz brand includes luxury vehicles, sports cars, SUVs, and electric vehicles under the Mercedes-AMG, Mercedes-Maybach, Mercedes-EQ and Mercedes-Benz sub-brands.
With a focus on innovative technologies, safety, environmental responsibility, and distinctive design, Mercedes-Benz aims to shape the future of mobility and continue leading the premium automotive segment.
A Brief Look at the History of Mercedes-Benz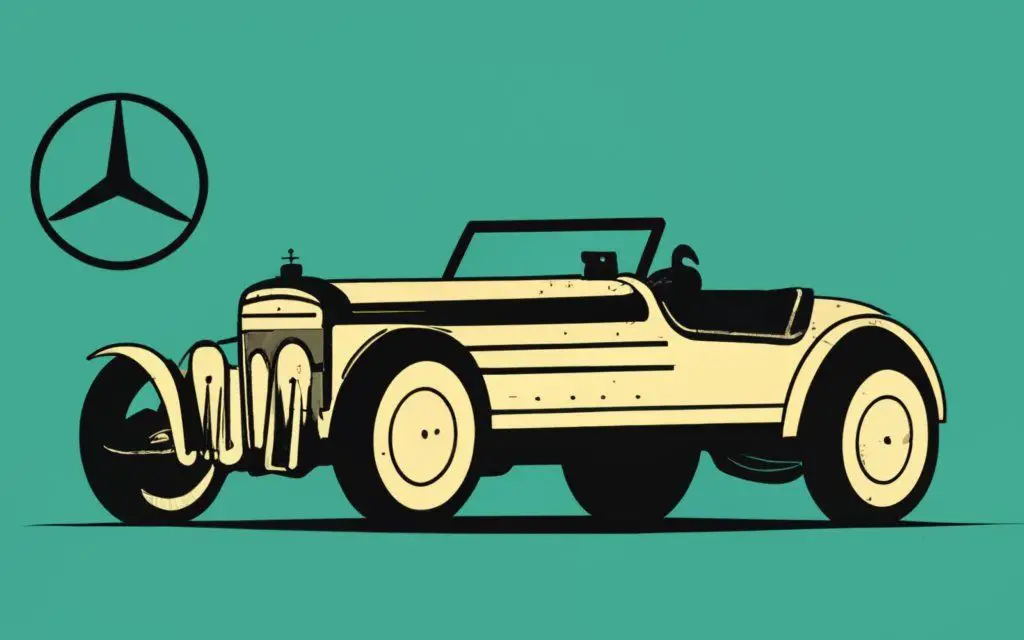 The origins of Mercedes-Benz date back to the late 19th century with the revolutionary inventions of German engineers Karl Benz and Gottlieb Daimler.
Their independent work on developing the gasoline-powered automobile laid the foundation for the modern car industry.
The merger of their companies in 1926 established Mercedes-Benz, which rolled out its first vehicle bearing the Mercedes-Benz name - the Mercedes-Benz "Stuttgart" 260 D model - in 1926. Over the decades, Mercedes-Benz introduced several breakthrough innovations, including crumple zones, anti-lock braking system (ABS), airbags, and collision prevention systems.
Today, Mercedes-Benz continues this legacy of innovation with industry-leading research and development.
Financials of Mercedes-Benz 2022
In 2022, Mercedes-Benz Group AG reported total revenues of €150.0 billion, up 12% from 2021.
The Mercedes-Benz Cars & Vans division accounted for €108.7 billion of total revenues. Mercedes-Benz's net income in 2022 was €20.5 billion, representing a 28% increase compared to 2021.
This strong financial performance reflects the company's strategic focus on the luxury segment and ongoing cost discipline.
In-depth SWOT Analysis of Mercedes-Benz 2023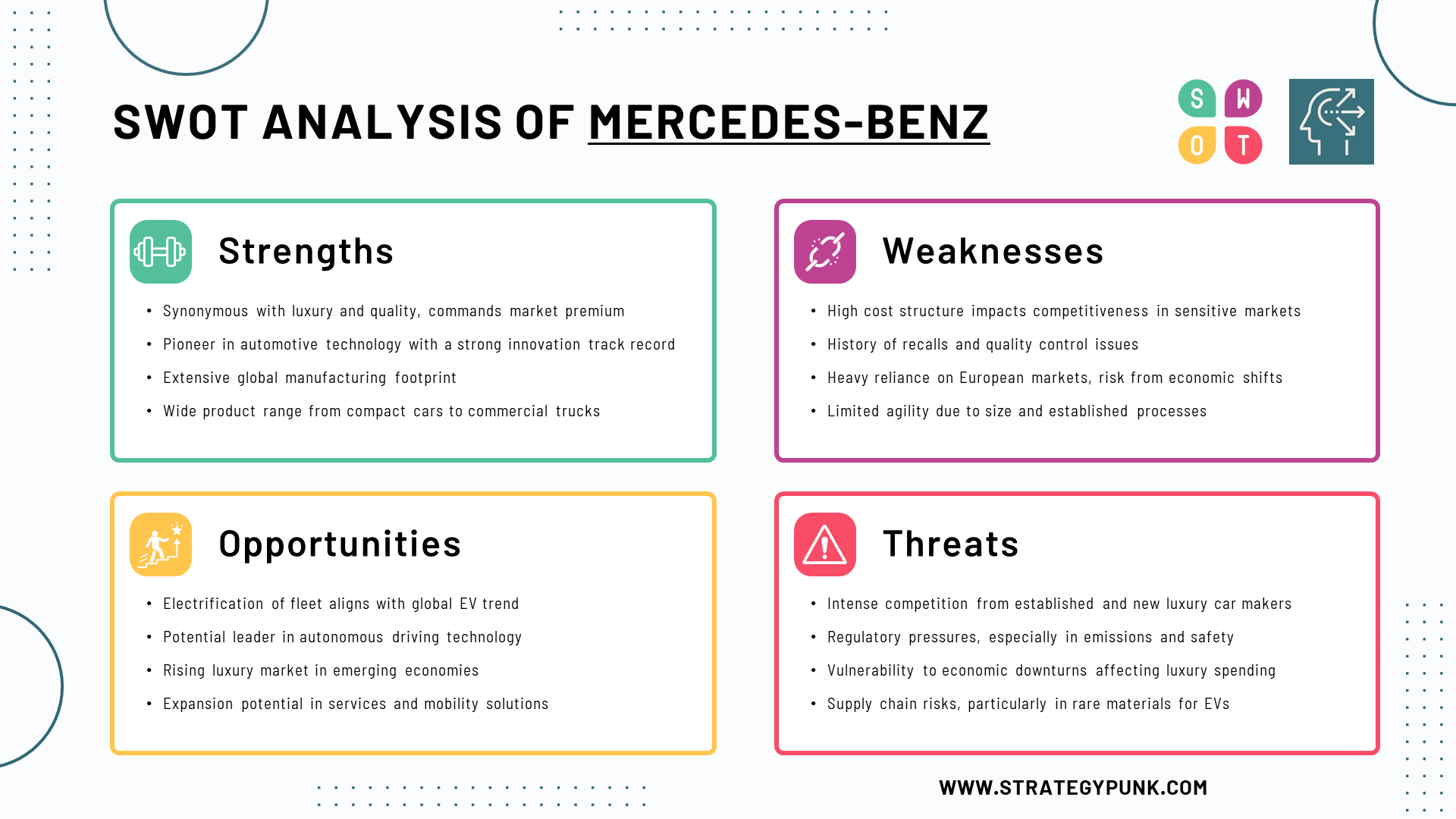 Mercedes-Benz's Strengths
Brand Prestige: Mercedes-Benz is synonymous with luxury and quality, commanding a premium in the market.
Innovation Leadership: A pioneer in automotive technology, Mercedes-Benz has a strong track record of innovation.
Global Manufacturing Footprint: Mercedes-Benz has a global presence with production facilities worldwide.
Diverse Product Portfolio: Mercedes-Benz offers a wide range of products, from compact cars to commercial trucks.
Mercedes-Benz's Weaknesses
High-Cost Structure: The focus on quality and luxury translates into higher costs, affecting competitiveness in price-sensitive markets.
Recalls and Quality Control Issues: Despite its reputation, Mercedes-Benz has faced recalls and quality control challenges.
Dependence on European Markets: A significant portion of sales comes from Europe, making it susceptible to regional economic fluctuations.
Mercedes-Benz's Opportunities
Electrification of Fleet: The shift towards EVs presents a significant opportunity for Mercedes-Benz to lead in a new market segment.
Autonomous Driving Technology: Advancements in self-driving technology could open new revenue streams for Mercedes-Benz.
Growing Luxury Market in Emerging Economies: Rising incomes in Asia and other regions could boost demand for luxury vehicles.
Mercedes-Benz's Threats
Intense Competition: The luxury car market is highly competitive, with players like BMW, Audi, and new EV manufacturers.
Regulatory Challenges: Stricter environmental regulations could impact production and costs.
Economic Downturns: Luxury car sales are often hit hardest during economic downturns.
Mercedes-Benz SWOT Analysis Summary
Mercedes-Benz stands as a colossus in the automotive world, blending strengths and weaknesses, and faces a landscape of opportunities and threats.
Its commitment to luxury, quality, and innovation has kept it at the forefront of the industry. Mercedes-Benz possesses strong product appeal, brand equity, and financial strength.
However, it faces risks from market fluctuations, regulations, and competition. Leveraging R&D investments, sustainability focus, and global footprint can help Mercedes-Benz capitalize on emerging opportunities. But the company must also counter threats by enhancing efficiency, expanding strategically, and delivering an unmatched customer experience.
Regular SWOT assessments will enable Mercedes-Benz to finetune its strategies continually.
Internal Factors
Brand and Innovation Capabilities
Mercedes-Benz has built a strong global brand over decades based on engineering excellence, innovation, luxury, and high performance. This gives it a competitive edge.
The company is recognized as a leader in automotive innovation, pioneering breakthroughs in safety, comfort, design, and sustainability. Its focus on R&D helps drive new technologies.
Diverse Product Portfolio
Mercedes-Benz offers a diverse portfolio of vehicles, including sedans, SUVs, sports cars, vans, trucks, and electric cars under various brands and sub-brands. This caters to different customer segments.
Frequent new product launches and portfolio expansion aid growth and allow adaptation to changing consumer preferences.
Global Presence and Scale
With production facilities, sales networks, and service centers worldwide, Mercedes-Benz has achieved global scale and presence across key markets.
This global footprint provides proximity to customers worldwide and allows leveraging growth opportunities across markets.
External Factors
Opportunities in New Technologies
Emerging technologies like electric mobility, autonomous driving, connected vehicles, and shared mobility present significant opportunities for growth and innovation.
Investing in these futuristic technologies can help Mercedes-Benz cater to changing consumer preferences and differentiate itself.
Opportunities in Emerging Markets
Developing economies with rising disposable incomes offer the potential for increasing demand for luxury vehicles.
Focusing on these markets, especially China and India, can boost Mercedes-Benz's sales and revenue.
Competitive Intensity
The premium auto market has high competitive intensity from established rivals like BMW, Audi, and Lexus competing for market share.
Maintaining technology leadership and brand appeal is key to counter competition, retain market share, and attract new customers.
Frequently Asked Questions
What is the SWOT analysis of a car company?
A SWOT analysis of a car company involves examining the Strengths, Weaknesses, Opportunities, and Threats that affect the company's operations and market position.
The success of a car company in the current market will depend on its ability to adapt to changing consumer preferences, embrace new technologies, and navigate economic and regulatory pressures.
How does Mercedes-Benz respond to threats from competition and regulation?
Mercedes-Benz is in a tough spot, grappling with stiff competition from luxury car giants such as BMW, Audi, and Lexus.
The company is doubling down on its strengths—tech innovation, brand allure, and superior customer service to stay ahead. In China, it's trimmed prices and ramped up local production to navigate competition and regulatory hurdles. Yet, it hasn't wavered from its strategy of keeping prices high to protect profit margins.
The electric vehicle (EV) sector is particularly cutthroat, with aggressive pricing by competitors. It's pouring funds into R&D for next-gen techs like electric mobility, self-driving cars, and connectivity to stand out.
On the regulatory front, Mercedes-Benz plays by the rules but hasn't been immune to issues like diesel emissions scandals and the specter of recalls over cheat devices. It's proactive, though, with a Compliance Management System to keep its tech in check. The company is also forging partnerships and making intelligent acquisitions to bolster its competitive edge.
In essence, Mercedes-Benz is tackling the market's hurdles with a mix of tech leadership, innovative pricing, R&D, strict compliance, and strategic alliances, even as the industry landscape continues to be demanding.
Mercedes-Benz SWOT Analysis PowerPoint Template
free and fully editable PPT template
A SWOT analysis evaluates the strengths, weaknesses, opportunities, and threats impacting a company.
This free editable PowerPoint template provides a SWOT analysis framework to evaluate Mercedes's internal strengths and weaknesses and external opportunities and threats. 
❤️
If my content and templates have saved you time or helped you get a project off the ground, I'd appreciate your support:

Mercedes-Benz SWOT Analysis PowerPoint Template
Mercedes-Benz SWOT Analysis PDF Template
Discover more
Clickworthy Resources
SWOT Analysis: Free PowerPoint Template
This PowerPoint slide deck contains five different layouts to complete a SWOT analysis.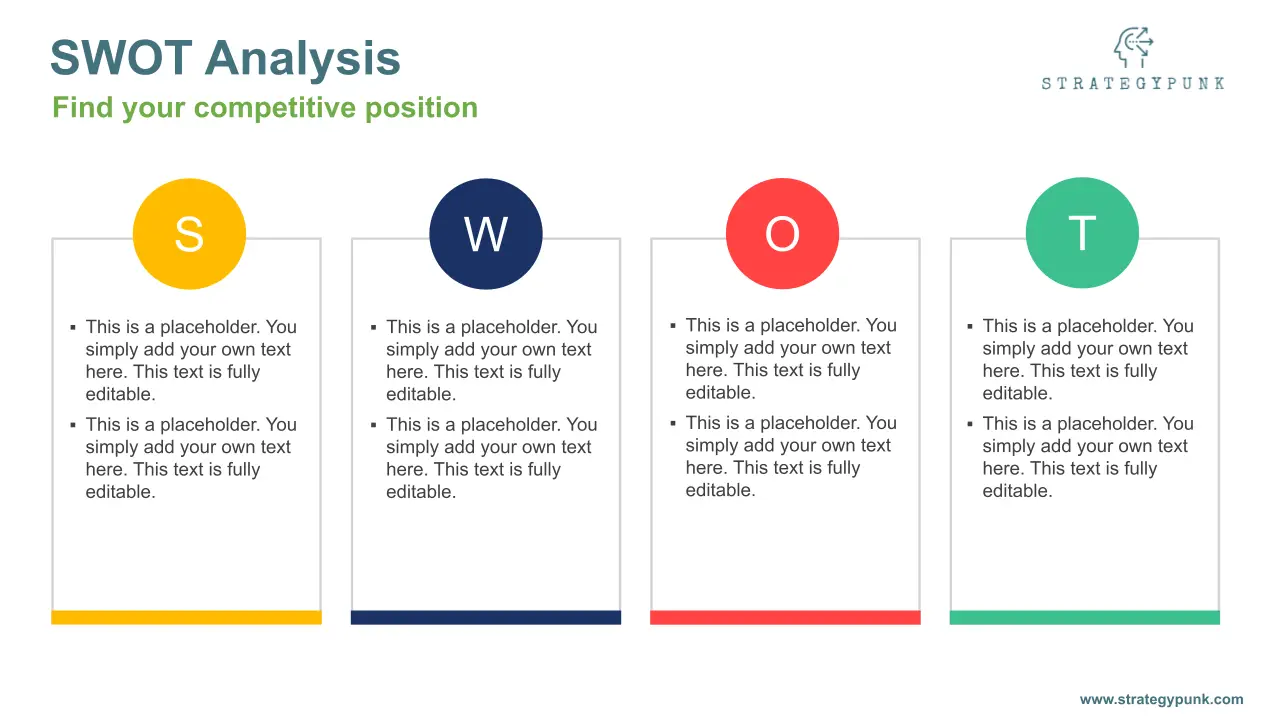 SWOT Analysis of BMW: Free PPT Template and In-Depth Insights 2023
Dive deep into the SWOT Analysis of BMW with our free PPT template and detailed insights for 2023. Explore BMW's strengths, like its revered brand reputation and cutting-edge technology, alongside its weaknesses, including a limited EV portfolio.