Strategy
Update Slide On Strategic Priorities (Free PPT Template)
Update Slide On Strategic Priorities to present their most up-to-date strategy easily. The customizable slides allow professionals to communicate current strategic objectives effectively.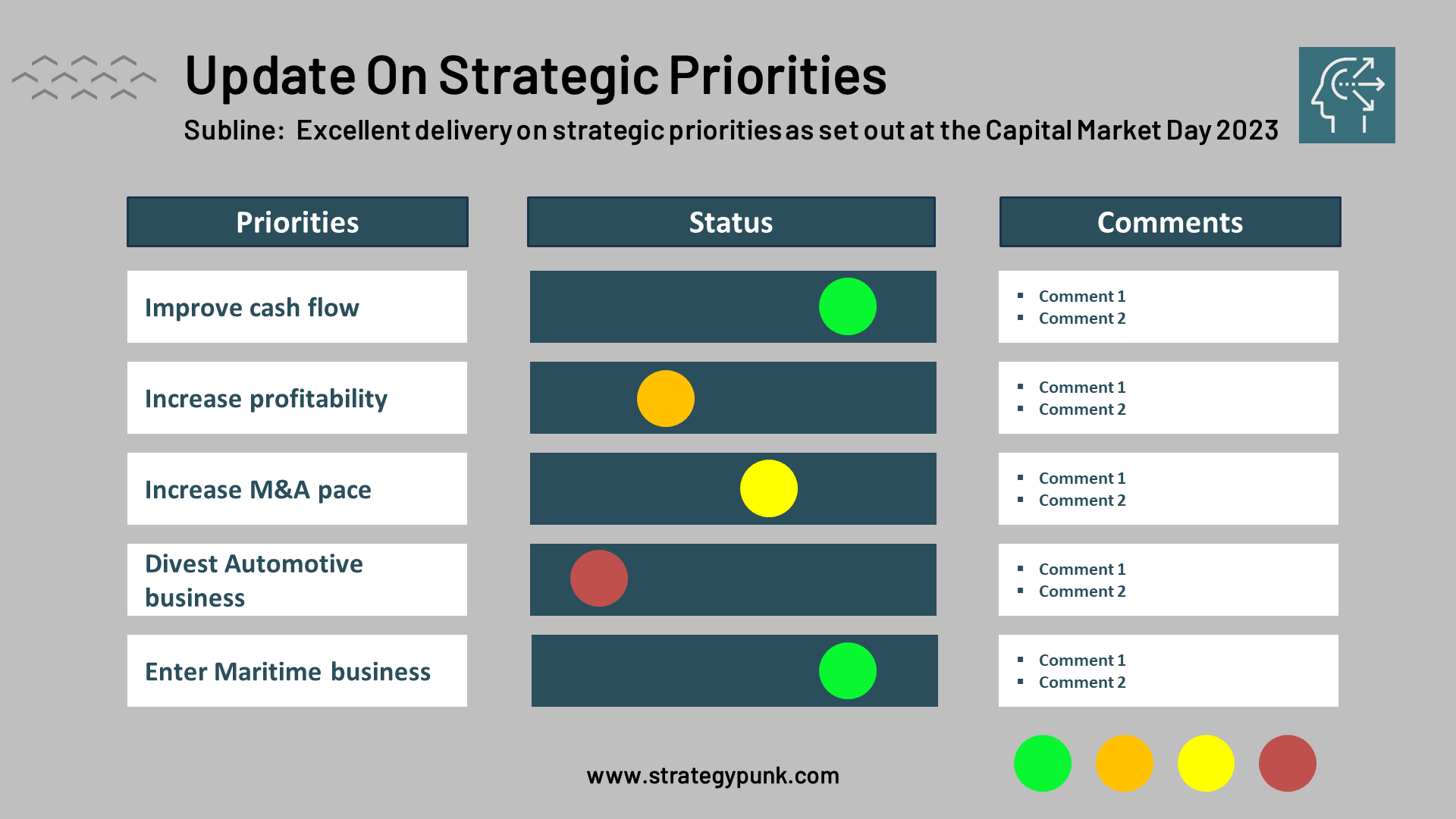 Introduction
The business world is ever-evolving, and organizations must stay on top of their strategic priorities to remain competitive. An essential tool in this pursuit is well-designed presentation templates that convey priority updates. One such resource that professionals can rely on is the Free PPT Template for "Update on Strategic Priorities."
This user-friendly template is tailored to help companies communicate their current strategic objectives effectively. It comprises visually appealing slides that allow easy customization to reflect the corporation's most pressing concerns accurately. Additionally, the template facilitates clear communication between management and employees, ensuring everyone stays aligned with the organization's objectives.
With the "Update on Strategic Priorities" Free PPT template, businesses can easily present their most up-to-date corporate strategy and ultimately contribute to successful decision-making processes. By adapting this resource, professionals can gain the competitive edge needed to thrive in today's rapidly changing business environment.
Priorities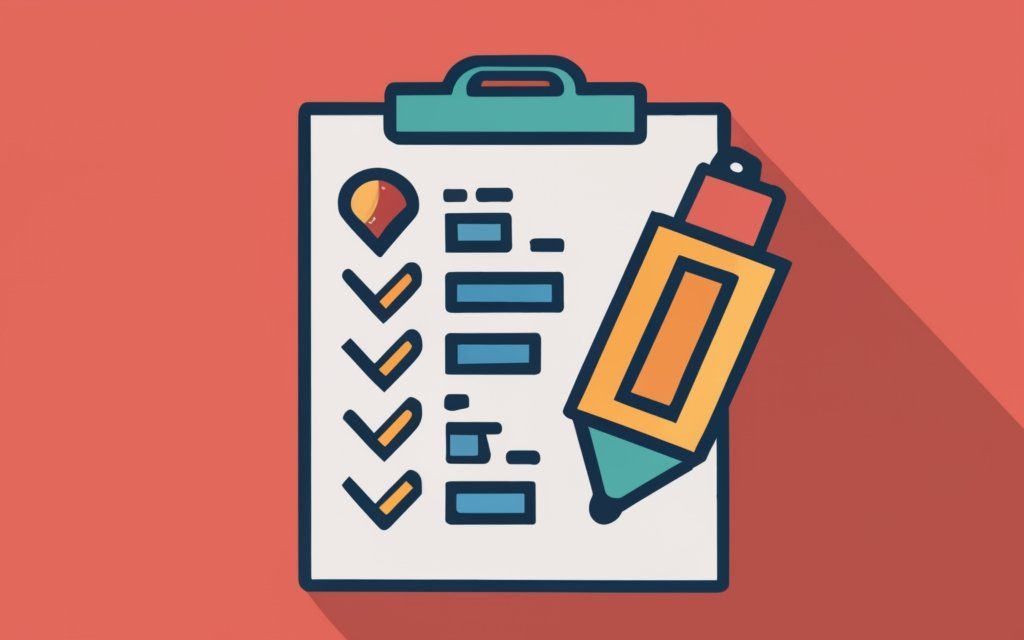 A well-defined strategic plan helps organizations align their long-term goals with their priorities. This ensures that the business stays focused on what truly matters most. The Priorities section in the Free PPT Template tackles this crucial aspect.
The template guides teams in identifying their core objectives and strategic objectives. Clearly outlining the vision and mission provides a concrete direction for the company. It also assists in determining the specific business goals necessary to achieve overall success.
To measure performance, the Priorities section encourages the use of SMART goals. This approach ensures that objectives are Specific, Measurable, Achievable, Relevant, and Time-bound. This way, progress can be regularly monitored and adjustments made as needed.
The Priorities section in the Update on Strategic Priorities Free PPT Template helps organizations stay on track and significantly contributes to long-term success.
Status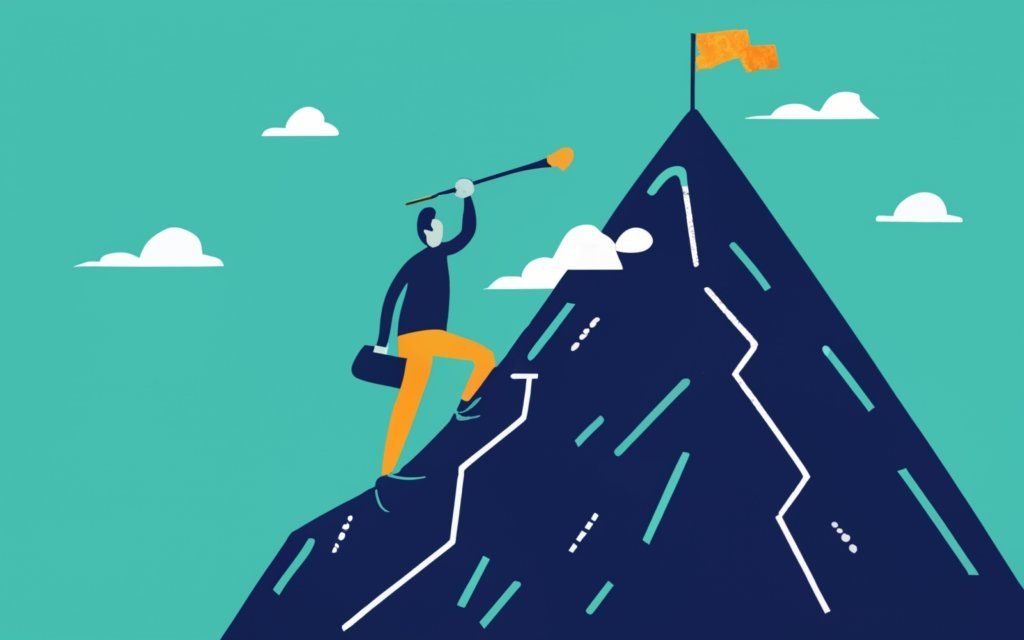 The growth of the strategic priorities has shown progress over time, with a focus on analyzing and implementing various schemes and resources. Key indicators have been identified to measure the success and efficacy of this development.
A comprehensive SWOT analysis has been conducted to assess the strengths, weaknesses, opportunities, and threats related to the strategic priorities. This analysis has enabled the integration of new ploys and created a clear roadmap for future progress.
Modifications in the template have also been made to improve its utility. Users can now easily change colors and adapt the design to fit their unique requirements and preferences. This allows for a more personalized and visually appealing representation of data and information.
Overall, the Strategic Priorities Free PPT Template updates have enhanced the tool's effectiveness and adaptability, making it an excellent choice for presenting any organization's progress and future direction.
Comments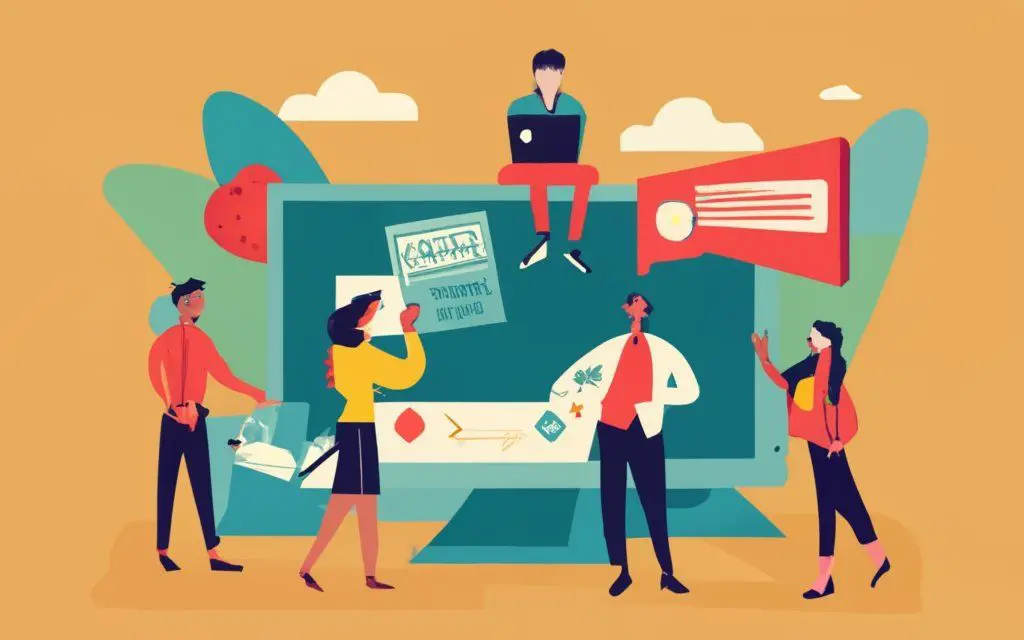 Utilizing the Update On Strategic Priorities Free PPT Template can be a game-changer for companies with ever-evolving business strategies. This template allows for clear communication of updated strategies and priorities among employees, keeping everyone on the same page.
The template's simple yet visually appealing design facilitates easy understanding for all team members, fostering a friendly and inclusive environment. The essential information is highlighted with well-organized sections and bullet points, making it efficient.
The content must remain concise and to the point when presenting strategic updates. The template encourages brevity and conciseness, which helps maintain the audience's focus. Additionally, its customizable nature allows for easily tailored presentation of different priorities.
Utilizing the Update On Strategic Priorities Free PPT Template can significantly improve the communication of an organization's updated strategies. Its friendly and easy-to-understand design ensures that employees remain informed and engaged, contributing to the company's success.
What is the purpose of the "Update Slide On Strategic Priorities" slide?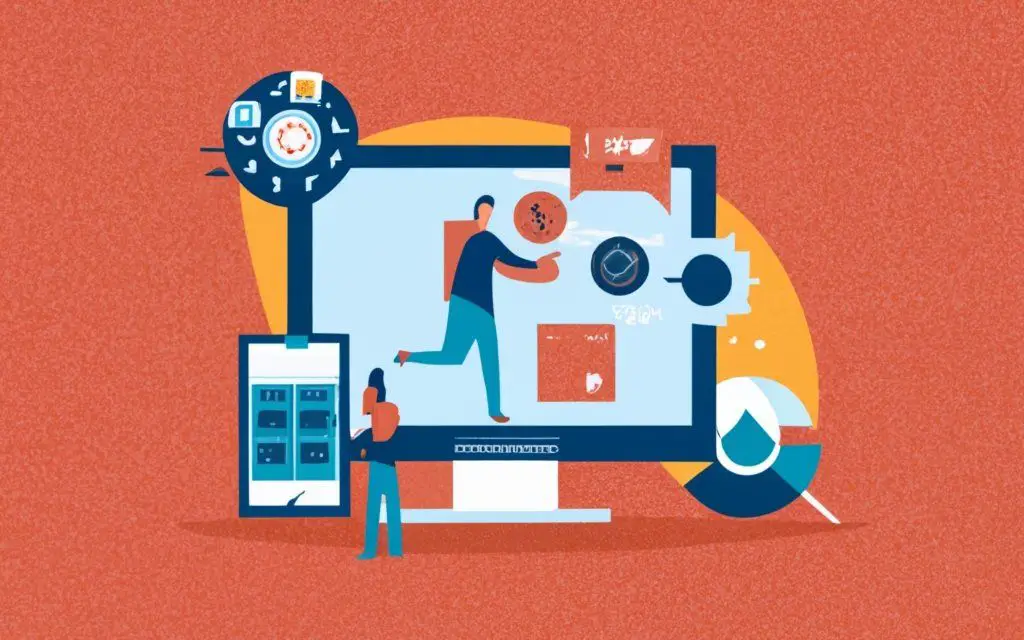 The "Update Slide on Strategic Priorities" aims to provide a simple, straightforward way to communicate the status and progress of an organization's key strategic priorities.

The slide template contains three key sections - Priorities, Status, and Comments - to share information on strategic priorities.

It allows teams to give high-level updates on the most critical current initiatives or focus areas aligned with organizational goals.

The color-coded status column and concise comments make it easy to visualize the health of strategic priorities at a glance.

It can be used for leadership team meetings, project dashboards, annual plan reviews, etc.

The template is customizable to fit an organization's specific priorities and branding.

It provides a simple one-slide format to communicate the vital few priorities and their current status to various audiences.
How to use the Update Slide on Strategic Priorities PowerPoint Template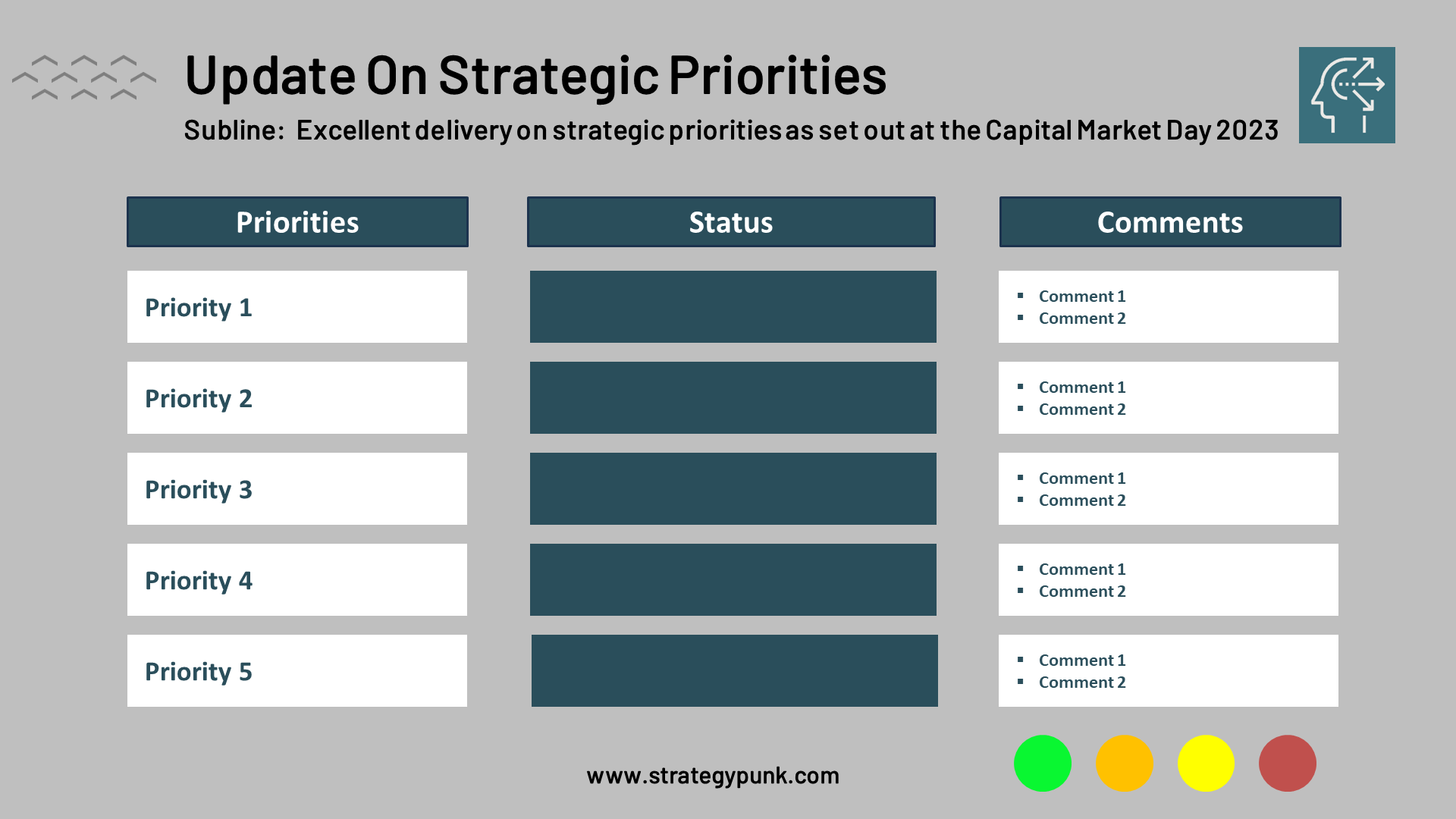 Strategic planning is crucial for businesses and organizations to set goals, allocate resources, and measure performance.
To help teams effectively communicate progress on strategic priorities, I have created a free PowerPoint template called "Update Slide on Strategic Priorities."
This single-slide template provides a simple yet powerful way to give updates on key strategic priorities.
It contains three sections - Priorities, Status, and Comments - allowing you to share the most vital information succinctly.
Overview of the Strategic Priorities Update Slide
The slide features a table with three columns:
Priorities: List your top 3-5 current strategic priorities. These could be initiatives, projects, or focus areas aligned to your organizational goals.
Status: Give a high-level status update for each priority using a color-coded visual indicator. Green indicates on track, yellow indicates some issues/risks, and red means significant delays or problems (orange in between).
Comments: Provide a short text update explaining each priority's status, risks, or next steps.
This clear one-slide format allows you to communicate the big-picture health of major priorities at a glance. The color coding and succinct comments make it easy for audiences to digest.
Use Cases for the Strategic Priorities Slide
This slide template can be utilized in a variety of scenarios:
Leadership team meetings and board updates
Departmental status updates and reporting
Project or initiative dashboards
Strategic planning workshops
Annual plan reviews
Company all-hands meetings
The versatile slide works for high-level executive updates and more tactical team reporting.
How to Customize the Strategic Priorities Slide
The PowerPoint template has sample content but is fully customizable based on your strategic priorities and status.
To tailor it to your needs:
Edit the priority titles and status colors
Update the comments with concise context
Brand the slide with your logo and style
Add or remove priority rows as needed
You can create a slide tailored to your current strategic plan in just a few minutes.
Here are answers to some frequently asked questions about the Strategic Priorities PowerPoint template:
How many strategic priorities should I include on the slide?
Let's focus on your top 3-5 strategic priorities. More than five make the slide overly crowded. Please keep it to the vital few initiatives.
What if I don't have any priorities currently in the "Red" status?
That's great if all your priorities are on track! The red status column is still helpful when priorities inevitably face obstacles.
Can I add more columns or sections to the slide?
The template is fully customizable. Some options are adding columns for priority owners, start/end dates, or progress metrics.
What file formats is the PowerPoint template available in?
The template can be downloaded in PPTX format for easy editing in PowerPoint and PDF format for sharing or printing.
Is the slide template compatible with Google Slides or Keynote?
You can open and edit the PPTX file in Google Slides or Keynote on Mac. All main features should translate seamlessly.
Do I need PowerPoint Pro or paid software to use the template?
Nope! The template is 100% compatible with free PowerPoint, Google Slides, and Keynote versions. No paid software is required.
Can I use or share the template freely?
Yes, the "Strategic Priorities" template is free to use or share however you wish! You don't need to make an attribution.
Get the Strategic Priorities Slide Template
Free Download, Fully Editable PowerPoint Template
You can download the free PowerPoint template below.
It's available for anyone to use in their organization's strategic planning and communication.
This simple one-slide template helps your team better plan, execute, and report on progress for your most important initiatives.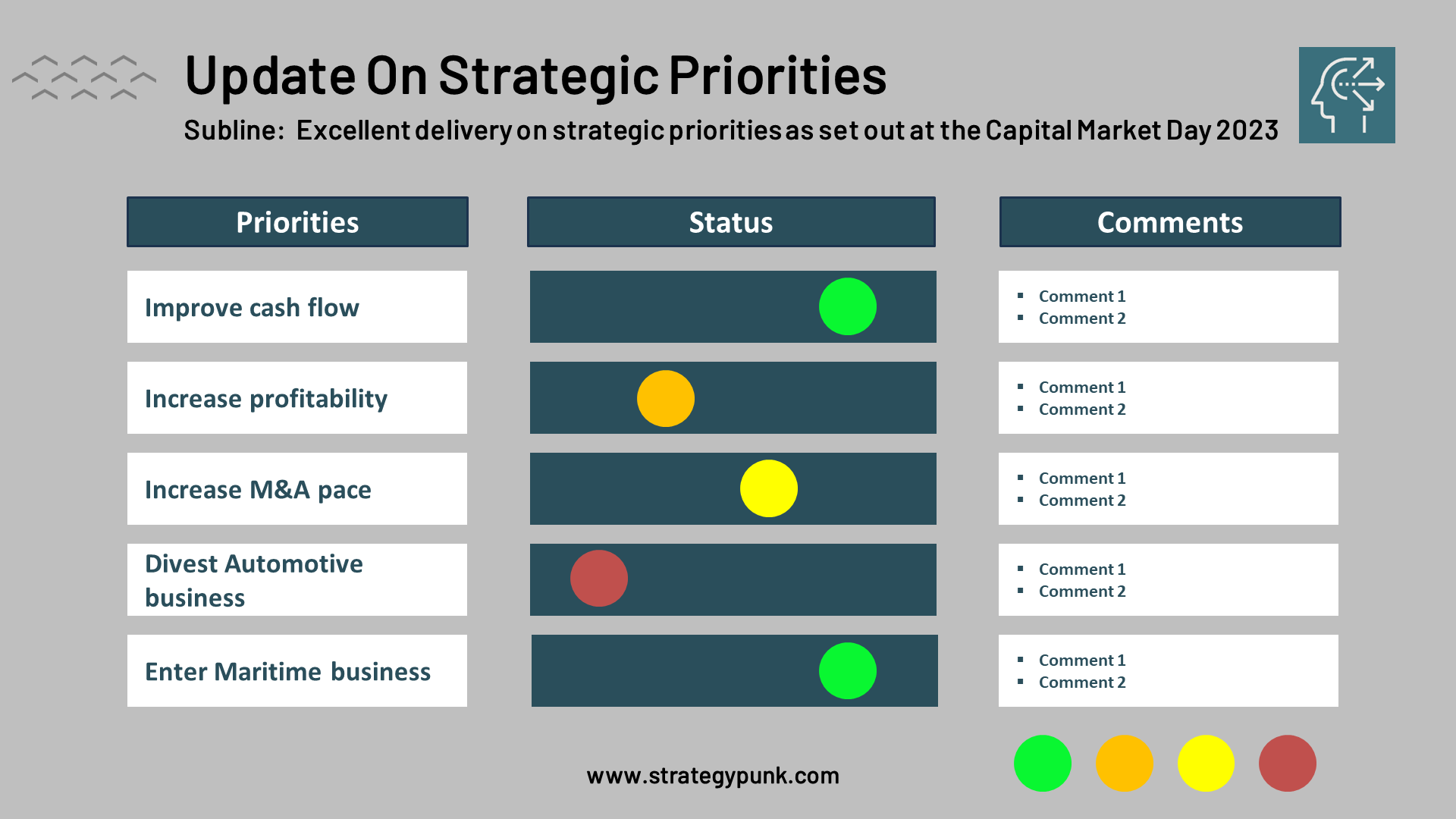 Aligning around strategic priorities is critical for any successful organization. Here is the PDF template.
Update Slide On Strategic Priorities: Free PDF Template
Log in to download the PowerPoint template. It's 100% free and fully editable.