Strategy
Combining the McKinsey 3 Horizons Framework and Marketing 4Ps (Free PPT)
Discover a powerful blend of strategy and marketing in our blog post featuring a free PowerPoint template. It combines McKinsey's 3 Horizons Framework with the Marketing 4Ps, offering a unique, fully editable tool for developing effective strategies. Ideal for marketers and strategists.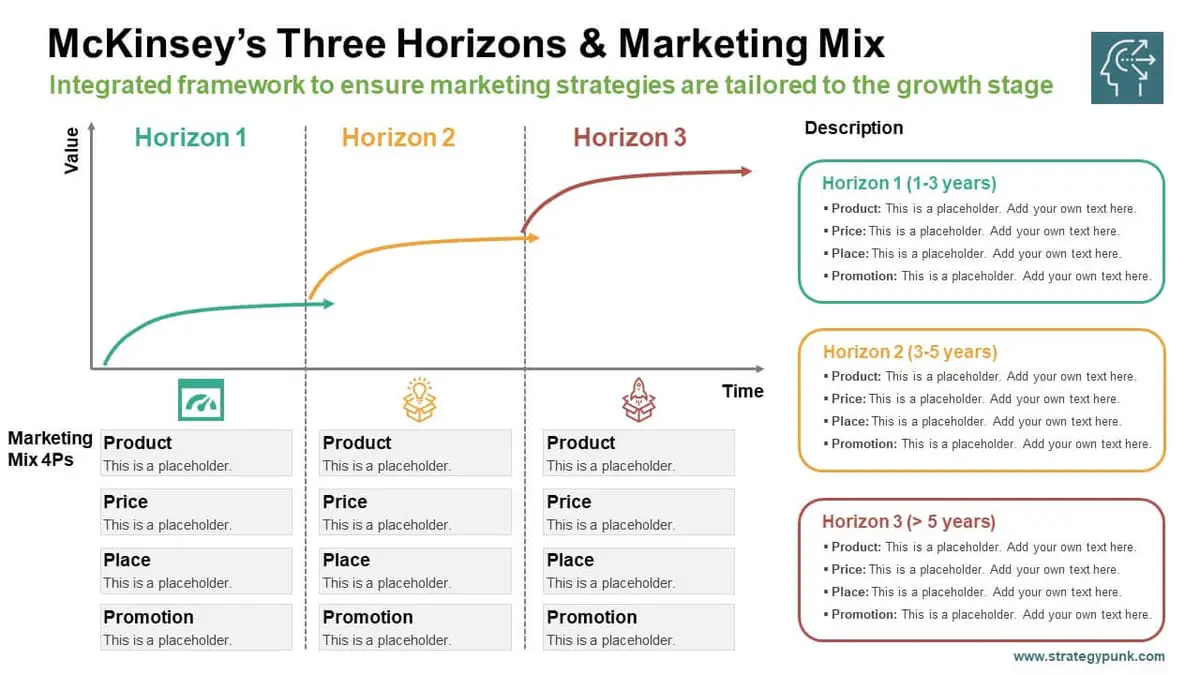 Introduction
The McKinsey 3 Horizons Framework and the Marketing 4Ps are two well-known strategic planning models that can be integrated into a robust combined framework.
This integrated framework applies the 4Ps (Product, Price, Place, and Promotion) to each horizon of the McKinsey model.
Overview of the McKinsey 3 Horizons Framework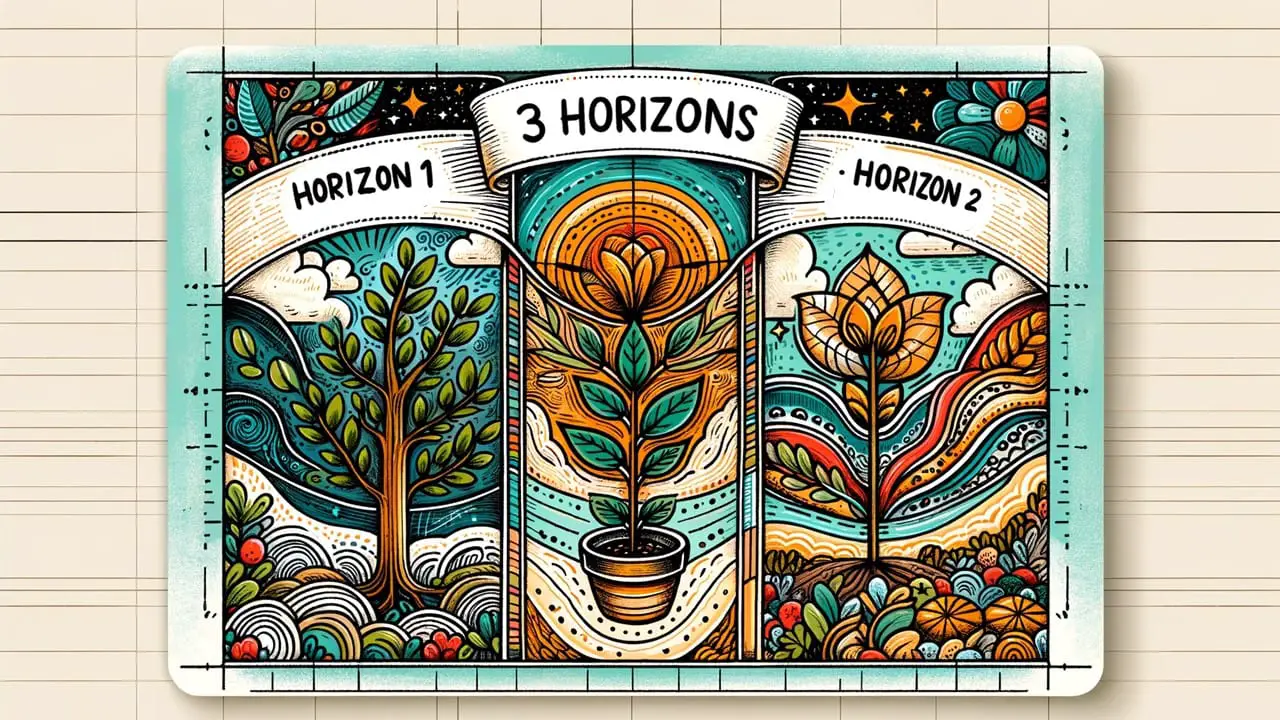 The McKinsey 3 Horizons framework divides a company's initiatives into three categories based on time horizon:
Horizon 1 (H1): Core business - Focused on current products, customers, and business models. Seeks to maximize profits from existing operations.
Horizon 2 (H2): Emerging opportunities - Represent new sources of growth leveraging existing capabilities. Focuses on expanding into adjacent markets or segments.
Horizon 3 (H3): Future vision - Consists of breakthrough innovations that will define future business models. Long-term bets with uncertain outcomes.
The framework emphasizes managing all three horizons concurrently, albeit with different strategies, metrics, and timeframes.
H1 sustains current success, H2 drives near-term growth, and H3 plants seeds for the future.
Overview of the Marketing 4Ps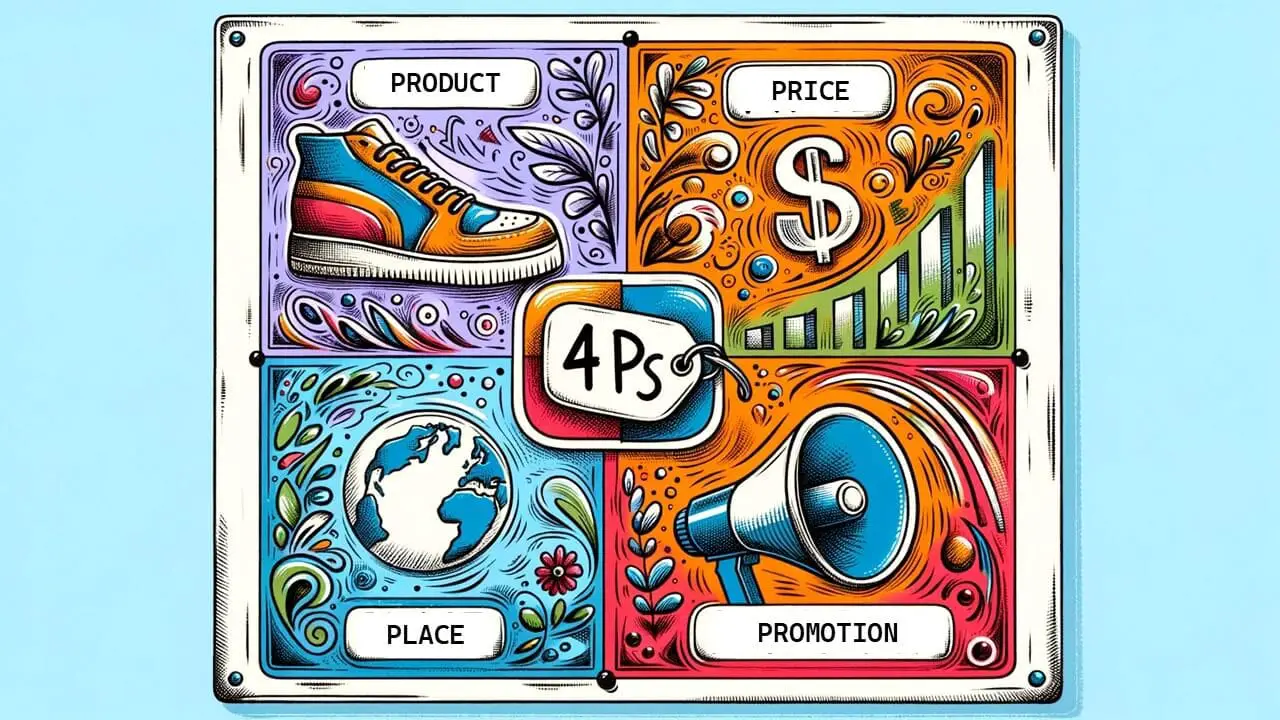 The Marketing 4Ps comprise the critical elements of a company's marketing strategy:
Product - Goods or services offered to customers. Factors include variety, design, quality, features, branding, packaging, and services.
Price - Amount charged for products or services. Pricing factors include list prices, discounts, payment terms, and financing options.
Place - Distribution channels used to reach target markets. Decisions around physical locations, inventory, logistics, and digital presence.
Promotion - Activities used to increase product awareness and sales. This may include advertising, PR, sales promotions, and digital marketing campaigns.
The 4Ps represent controllable variables that influence marketing success. They provide a framework for positioning new or existing products in the marketplace.
Integrating the Models into a Combined Framework - McKinsey's Three Horizons Marketing Mix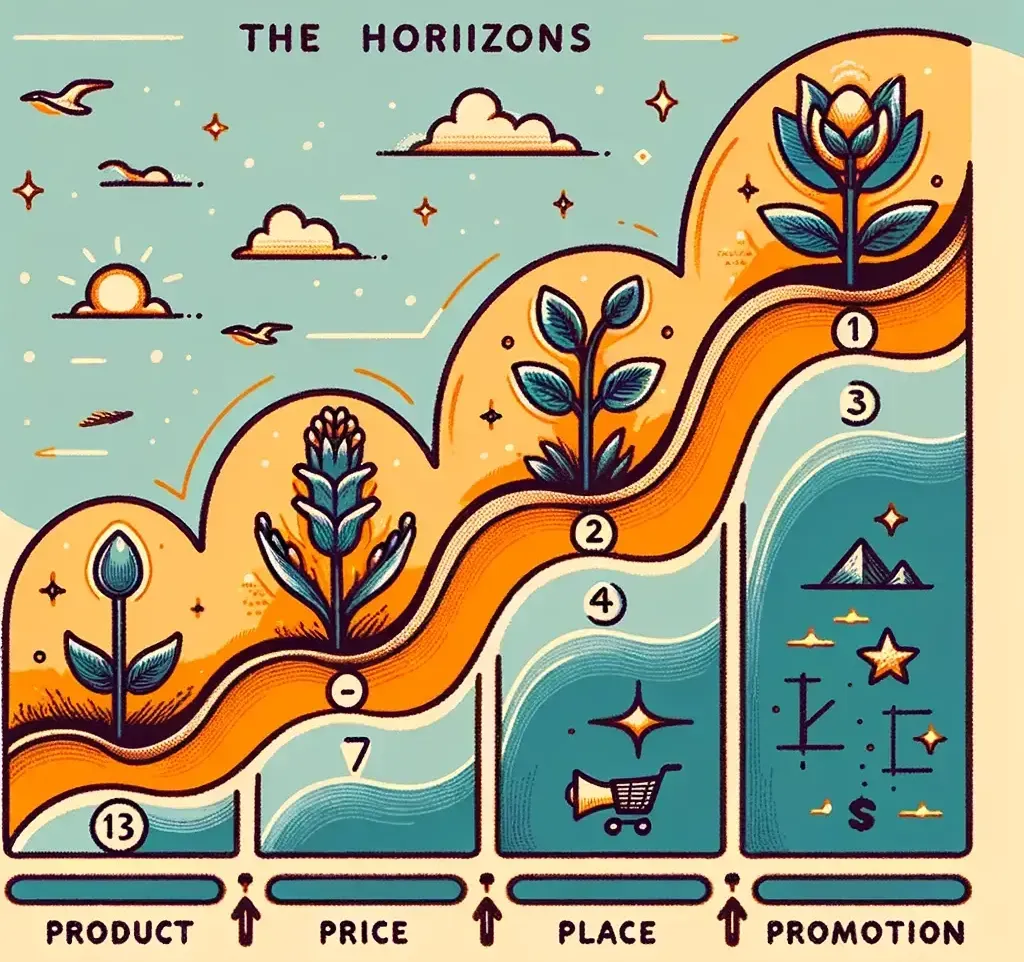 The McKinsey 3 Horizons framework and the Marketing 4Ps can be integrated into a single model by applying the 4Ps to each horizon:
Horizon 1: Core Business
Product: Focus on core products/services that are currently the primary revenue source. Enhance features to maintain market share.
Price: Competitive pricing strategy to defend against competitors. Consider bundling, discounts for volume, or loyalty programs.
Place: Strengthen current distribution channels, maximize coverage, and optimize the supply chain.
Promotion: Leverage brand strength to reinforce market position. Use targeted marketing campaigns to maintain a customer base.
Horizon 2: Emerging Opportunities
Product: Develop new developments/services that have been validated and are expected to generate substantial revenue shortly.
Price: Price for growth, potentially using penetration strategies to build market share.
Place: Expand into new markets or channels, partnerships with complementary services.
Promotion: Increase brand awareness and promote the benefits of new offerings. Use customer feedback to refine marketing strategies.
Horizon 3: Future Vision
Product: Invest in innovation to create future products/services. Research and development is critical.
Price: Use cost-plus, value-based, or skimming pricing strategies depending on the innovation level and market readiness.
Place: Explore new channels and platforms for future market trends. Consider direct-to-consumer or digital channels if applicable.
Promotion: Build excitement and anticipation through teasers, previews, and controlled leaks. Engage with early adopters.
Benefits of the Integrated Framework
Applying the 4Ps to each horizon provides several advantages:
Strategic alignment - Ensures marketing strategies are tailored to the growth stage and objectives of each product/service category.
Portfolio balance - Allows concurrent management of current and future business opportunities.
Innovation focus - Dedicated horizon for breakthrough innovations versus incremental improvements.
Improved execution - 4Ps provide an actionable blueprint for marketing new products and business models.
Measurable outcomes - Framework links growth initiatives to financial returns using consistent metrics.
Risk management - Concentrates resources on proven products while taking calculated risks on emerging and future innovations.
Implementing the Combined Framework
To implement the integrated McKinsey-4Ps model effectively, companies should:
Assign ownership - Appoint leaders responsible for each horizon.
Allocate resources - Balance funding across horizons based on priorities and growth potential.
Set metrics - Define success measures tailored to the stage and timeline of each horizon's initiatives.
Review periodically - Re-evaluate the framework regularly and adjust strategies as needed.
Communicate plans - Share integrated plans across the organization for transparency and alignment.
Allow flexibility - Be open to revising the framework as market conditions and strategies evolve.
Wrapping Up
By combining the strengths of the McKinsey 3 Horizons framework and the Marketing 4Ps model, companies can take a structured approach to managing innovation across multiple timeframes.
This integrated strategic planning process aligns marketing mixes to each business lifecycle stage, allowing resources to be optimally allocated between current and future growth opportunities.
With exemplary leadership, funding commitments, and success metrics, the combined model provides an actionable blueprint for developing a balanced portfolio to drive sustained expansion.
Frequently Asked Questions
What is the McKinsey 3 Horizons framework?
The McKinsey 3 Horizons framework is a strategic planning model that helps companies manage growth by investing in three categories:
Horizon 1 (short-term): Focus on improving and maximizing profits from existing core businesses.
Horizon 2 (medium-term): Explore emerging opportunities and new ventures that may generate substantial future profits but require investment now.
Horizon 3 (long-term): Research and develop ideas that could become new profit centers in the future.
The key is to manage all three horizons concurrently to achieve consistent growth over time. Horizon 1 brings in profits to fund Horizons 2 and 3.
What is the Marketing 4 Ps framework?
The Marketing 4 Ps framework refers to the four pillars of a marketing strategy - Product, Price, Place, and Promotion. It provides a model for developing and executing a comprehensive marketing plan.
Product refers to the item or service customers offer and its associated features and benefits.
Price refers to the cost to the customer to acquire the product and the pricing strategy.
Place refers to how and where the product is distributed and made available to customers.
Promotion refers to how the product is communicated to customers through advertising, PR, and sales channels.
What are some examples of the Marketing 4 Ps in action?
Product: Apple designs sleek, user-friendly, innovative products like the iPhone.
Price: Budget airlines like Ryanair offer low base fares but charge extra for amenities.
Place: Red Bull distributes its energy drinks widely from supermarkets to small independent stores.
Promotion: Coca-Cola spends millions on advertising campaigns to reinforce its brand image.
What are some limitations of the Marketing 4 Ps framework?
Some limitations include:
Internal focus rather than customer-centric
Static model rather than dynamic
Generic guidance rather than specific actionable insights
Developed in the 1960s, so it doesn't account for digital marketing channels
Therefore, the 4 Ps should be adapted and expanded for the modern context.
How does the integrated framework differ from using the 3 Horizons or 4Ps separately?
The integrated framework leverages the long-term vision of the 3 Horizons with the tactical approach of the 4Ps. This means actions taken today are informed by future growth, ensuring a strategic balance.
Can this framework be applied to any industry?
Yes. While the application will vary, balanced growth and strategic marketing principles are universal.
How often should a company review its position within this framework?
Regular reviews are crucial. Market conditions change, and the framework should be agile enough to respond. Quarterly reviews are a good starting point.
How can a company know when to move from one horizon to the next?
Movement isn't linear or time-bound. Companies should look for signs of market saturation, revenue plateaus, and emerging trends to decide when to shift focus.
Do you think this framework is suitable for small businesses or startups?
Absolutely. Even small businesses need to plan for the future while optimizing the present. The framework scales with the company.
Discover more
Clickworthy Resources
McKinsey's 3 Horizons Framework: Free PowerPoint Template
How to think about growth and innovation? Focus on the Now, New and Next. Free slide deck in PowerPoint and Google Slides format.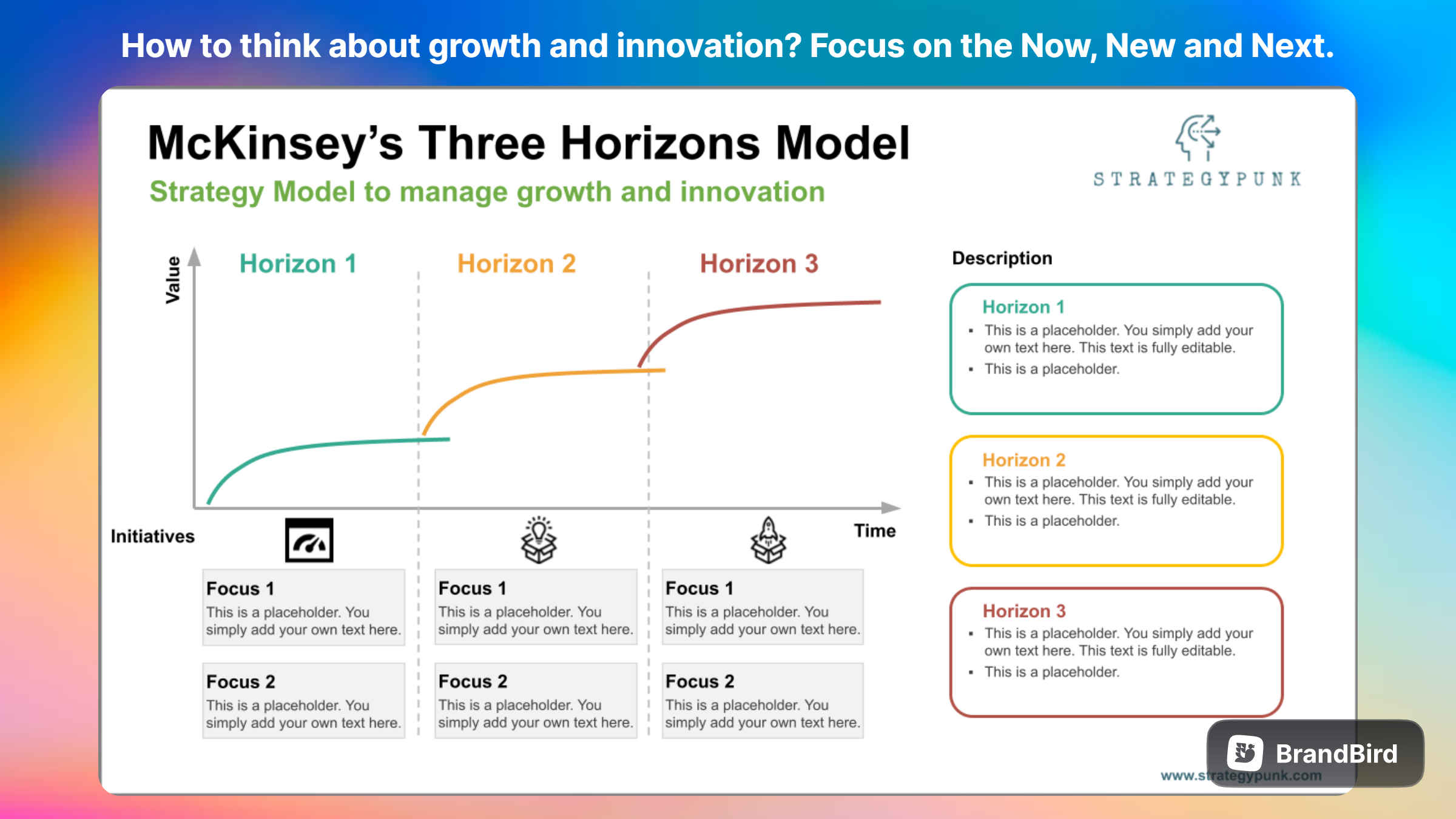 McKinsey Three Horizons of Growth: A Strategic Framework for Business Expansion
Master business expansion with our McKinsey Three Horizons guide and free PowerPoint template for effective growth planning.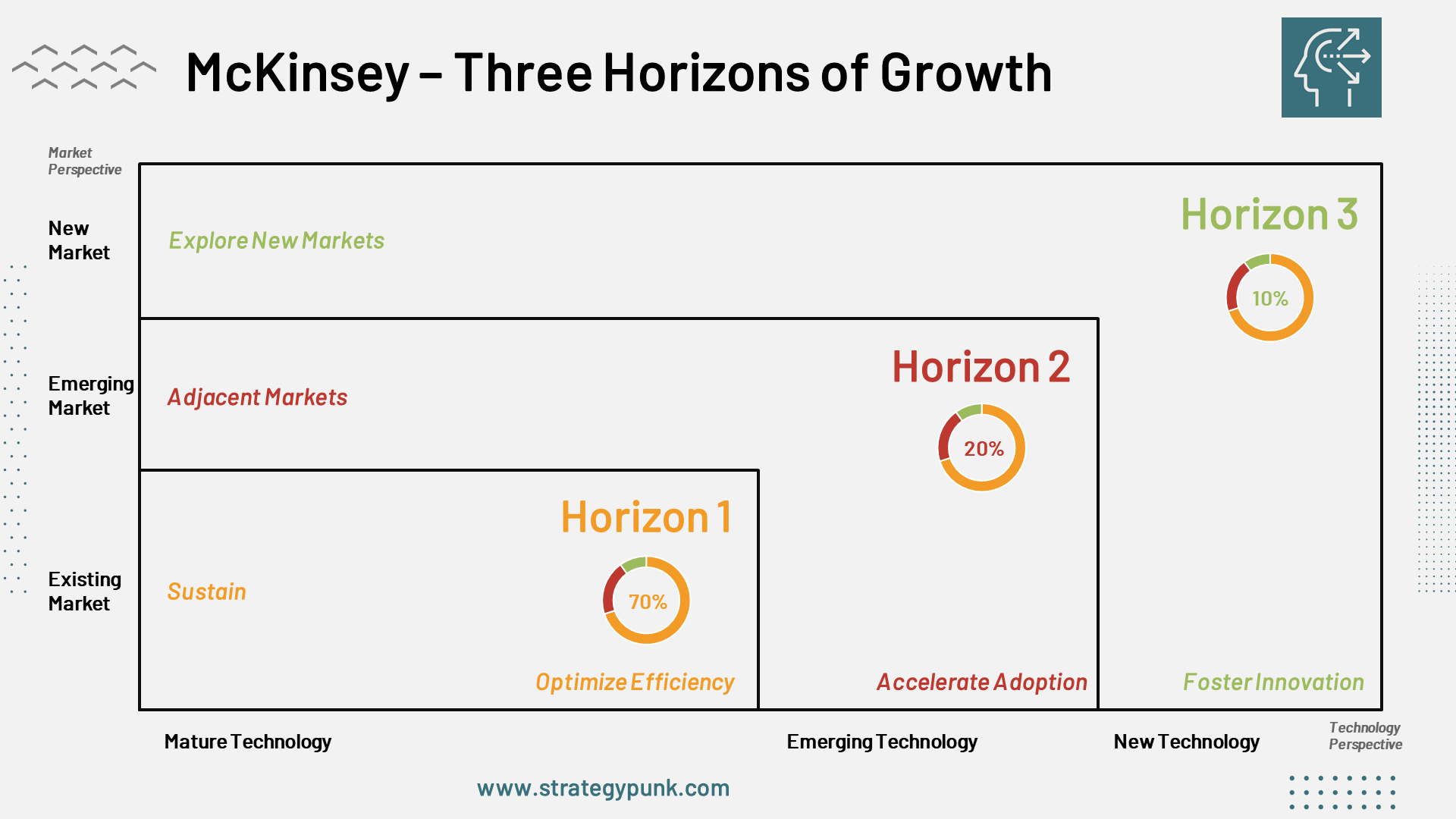 Horizons Model: A Path to Eco-Friendly Growth
Harness the Three Horizons Model to align business growth with sustainability. Balance current operations with future innovations while prioritizing environmental stewardship.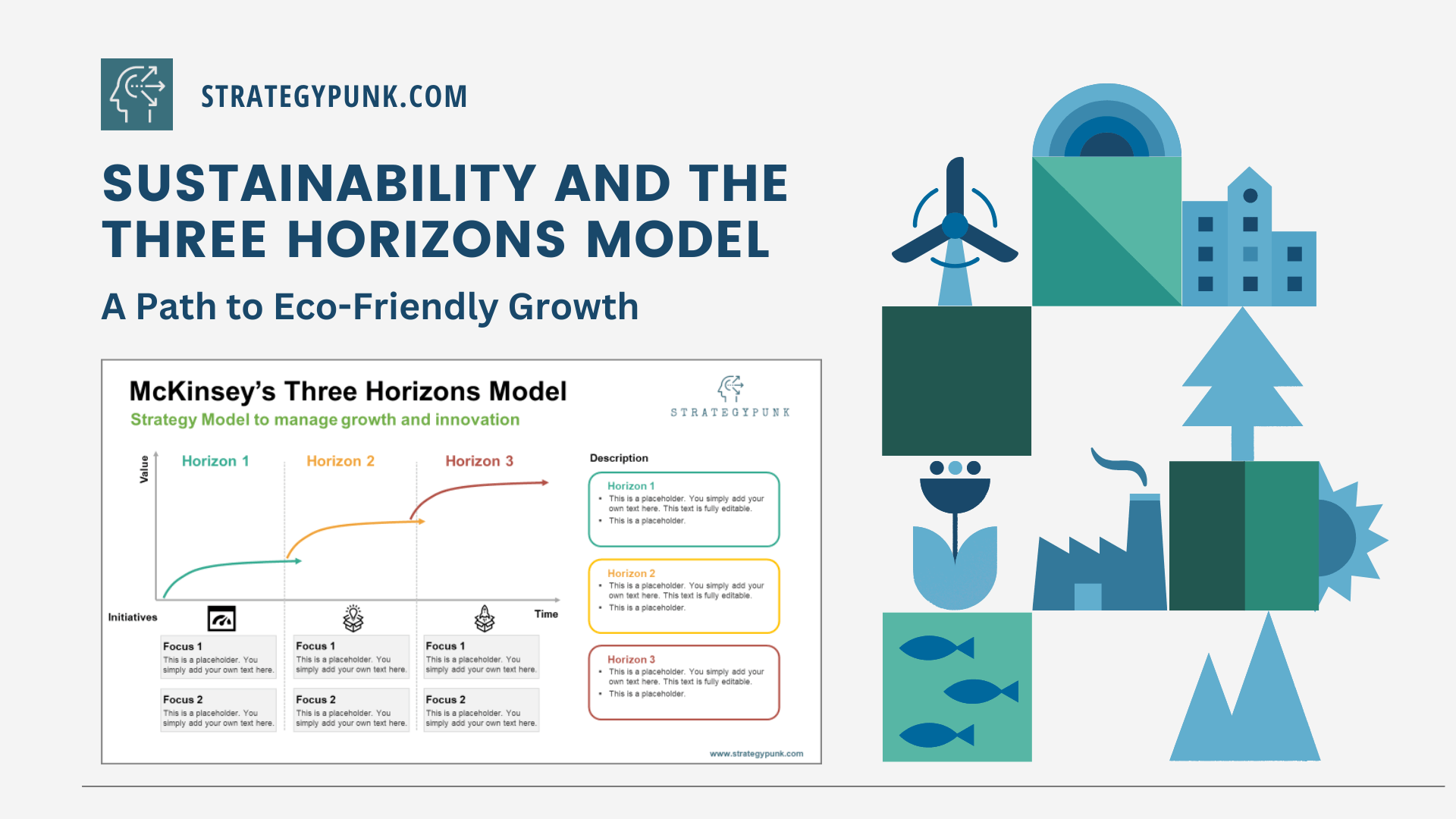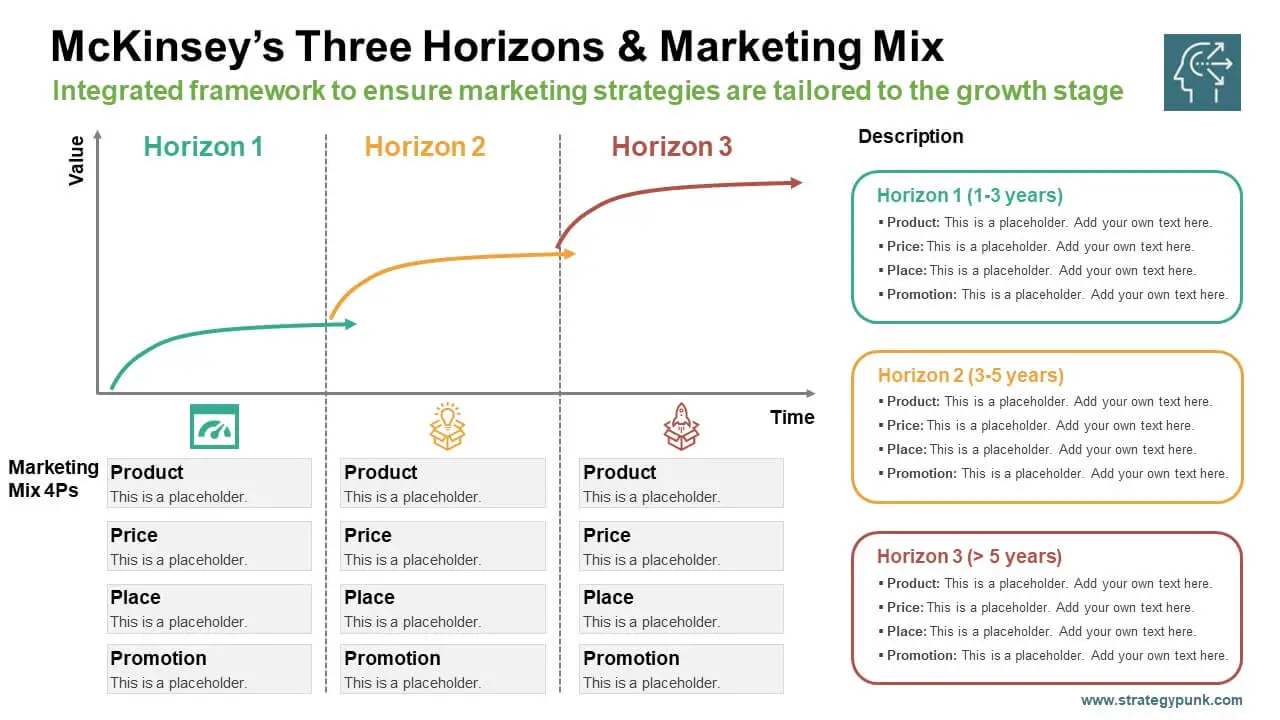 3 Horizons and 4Ps PowerPoint Template
Introducing a Unified Business Model: Combining McKinsey's 3 Horizons with the Marketing 4Ps in a Free PowerPoint Template.
Overview
The fusion of McKinsey's 3 Horizons framework with the Marketing 4Ps is now in a free, fully editable PowerPoint template. This innovative tool merges two pivotal business strategies, offering a dynamic way to plan and present business growth and innovation strategies.
McKinsey's 3 Horizons Framework:

Horizon 1: Core Business - Focus on enhancing the current business model.
Horizon 2: Emerging Business - Expansion into new, related areas.
Horizon 3: Future Business - Developing new opportunities for future growth.

The Marketing 4Ps:

Product: Range of products or services.
Price: Pricing strategies.
Place: Distribution channels.
Promotion: Marketing communication techniques.
Template Features:
Fully Editable: Customize every aspect, from text to color schemes, to suit your business needs.
Integration of 3 Horizons and 4Ps: Structured slides to illustrate how each horizon aligns with the 4Ps.
User-Friendly Design: Intuitive layout for easy navigation and understanding.
Visual Elements: Include charts, graphs, and diagrams for a more impactful presentation.
Guided Sections: Each section is designed to help you articulate specific strategies and plans.
Benefits of Using the Template:
Structured Innovation Management: Plan and present innovation strategies across different business stages.
Aligned Strategies: Seamlessly combine innovation and marketing strategies for a cohesive approach.
Resource Balancing: Illustrate how resources are allocated across various growth opportunities.
Stage-Specific Marketing: Tailor marketing plans according to the stage of business growth.
Professional Presentation: A polished and comprehensive tool for internal and external stakeholders.
Conclusion:
The free PowerPoint template blending McKinsey's 3 Horizons with the Marketing 4Ps offers a unique and practical approach to business strategy development and presentation.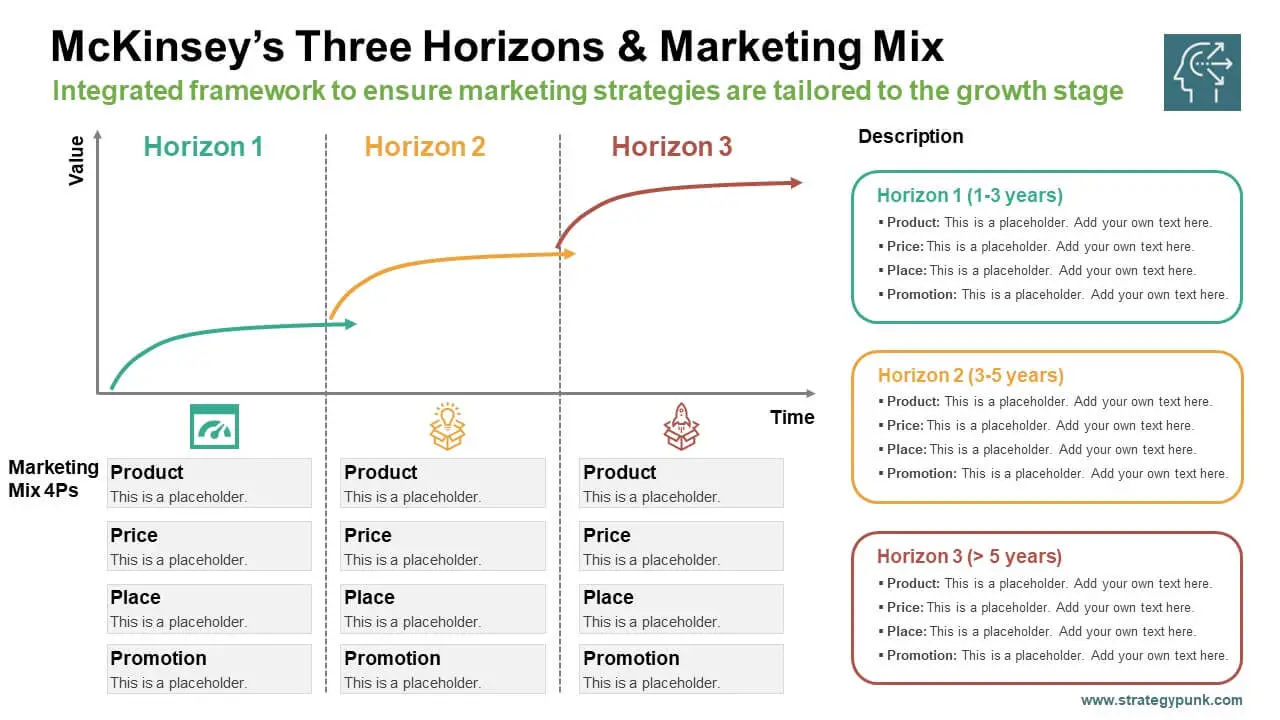 PDF template - Blending McKinsey's 3 Horizons with the Marketing 4Ps
PowerPoint template - Blending McKinsey's 3 Horizons with the Marketing 4Ps
This tool is ideal for businesses seeking a coherent and visually engaging way to align their innovation initiatives and marketing strategies across various time horizons, ensuring a balanced and forward-thinking approach to business growth and management.