Leadership
Empowering Teams: The Power of Peer-to-Peer Accountability
Revolutionize your team dynamics with Peer-to-Peer Accountability! Overcome Lencioni's "Avoidance of Accountability" dysfunction and learn from leaders like Zappos and Netflix.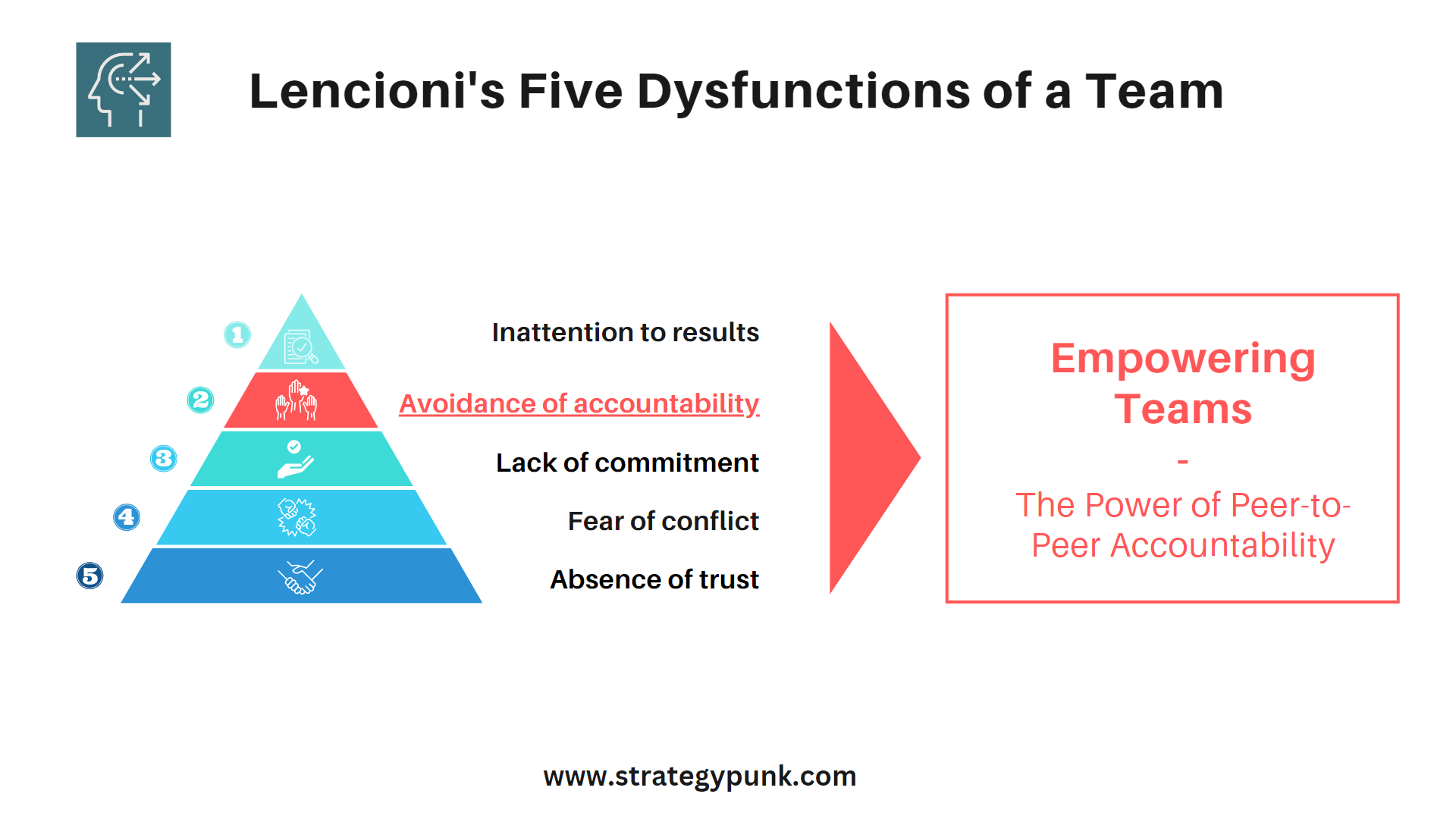 Introduction
Have you ever felt like you're constantly putting out fires in your team?
Or do you find yourself playing the role of a playground monitor, settling disputes and trying to maintain harmony?
What if I told you there's a way to reduce this workload and simultaneously empower your team?
Welcome to the world of peer-to-peer accountability!
Linking Peer-to-Peer Accountability with Lencioni's 5 Dysfunctions of a Team
Remember Lencioni's 5 Dysfunctions of a Team?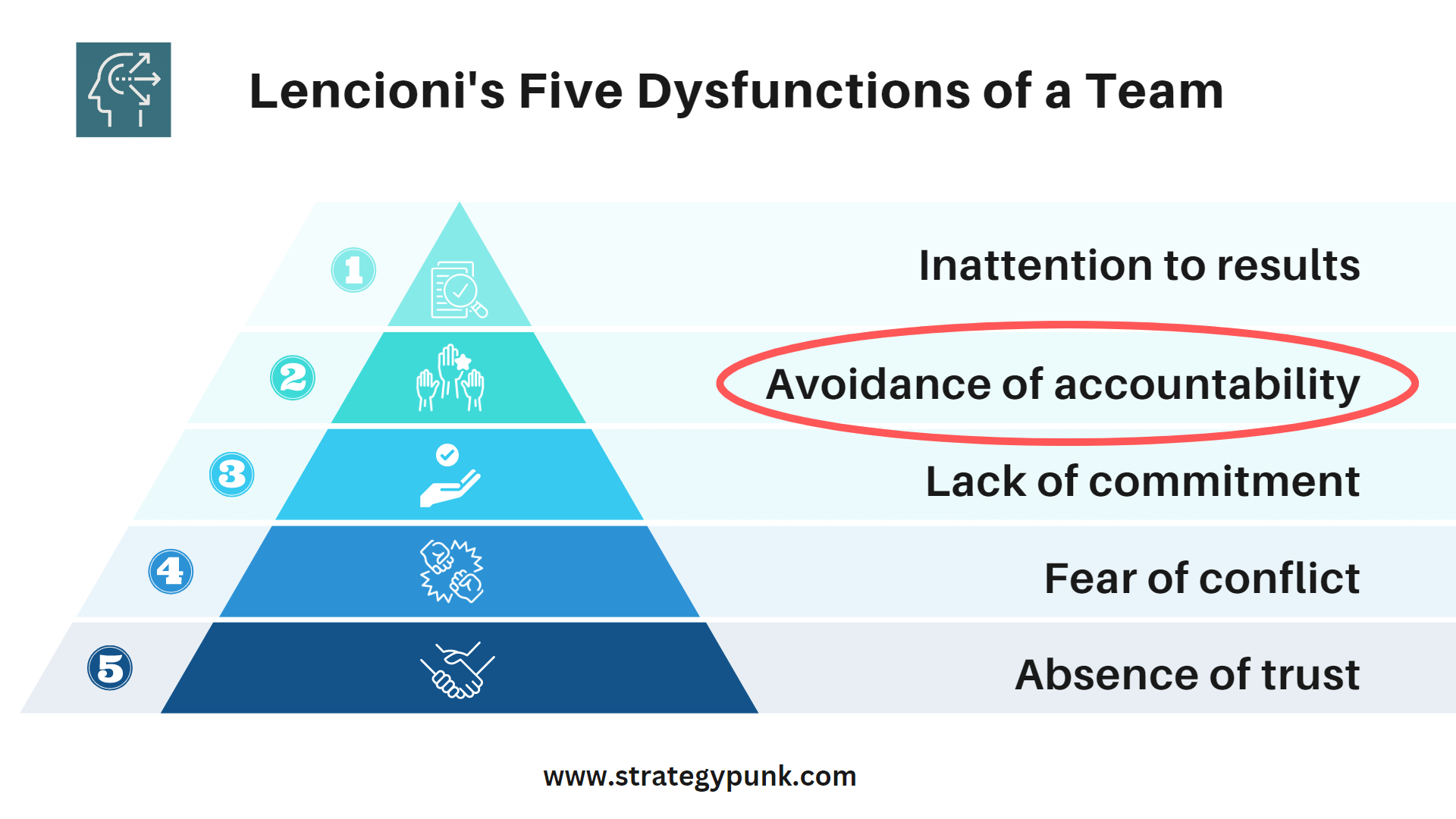 It's okay if it's a bit foggy; let's focus on the fourth dysfunction - "Avoidance of Accountability."
It's a common challenge where team members avoid calling out their peers on performance issues.
Now, picture this: a superhero named Peer-to-Peer Accountability swooping in to combat this very issue.
Sounds intriguing? Let's dive deeper.
Understanding Peer-to-Peer Accountability
Picture a team where each member holds others accountable for their performance, not just the leader.
It sounds like a dream, which is the essence of peer-to-peer accountability.
It's empowering, giving everyone a stake in the game and fostering leadership among all team members​1​​2​.
Why Peer-to-Peer Accountability Works
Peer-to-peer accountability works wonders.
It's all about human psychology!
When a peer holds you accountable, you're motivated to step up your game to avoid being seen as the weak link.
This sense of responsibility cultivates trust and promotes healthy competition. Everyone's a winner!
Challenges in Implementing Peer-to-Peer Accountability
But let's be honest; it's not all sunshine and rainbows.
Implementing peer-to-peer accountability can stir up fear of conflict, mistrust, and unhealthy competition.
Navigating these potential pitfalls requires a delicate balance and adept handling.
After all, and nobody said being a superhero would be straightforward, right?
The Role of Leadership in Fostering Peer-to-Peer Accountability
Leaders, this is where you step in!
Your role is not to settle disputes but to create a culture where your team members feel empowered to address their concerns directly and respectfully with each other​​.
Case Study: Successful Implementation of Peer-to-Peer Accountability
For a real-world example, let's take a look at Zappos and Netflix, which highlight the successful implementation of peer-to-peer accountability:
Zappos: The company, renowned for its customer service, implemented a peer-to-peer accountability system known as the Holacracy model. This model replaces the traditional management hierarchy with a "flat" structure where teams are self-managed. This means employees are encouraged to hold each other accountable, fostering a culture of shared responsibility. It's worth noting that implementing such a system is not without its challenges and only suits some organizations. However, Zappos has made it work effectively, thereby demonstrating one of the successful implementations of peer-to-peer accountability​.
Netflix: Netflix has a corporate culture that emphasizes "freedom and responsibility." The company's famed culture deck states that responsible people thrive on freedom and are worthy of release. Netflix believes in having a culture where employees can make decisions and be accountable for their actions. This culture encourages peer-to-peer accountability as each individual is expected to take ownership of their work and be aware of their peers' work​. We published two exciting blog posts on the Netflix culture: Netflix 4A feedback principles: Free PowerPoint Template and How to give feedback, the Netflix way.
While these examples provide insight into how companies have successfully implemented peer-to-peer accountability, it is essential to remember that such a system must be tailored to fit your organization's specific needs, values, and culture.
Practical Steps to Implement Peer-to-Peer Accountability in Your Team
Ready to unleash the power of peer-to-peer accountability?
Here's your game plan:
Set clear expectations, and ensure everyone knows their role.
Set measurable goals.
Remember, a vague goal leads to ambiguous outcomes.
And lastly, communication is vital. Encourage openness and foster dialogue.
The Future of Peer-to-Peer Accountability
So, where does the future of work lie?
With the rise of remote and flexible work arrangements, peer-to-peer accountability is becoming even more crucial.
It's all about self-management and taking ownership, no matter where you are.
Conclusion
You're creating a win-win situation by empowering your team with peer-to-peer accountability.
So, are you ready to transform your team into a group of empowered, accountable leaders?
The future of your team starts with you.