Strategy
SWOT Analysis of Ford Motor: Free PPT Template and In-Depth Insights 2023
Embark on a journey through Ford Motor Company's 2023 SWOT analysis. This post unpacks Ford's heritage, market dynamics, and financials, culminating in a free, insightful PPT/PDF SWOT template.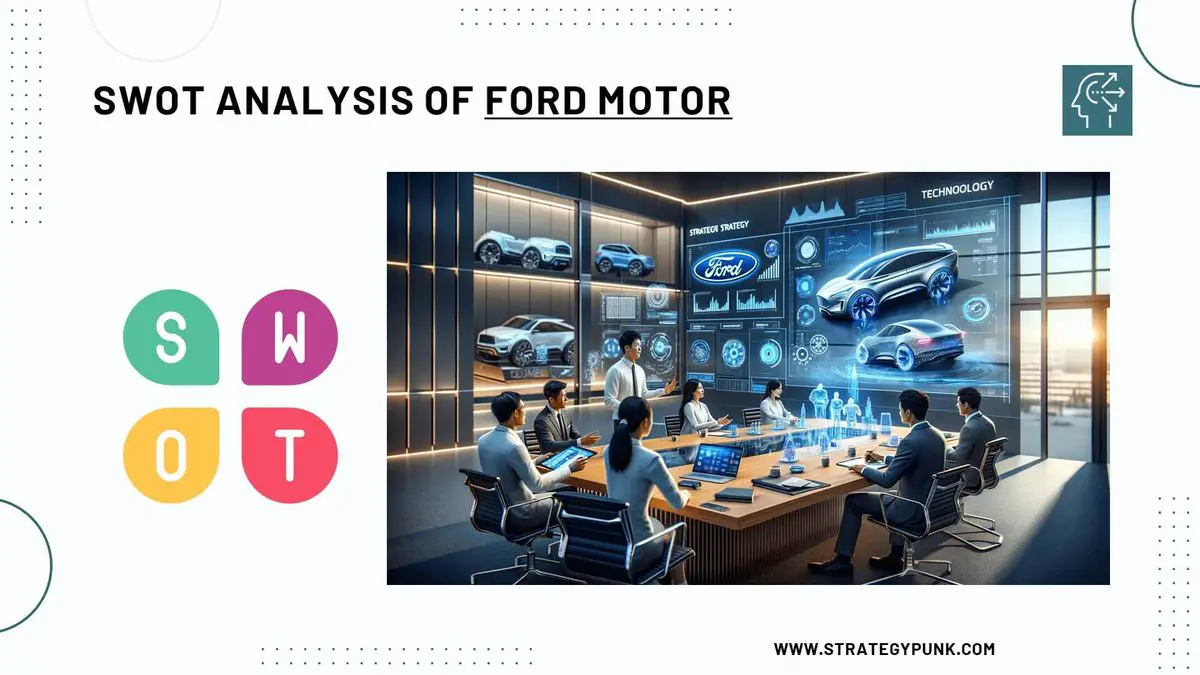 Introduction
Ford Motor Company is one of the largest automakers in the world.
Founded in 1903 by Henry Ford, the company is known for revolutionizing the auto industry with the Model T and developing the moving assembly line.
Headquartered in Dearborn, Michigan, Ford employs over 180,000 people worldwide and sells vehicles under the Ford and Lincoln brands. In 2022, Ford reported $158 billion in revenue.
As an iconic American brand, Ford has gone through many ups and downs over its 100+ year history.
A SWOT analysis of Ford Motor can provide valuable insights into the company's current situation and prospects. For those interested in a deeper dive, a free PowerPoint and PDF template of Ford's SWOT analysis is available at the end of this blog post.
A Brief History of Ford Motor
Henry Ford founded the Ford Motor Company in 1903 in Detroit, Michigan. Ford's vision was to make automobiles affordable and accessible to the average American family.
In 1908, Ford introduced the Model T, which quickly became a huge success. The Model T was easy to drive and maintain and affordable at $825 in 1908 (around $23,000 today). Ford was able to keep costs down through innovations like the moving assembly line.
By 1918, half of all cars in the United States were Model Ts. Over the decades, Ford has gone through periods of innovation and stagnation. It introduced successful vehicles like the F-Series pickup trucks and the Mustang ponycar.
However, Ford struggled in the 1970s and 1980s due to rising gas prices and competition from foreign automakers.
In the 1990s and 2000s, Ford acquired luxury brands like Volvo, Land Rover, Jaguar, and Aston Martin. It also sold off brands like Mazda and Mercury to focus on its core Ford and Lincoln lines.
Under CEO Alan Mulally in the late 2000s, Ford avoided bankruptcy and restructured to be leaner and more competitive.3
Today, Ford remains one of the top automakers worldwide. However, it faces challenges as consumer preferences shift and new technologies disrupt the auto industry.
Financials of Ford Motor 2022
For the fiscal year 2022, Ford reported:
Revenue: $158.1 billion (up 15% from 2021)
Net loss: $2 billion
Vehicles sold: 4.1 million
The net loss was primarily due to one-time charges related to restructuring costs. Ford's adjusted pre-tax earnings were $10.4 billion in 2022.
Some key financial metrics for Ford in 2022:
Automotive revenue: $154.3 billion
North America market share: 12.6%
Research and development spending: $7.8 billion
Ford has a strong balance sheet with $32 billion in cash and $48 billion in liquidity as of December 2022. However, it also carries a considerable debt of around $108 billion.
In-depth SWOT Analysis of Ford Motor 2023
A SWOT analysis examines a company's strengths, weaknesses, opportunities, and threats.
Here is a deeper look at Ford's SWOT:
Ford Motor's Strengths
Strong brand recognition: Ford is an iconic American brand with a rich history from 1903. It carries brand equity and consumer trust built over decades.
Leading position in trucks: Ford's F-Series pickup trucks are the best-selling vehicles in the United States. The company has a dominant 40% share in the pickup truck segment.
Global scale and reach: Ford employs over 180,000 people and sells vehicles in over 100 countries. This global scale provides cost advantages and diversification.
Extensive dealer network: Ford has over 3,000 dealerships nationwide, providing broad access to sales and service support nationwide.
Research and development capabilities: Ford invests heavily in R&D, spending $7.8 billion in 2022. This allows Ford to innovate and stay competitive.
Ford Motor's Weaknesses
Dependence on North America: Over 60% of Ford's sales come from North America, making the company vulnerable to regional declines.
Lagging in electric vehicles: Ford has fallen behind competitors in bringing compelling electric vehicles to market. This could impact future revenues as the market shifts to EVs.
Quality issues: Ford has had some vehicle quality problems recently, leading to recalls and hurting brand image.
High debt levels: Ford carries a considerable debt of around $108 billion, limiting financial flexibility.
Complex organizational structure: Some analysts cite Ford's complex matrix structure as hampering agility and innovation.
Ford Motor's Opportunities
Growing demand for trucks and SUVs: As gas prices decline, demand for profitable trucks and SUVs increases, playing to Ford's strengths.
New electric vehicles: Ford plans significant investments in electric vehicles, aiming for 50% of sales to be electric by 2030. This vast market represents a growth opportunity.
Autonomous driving technology: Ford acquired autonomous vehicle startup Argo AI in 2017 and can lead self-driving vehicles as the technology matures.
Digital and mobility solutions: Services like subscription packages and mobility solutions provide recurring revenue streams beyond vehicle sales.
Strategic partnerships: Partnerships, acquisitions, and collaborations can help Ford access new technologies and capabilities.
Ford Motor's Threats
Competitive pressure: The auto industry is fiercely competitive, with challengers like Tesla and traditional rivals like GM and Toyota threatening Ford's market share.
Economic downturns: As a consumer cyclical, Ford's sales are vulnerable to economic declines when buyers delay big-ticket purchases.
Supply chain disruptions: Shortages of semiconductors, raw materials, and other components have impacted Ford's production volume, costs, and ability to meet demand.
Rising material costs: Key commodities and materials like steel and lithium are seeing costs increase, eating into Ford's profit margins.
Environmental regulations: Tighter regulations on fuel economy and vehicle emissions require ongoing investments from automakers like Ford.
Ford Motor SWOT Analysis Summary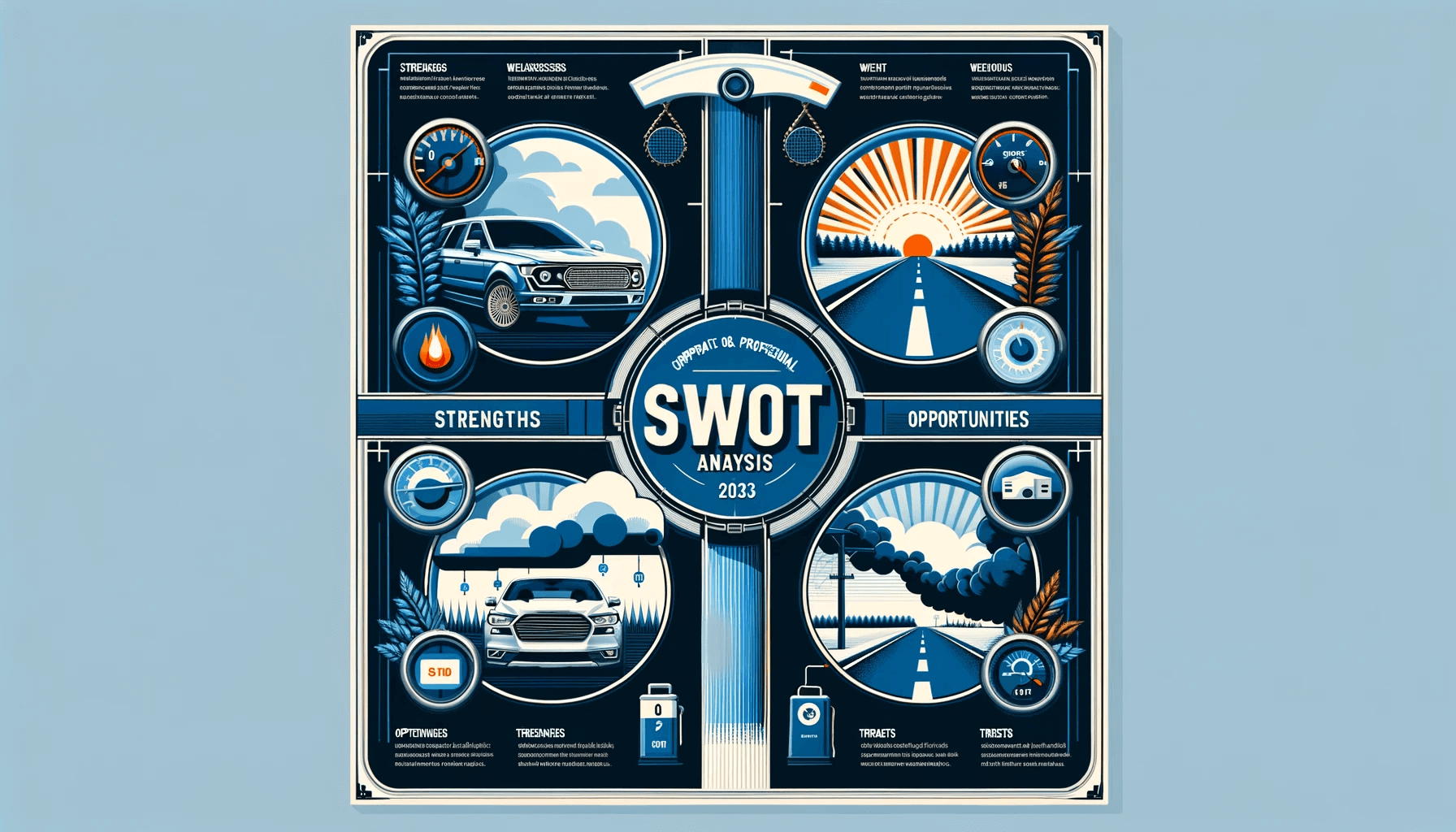 Internal Factors
Strengths
Strong brand recognition and equity
Leading position in the profitable truck segment
Extensive global scale and reach
Strong research and development capabilities
Weaknesses
Dependence on the North American market
Lagging in electric vehicle development
Past vehicle quality issues
High debt levels
Complex organizational structure
External Factors
Opportunities
Growing demand for trucks and SUVs
Investments in electric vehicles
Autonomous driving technology
Digital and mobility solutions
Strategic partnerships
Threats
Fiercely competitive auto industry
Vulnerability to economic downturns
Supply chain disruptions
Rising material and commodity costs
Stricter environmental regulations
Frequently Asked Questions
What are Ford's main strengths?
Ford's main strengths are its strong brand recognition, leadership in pickup trucks, global scale and reach, extensive dealer network, and research and development capabilities. The F-Series truck lineup is a dominant profit driver.
What are the biggest threats facing Ford?
Critical threats Ford faces are competitive pressure, economic downturns, supply chain disruptions, rising material costs, and tighter environmental regulations. Competition from new EV makers and traditional rivals threatens Ford's market share.
How can Ford capitalize on emerging opportunities?
Ford has growth opportunities by investing in electric vehicles, autonomous driving technology, digital mobility solutions, and forming strategic partnerships. The growth of SUV and truck sales also plays to Ford's strengths.
Is Ford in good financial shape?
Ford has a strong balance sheet with ample cash reserves and liquidity. However, it also carries considerable debt. Ford reported a net loss in 2022 but has solid adjusted pre-tax earnings. Profitability needs to improve.
What is Ford's current global market share?
Ford has an overall global market share in new vehicle sales of approximately 6.1% as of 2021. In its core U.S. market, Ford has a 12.6% share. The F-Series pickup truck lineup comprises about 40% of the U.S. market. In summary, Ford is an automotive giant with competitive strengths but also faces risks from disruptive forces reshaping the auto industry. Investing in new technologies and leveraging its scale and brand power can help Ford navigate challenges and capitalize on emerging opportunities. A balanced SWOT assessment provides insights into Ford's strategic position.
How does Ford Motor Company's financial performance compare to Mercedes-Benz?
Here are the key points comparing the financial performance of Ford Motor Company and Mercedes-Benz Group:
Both Ford and Mercedes-Benz reported declines in profitability in 2022 compared to 2021, but Mercedes-Benz was more profitable overall. Mercedes-Benz had an operating profit margin of 12.5% in 2022 versus Ford's 4.1%.
Ford reported a net loss of $2 billion in 2022, while Mercedes-Benz had a net profit of €14.2 billion (around $15 billion) 13.
Mercedes-Benz generates most of its profits from luxury vehicles and premium vans. Ford relies more on pickup trucks and larger vehicles, especially in the U.S. market12.
Ford has a weaker balance sheet with higher debt levels. Mercedes-Benz has high cash reserves and liquidity35.
Overall, Mercedes-Benz has been more profitable recently than Ford, with higher margins and better balance sheet strength. But Ford generates more revenue, and both face near-term pressure from EV investments.
Define a One-Page Strategic Plan to communicate your strategy.
Ford Motor SWOT Analysis PowerPoint Template
free and fully editable PPT template
A SWOT analysis evaluates the strengths, weaknesses, opportunities, and threats impacting a company.
This free editable PowerPoint template provides a SWOT analysis framework to evaluate Ford Motor's internal strengths and weaknesses and external opportunities and threats. 
❤️
If my content and templates have saved you time or helped you get a project off the ground, I'd appreciate your support: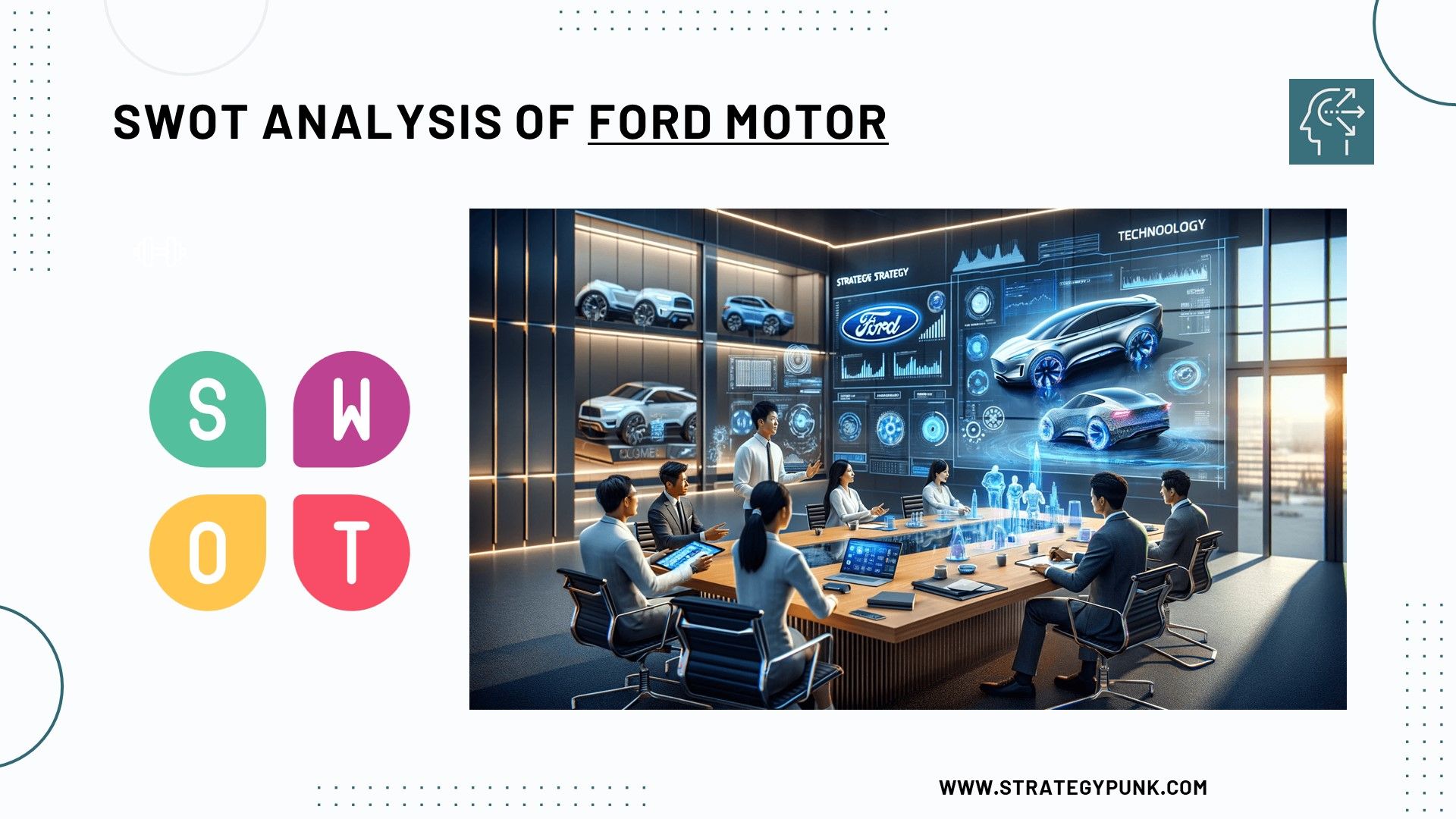 Ford Motor SWOT Analysis PowerPoint Template
Ford Motor SWOT Analysis PDF Template
Discover more
Clickworthy Resources
SWOT Analysis: Free PowerPoint Template
This PowerPoint slide deck contains five different layouts to complete a SWOT analysis.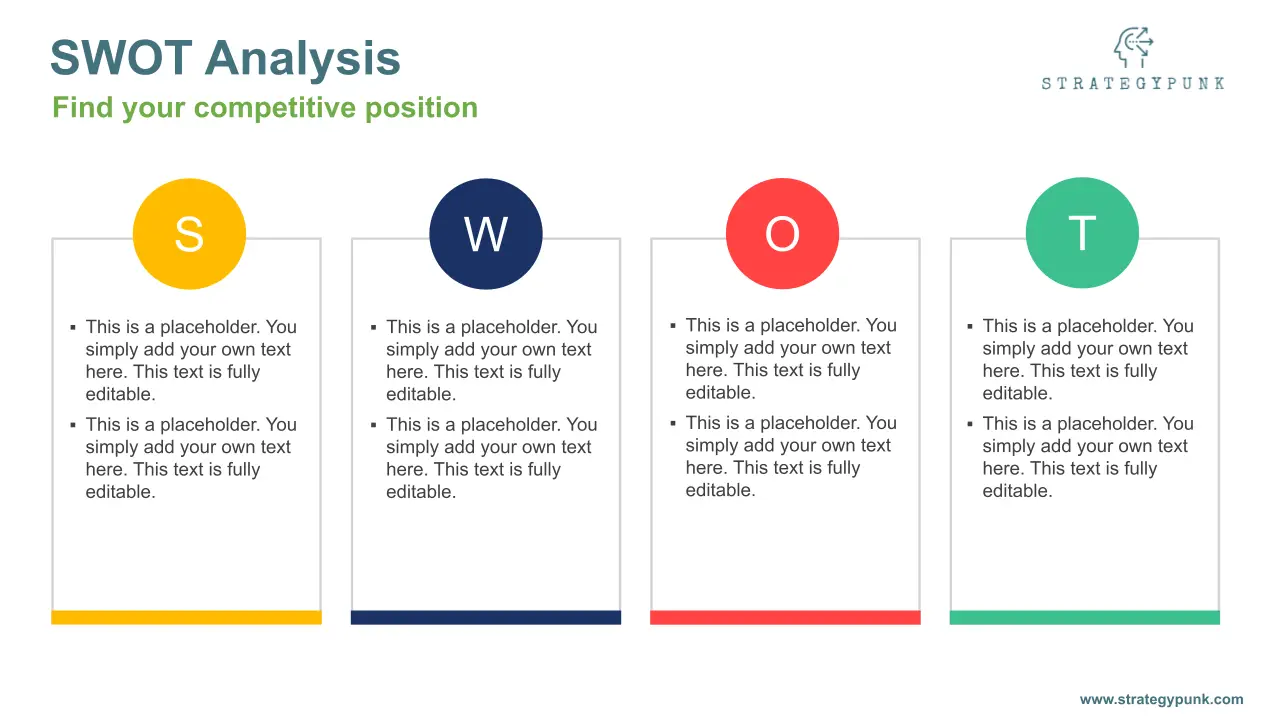 SWOT Analysis of General Motors: Free Templates and In-Depth Insights 2023
Discover the driving forces behind General Motors' (GM) enduring market presence in our SWOT analysis for 2023. Explore how GM plans to steer through the automotive industry's evolving landscape with our free PPT and PDT template and in-depth insights.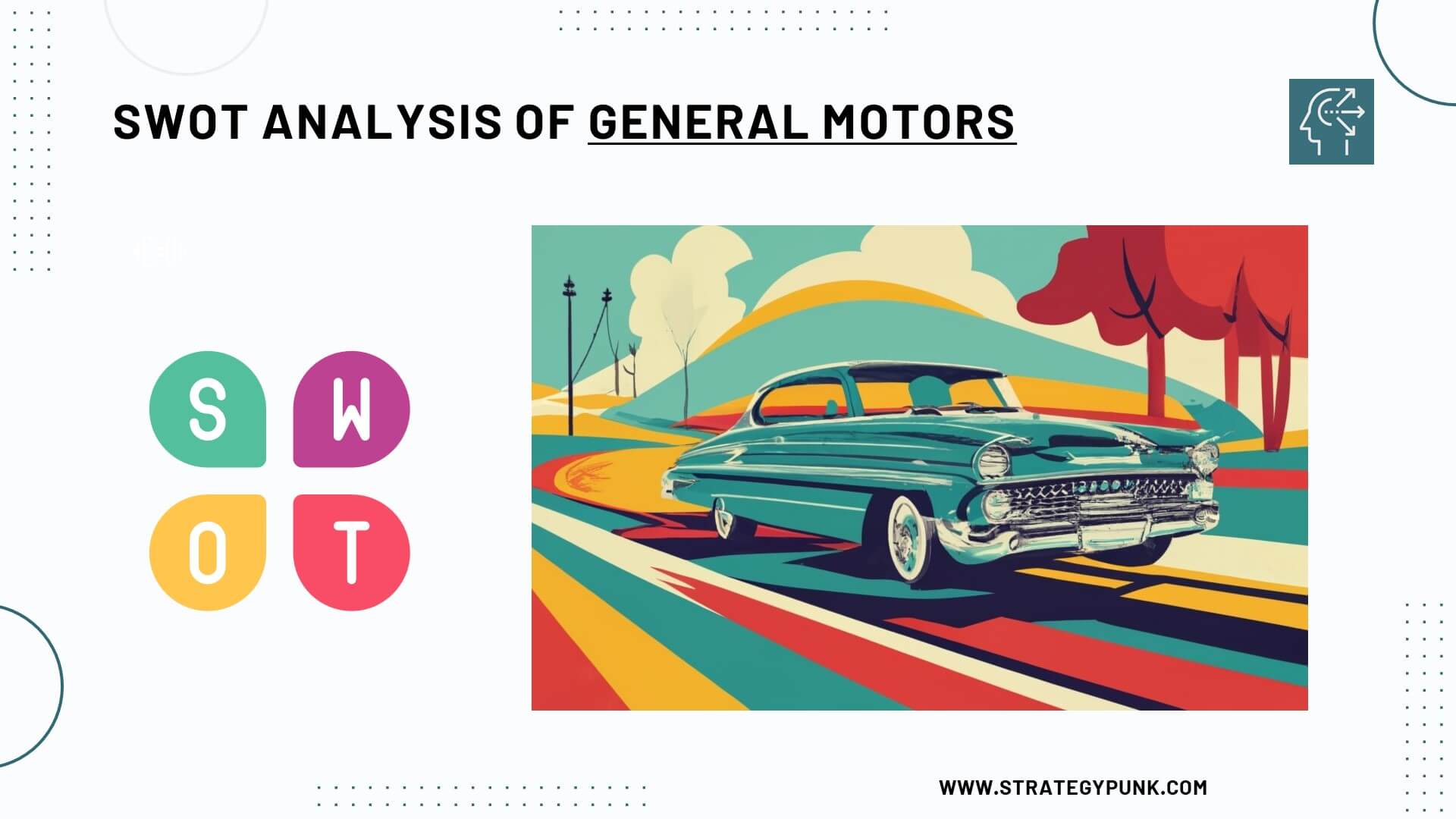 SWOT Analysis of Mercedes-Benz: Free Templates and In-Depth Insights 2023
In the ever-evolving landscape of the luxury automotive industry, Mercedes-Benz continues to be a beacon of excellence and innovation. Our latest SWOT Analysis for 2023, available as a free PowerPoint download, offers a meticulous examination of the brand's current standing and future trajectory.
SWOT Analysis of BMW: Free PPT Template and In-Depth Insights 2023
Dive deep into the SWOT Analysis of BMW with our free PPT template and detailed insights for 2023. Explore BMW's strengths, like its revered brand reputation and cutting-edge technology, alongside its weaknesses, including a limited EV portfolio.