Strategy
SWOT Analysis of Hyundai: Free Templates and In-Depth Insights 2023
Discover the workings of Hyundai Motor Company with our comprehensive SWOT analysis for 2023. Download our free PowerPoint template and gain expert insights into this automotive giant's challenges and opportunities.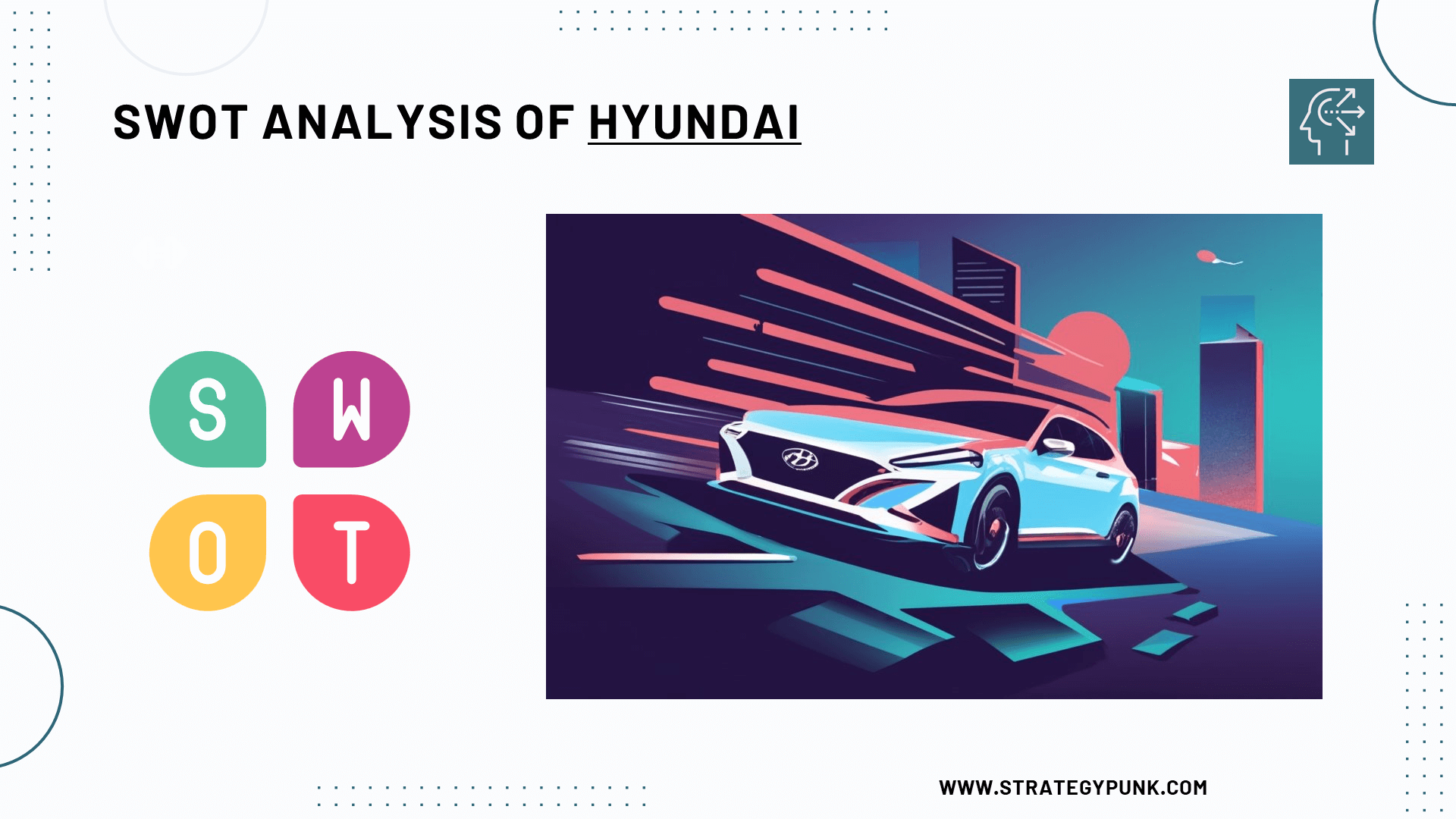 Introduction
Step into Hyundai's world with our captivating SWOT analysis for 2023. In this blog post, we navigate through the company's global journey, spotlighting its triumphs and pinpointing its challenges.
And there's more – get your hands on our free, downloadable PowerPoint template to visualize Hyundai's strategic landscape with clarity and precision.
Ready for an insightful ride into the core of Hyundai's market dynamics?
This post is your key to unlocking a wealth of professional insights. Buckle up for an enlightening experience.
Introduction to Hyundai Motor Company
Hyundai Motor Company is a South Korean multinational automotive manufacturer headquartered in Seoul.
Founded in 1967, Hyundai has become one of the world's largest automakers, selling over 4.5 million vehicles globally in 2020.
Hyundai operates assembly plants and R&D centers worldwide, including South Korea, the United States, China, India, Brazil and Europe.
The company sells passenger vehicles, electric vehicles, SUVs, and commercial vehicles under the Hyundai brand. It also owns a controlling interest in luxury automaker Genesis.
A Brief Look at the History of Hyundai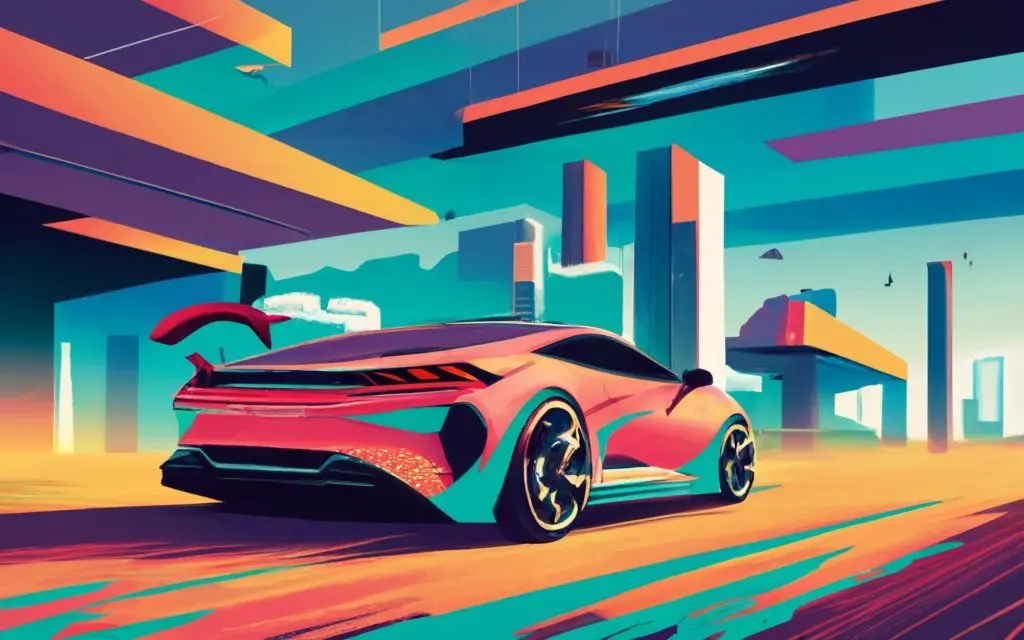 Hyundai was founded by Chung Ju-Yung in 1967 as a construction company in South Korea.
In 1968, Hyundai entered the automotive industry by establishing Hyundai Motor Company, which produced its first model, the Cortina, in cooperation with Ford Motor Company. Throughout the 1970s and 1980s, Hyundai expanded production in South Korea and began exporting models to Western Europe and North America.
Key milestones included:
1975 - Hyundai completes its first integrated car manufacturing plant, allowing mass production.
1986 - Hyundai exports the Excel to the United States, its first model sold in America.
1998 - Hyundai acquires Kia Motors, another major South Korean automaker.
2005 - Hyundai opens its first US manufacturing plant in Alabama, expanding American production.
2015 - The Genesis brand is launched as Hyundai's luxury vehicle division.
2020 - Hyundai plans to invest $35 billion in future mobility technologies, including electric, autonomous, and connected vehicles.
Today, Hyundai is among the top five automakers in the world and a leading Asian brand. The company continues to grow its market share globally while investing in next-generation vehicles.
Financials of Hyundai 2022
In 2022, Hyundai Motor Company reported:
Revenues: KRW 122 trillion (USD 92 billion)
Operating Profit: KRW 5.7 trillion (USD 4.3 billion)
Net Profit: KRW 6.3 trillion (USD 4.8 billion)
Vehicle Sales: 3.89 million units
Key highlights from Hyundai's 2022 financial results:
Strong sales recovery after COVID-19 impacted 2020-2021. Sales volumes increased 9% year-over-year.
Operating profit margin of 4.7%, down from prior years due to raw material cost increases and supply chain issues.
More than half of sales are from overseas markets, with 26% from North America.
SUVs accounted for over 50% of retail vehicle sales as customer preferences shifted.
Genesis luxury division sales are up 21% YoY, supporting higher margins.
Going forward, Hyundai aims to increase profitability through new SUV models, greater efficiency across operations, and further development of electric and autonomous technologies.
In-depth SWOT Analysis of Hyundai 2023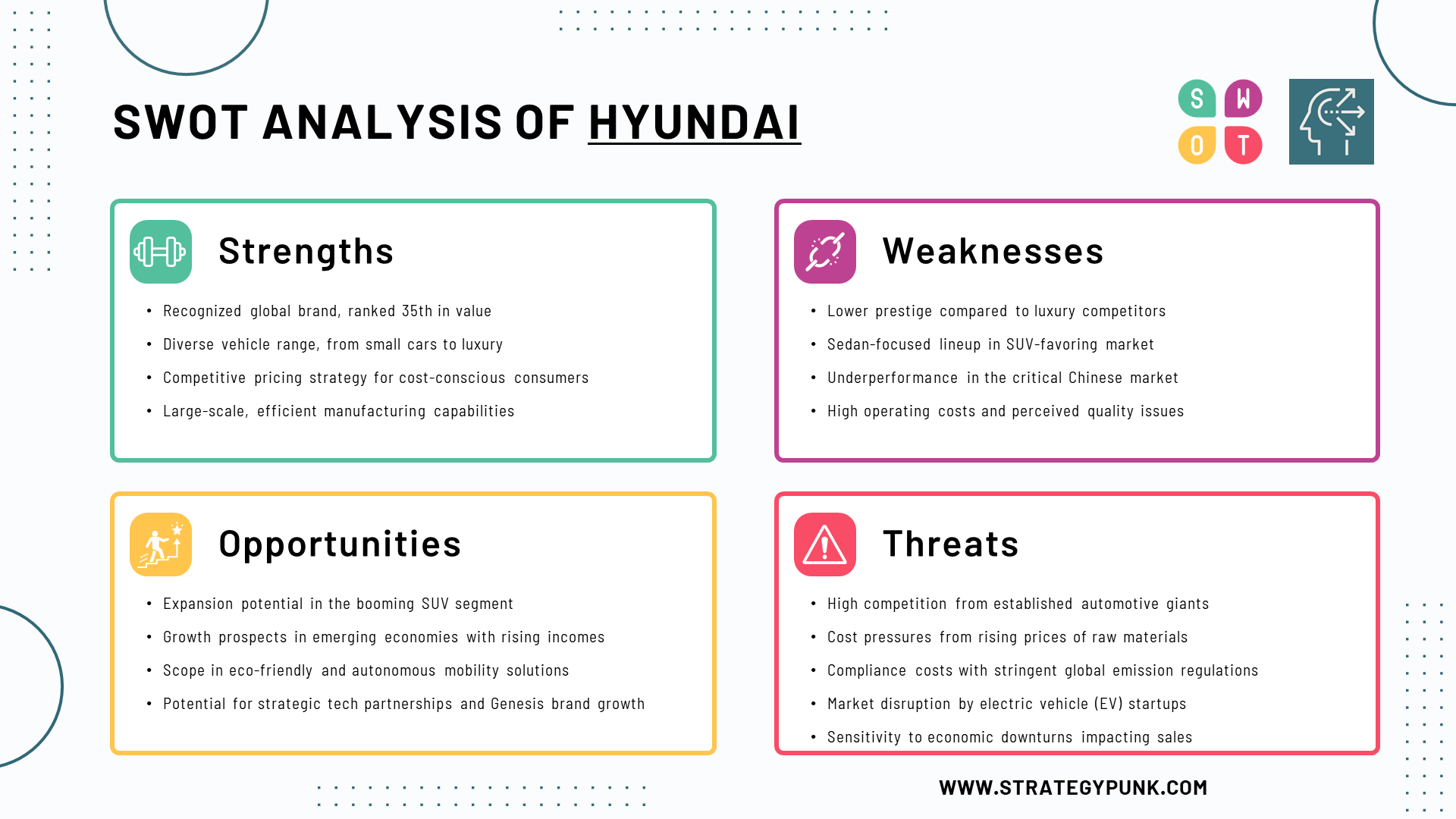 Hyundai's Strengths
Strong brand image: Hyundai has built considerable brand equity over the years as an affordable and reliable automaker. The company was ranked the 35th most valuable brand globally by Interbrand.
Broad product portfolio: Hyundai's lineup includes small cars, sedans, SUVs, eco-friendly models, and luxury vehicles under Genesis, appealing to diverse customer segments.
Competitive pricing: Hyundai vehicles are generally priced lower than rivals with similar features, making them accessible to value-conscious buyers.
Manufacturing expertise: Hyundai operates one of the most extensive integrated manufacturing facilities globally. The economies of scale enable cost competitiveness.
Technology investments: The company has invested heavily in connected, electric, and autonomous vehicle technologies to prepare for industry trends.
Hyundai's Weaknesses
Low brand prestige: Hyundai's brand does not have the same prestige as luxury marques like Mercedes and BMW, limiting pricing power and margins.
Overreliance on sedans: Sedans have declined as consumer preferences shifted to SUVs. Hyundai's sedan-heavy lineup has affected sales.
Weak position in the Chinese market: Hyundai has low brand visibility in China compared to leaders like Volkswagen. China is the world's largest auto market.
High operating costs: Large manufacturing overhead and rising raw material costs have recently impacted Hyundai's profitability.
Quality perceptions: Despite improvements, Hyundai still lags behind Japanese rivals like Toyota and Honda in quality and reliability perceptions.
Hyundai's Opportunities
Growing SUV demand: The popularity of SUVs globally presents an opportunity for Hyundai to expand its SUV lineup and improve its sales mix.
Rising middle class in emerging markets: Developing markets like Southeast Asia and Latin America offer growth potential as incomes rise.
Alternative mobility solutions: Hyundai can leverage expertise in eco-friendly and autonomous technologies to provide services like ride-sharing.
New partnerships: Cooperation with technology firms on connectivity, AI, and battery innovations can enhance capabilities.
Genesis luxury brand growth: Genesis has an opportunity to establish itself as an affordable luxury alternative to German brands.
Hyundai's Threats
Intensifying competition: The auto industry is fiercely competitive, with well-established rivals like Toyota, Volkswagen, and General Motors.
Rising raw material costs: Input cost inflation, such as from steel and microchips, threatens Hyundai's cost competitiveness.
Tighter emissions regulations: Stricter emission norms in key markets will require investments in new powertrain technologies.
Growth of electric vehicle startups: EV startups like Tesla and Rivian pose an emerging competitive threat, especially in high-end segments.
Economic cyclicality: Recessions and downturns that affect consumer spending can negatively impact Hyundai's vehicle sales.
Hyundai SWOT Analysis Summary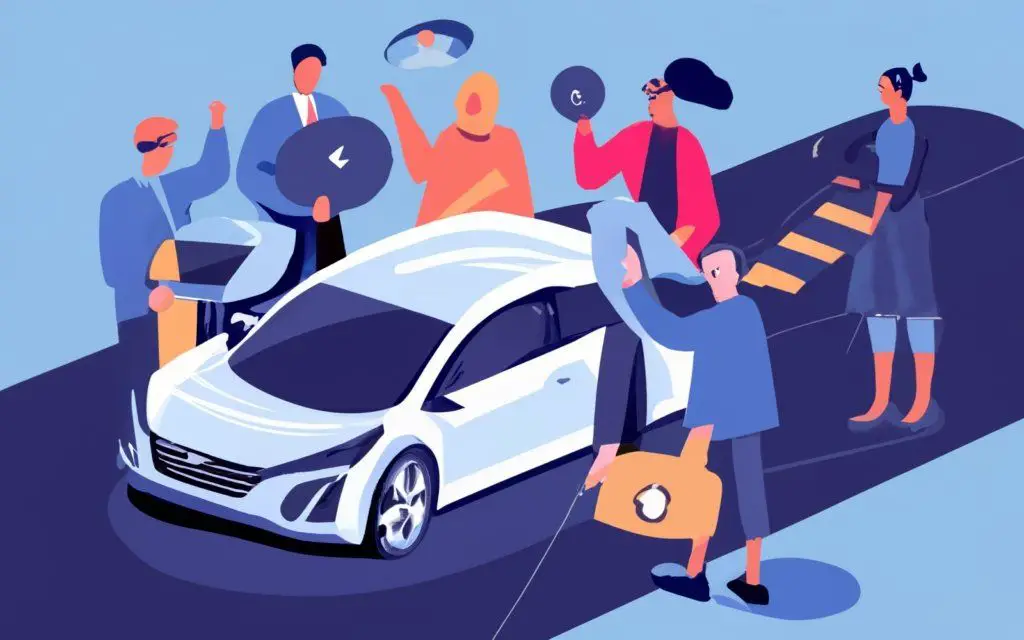 Hyundai has leveraged its manufacturing scale, product breadth, and technology investments to become a top global automaker. However, the company faces rising competition, raw material costs, and disruptive shifts in the auto industry landscape.
Going forward, Hyundai's focus on new SUV models, cost structure improvements, and leadership in future mobility will dictate its ability to gain market share over rivals. The company's performance in China and with the Genesis brand is closely monitored.
Overall, Hyundai is positioned reasonably well to navigate industry headwinds, but it will require continued innovation and adaptability to remain a leader.
Internal Factors
Strengths
Strong brand image globally
Broad vehicle lineup and portfolio
Competitive pricing provides value
Large-scale integrated manufacturing
Investments in future technologies
Weaknesses
Brand lacks prestige compared to luxury, which makes
Overreliance on sedans in the model mix
Weak position and sales in the Chinese market
High operating costs impact margins
Perceptions of lower quality versus Japanese brands
External Factors
Opportunities
Growing consumer demand for SUVs
Expanding middle class in developing markets
Alternative mobility solutions and partnerships
Continued growth of Genesis luxury division
Threats
Highly competitive auto industry dynamics
Rising costs of raw materials and components
Tighter emission regulations in key markets
Emergence of electric vehicle startups as new competitors
Economic cyclicality and recessions affecting sales
Frequently Asked Questions
What are Hyundai's biggest strengths?
Hyundai's major strengths include its strong brand image and recognition, broad vehicle lineup spanning multiple segments, competitive pricing and value proposition, large-scale integrated manufacturing, and investments in future technologies like electric and autonomous vehicles.
What are some weaknesses Hyundai needs to address?
Key weaknesses Hyundai faces are its brand lacking prestige compared to luxury automakers, overreliance on sedans in the model mix as SUV demand grows, weak position in the large China market, high operating costs impacting profit margins, and customer perceptions that quality lags behind leading Japanese brands.
What opportunities exist for Hyundai to grow in the future?
Major opportunities include capitalizing on booming consumer demand for SUVs, expanding sales in developing markets as incomes rise, offering alternative mobility solutions beyond traditional vehicle sales, forming new technology partnerships, and continuing to establish its Genesis brand as an affordable luxury alternative.
What are the biggest threats Hyundai must contend with?
Hyundai faces significant threats from intensifying competition across the auto industry, rising raw materials and components costs, tighter emissions regulations in key markets, growth of electric vehicle startups as new competitors, and economic cyclicality that could lead to recessions affecting vehicle sales.
How can Hyundai maintain its competitive position in the future?
To maintain its strong competitive position, Hyundai must launch new SUV models, improve cost structures, invest in future mobility technologies, grow sales in China, boost the Genesis brand, and leverage partnerships to enhance capabilities in areas like electrification and autonomous driving.
Define a One-Page Strategic Plan to communicate your strategy.
Hyundai SWOT Analysis PowerPoint Template
free and fully editable PPT template
A SWOT analysis evaluates the strengths, weaknesses, opportunities, and threats impacting a company.
This free editable PowerPoint template provides a SWOT analysis framework to evaluate Hyundai's internal strengths and weaknesses and external opportunities and threats. 
❤️
If my content and templates have saved you time or helped you get a project off the ground, I'd appreciate your support:

Hyundai SWOT Analysis PowerPoint Template
Hyundai SWOT Analysis PDF Template
Discover more
Clickworthy Resources
SWOT Analysis: Free PowerPoint Template
This PowerPoint slide deck contains five different layouts to complete a SWOT analysis.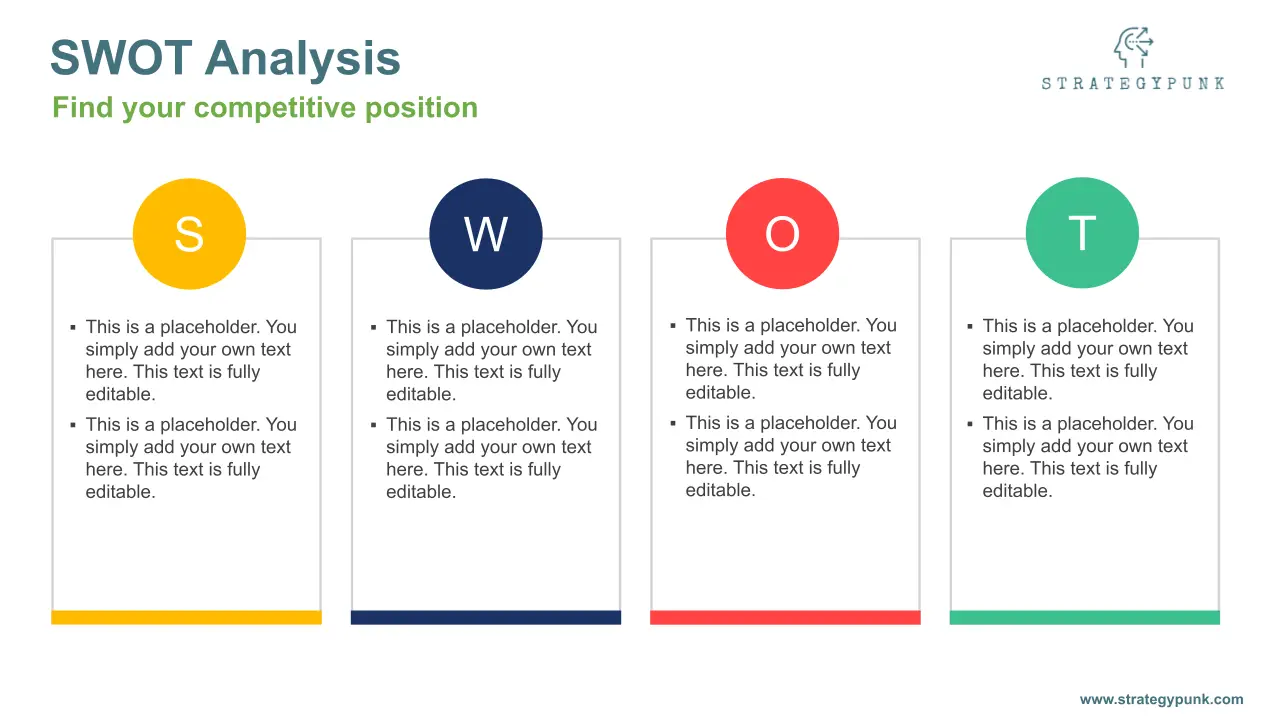 SWOT Analysis of Mercedes-Benz: Free Templates and In-Depth Insights 2023
In the ever-evolving landscape of the luxury automotive industry, Mercedes-Benz continues to be a beacon of excellence and innovation. Our latest SWOT Analysis for 2023, available as a free PowerPoint download, offers a meticulous examination of the brand's current standing and future trajectory.
SWOT Analysis of BMW: Free PPT Template and In-Depth Insights 2023
Dive deep into the SWOT Analysis of BMW with our free PPT template and detailed insights for 2023. Explore BMW's strengths, like its revered brand reputation and cutting-edge technology, alongside its weaknesses, including a limited EV portfolio.