Strategy
SWOT Analysis of Nissan: Free PPT Template and In-Depth Insights 2023
Explore our comprehensive SWOT Analysis of Nissan Motors for 2023. Discover insights into Nissan's strengths, weaknesses, opportunities, and threats. Download our free, customizable Nissan SWOT Analysis PowerPoint template for strategic planning and presentations.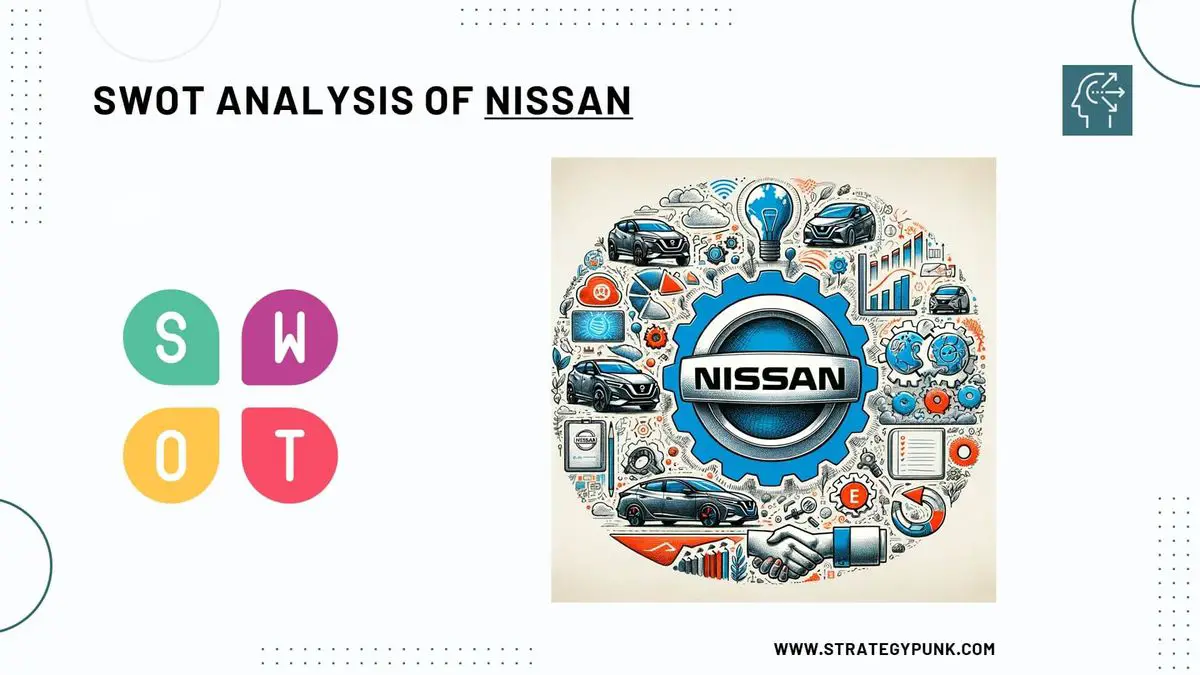 Introduction
Nissan Motors is a leading Japanese automaker with a global presence and a diverse range of vehicles, from affordable compacts to luxury sports cars.
Nissan has faced challenges recently, including declining profits, recalls, natural disasters, and increased competition.
This blog post uses a SWOT framework to examine Nissan's strengths, weaknesses, opportunities, and threats in 2023. It aims to provide strategic insights into Nissan's current position and outlook.
Download our free, editable Nissan SWOT analysis template in PowerPoint to evaluate Nissan's strengths, weaknesses, opportunities, and threats. Customize it easily for your presentations.
Introduction to Nissan Motor
Founded in 1933, Nissan Motor Co., Ltd. is headquartered in Yokohama, Japan, and sells vehicles under the Nissan, Infiniti, and Datsun brands.
Nissan has an alliance with French automaker Renault, which owns 43% of Nissan. As of 2022, Nissan employs over 130,000 people globally and has manufacturing facilities in Japan, USA, Mexico, UK, China, Thailand, Indonesia, India and other countries.
It sells over 4 million vehicles annually across over 190 countries. Nissan aims to provide customers with innovative and exciting vehicles and a fulfilling ownership experience worldwide. The company is focused on zero-emission vehicles and intelligent mobility technologies as part of its Nissan Ambition 2030 long-term vision.
Here is an updated section on Nissan's key financials in 2022.
Nissan's Financials in 2022
Nissan reported the following key financial results for the fiscal year 2022, ending March 31, 2023 12:
Consolidated net revenue: 10.6 trillion yen, up 2.2 trillion yen or 26% year-on-year
Operating profit: 377.1 billion yen, up 129.8 billion yen or 52%
Operating profit margin: 3.6%, up 0.7 percentage points
Net income: 221.9 billion yen, up 6.4 billion yen or 3%
Automotive operating profit: 211.5 billion yen
Positive free cash flow and operating profit in the automotive business
Automotive net cash: 1.2 trillion yen
The improved financial performance in 2022 was attributed to progress in strengthening Nissan's business foundation through its Nissan NEXT transformation plan. This included improving the quality of sales and net revenue per unit of significant new models in key markets.
Headwinds like production constraints, rising costs, and unfavorable foreign exchange impacted profitability.
Nissan aims to further improve profitability in fiscal year 2023 through enhanced product competitiveness and cost structure. It forecasts a 38% rise in operating profit compared to 2022 1. Execution of business transformation initiatives remains vital to Nissan's outlook.
In-depth SWOT Analysis of Nissan 2023
A SWOT analysis evaluates the internal strengths and weaknesses and external opportunities and threats impacting an organization.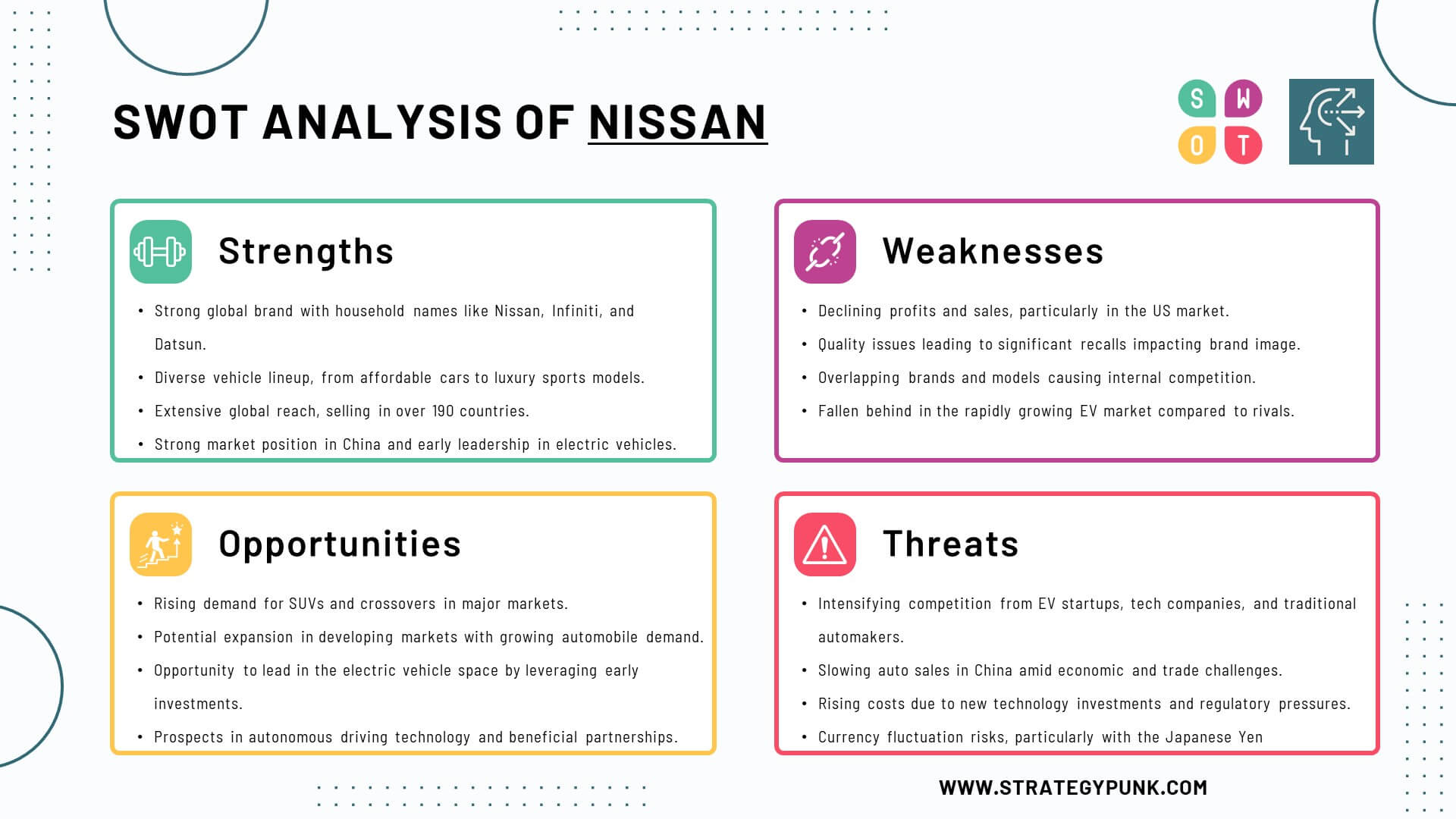 Here is a closer look at Nissan's SWOT in 2023:
Strengths
Strong brand recognition: Nissan is a well-known global auto brand with a reputation for reliability, innovation, and value across many vehicle segments5. Brands like Nissan, Infiniti, and Datsun are household names in significant markets.
Broad product portfolio: Nissan has a diverse vehicle lineup ranging from affordable small cars to luxury sports cars. Popular models include Altima, Maxima, Sentra, Leaf, GT-R, Pathfinder, Rogue, Murano, Armada, Frontier, and Titan. This variety caters to different consumer needs.
Global scale and reach: Nissan sells vehicles in over 190 countries, giving it extensive global scale and reach. Key markets include North America, China, Japan, Europe, and other Asian countries. The global scale provides cost advantages.
Strong position in China: Nissan has a mover advantage and remains a top foreign auto brand, with over 1.6 million vehicle sales in 2022. China is essential for future growth.
Investments in EVs: Nissan is an early leader in electric vehicles, launching the Nissan Leaf in 2010. It invests in EVs, autonomous driving, connected cars, and mobility services.
Weaknesses
Declining profits and sales: Nissan has seen falling revenues and profits since 2018 due to stagnant sales, especially in the US market. It faces intense competition across all vehicle segments.
Quality issues and recalls: In recent years, Nissan has had some significant recalls related to faulty airbags, braking systems, hood latches, etc. This has hurt the brand image.
Overlapping brands and models: Nissan's brand portfolio significantly overlaps, with models competing for the same customers. There is a lack of differentiation between Nissan, Infiniti, and Datsun brands.
Lagging in EVs: Nissan has fallen behind rivals in the fast-growing EV space despite early leadership. Competitors like Tesla, VW, GM, and Hyundai offer more EV options.
Weak position in Europe: Nissan has low brand awareness and sales compared to leading Asian and European automakers. It lacks competitive SUVs and EVs suited for this market.
Opportunities
Growing SUV and crossover demand: The rising popularity of SUVs and crossovers, especially in the US and China, allows Nissan to tap into fast-growing segments with its models like Rogue, Murano, Pathfinder, and Armada.
New markets: Nissan can expand in high-growth developing markets like Southeast Asia, Africa, and Latin America, where rising incomes fuel automobile demand.
EV leadership: By leveraging early EV investments and know-how, Nissan can establish leadership in the surging electric vehicle space and gain market share.
Autonomous driving: Nissan aims to launch commercially viable autonomous vehicles by 2022. This emerging technology provides growth opportunities.
Partnerships: Alliance with Renault and Mitsubishi provide cost savings, risk sharing, and technology exchange benefits. Further partnerships can enhance capabilities.
Threats
Intensifying competition: The auto industry is undergoing rapid transformation. Nissan faces growing competition from new EV startups, tech companies, and traditional automakers5.
Slowing sales in China: After rapid growth, auto sales are slowing in China due to a weakening economy and trade tensions. This hampers Nissan's prospects in its number two market.
Rising costs: Investments in new technologies, emission regulations, labor costs, and raw material prices are driving up costs, impacting profit margins industry-wide.
Japanese Yen appreciation: As a Japan-based company, a stronger Yen reduces Nissan's price competitiveness and profits on exports. Currency fluctuations are an ongoing challenge.
Macroeconomic factors: Auto sales are cyclical and decline during recessions. Economic slowdowns, rising inflation, higher interest rates, and financial crises in key markets can hurt sales.
Nissan SWOT Analysis Summary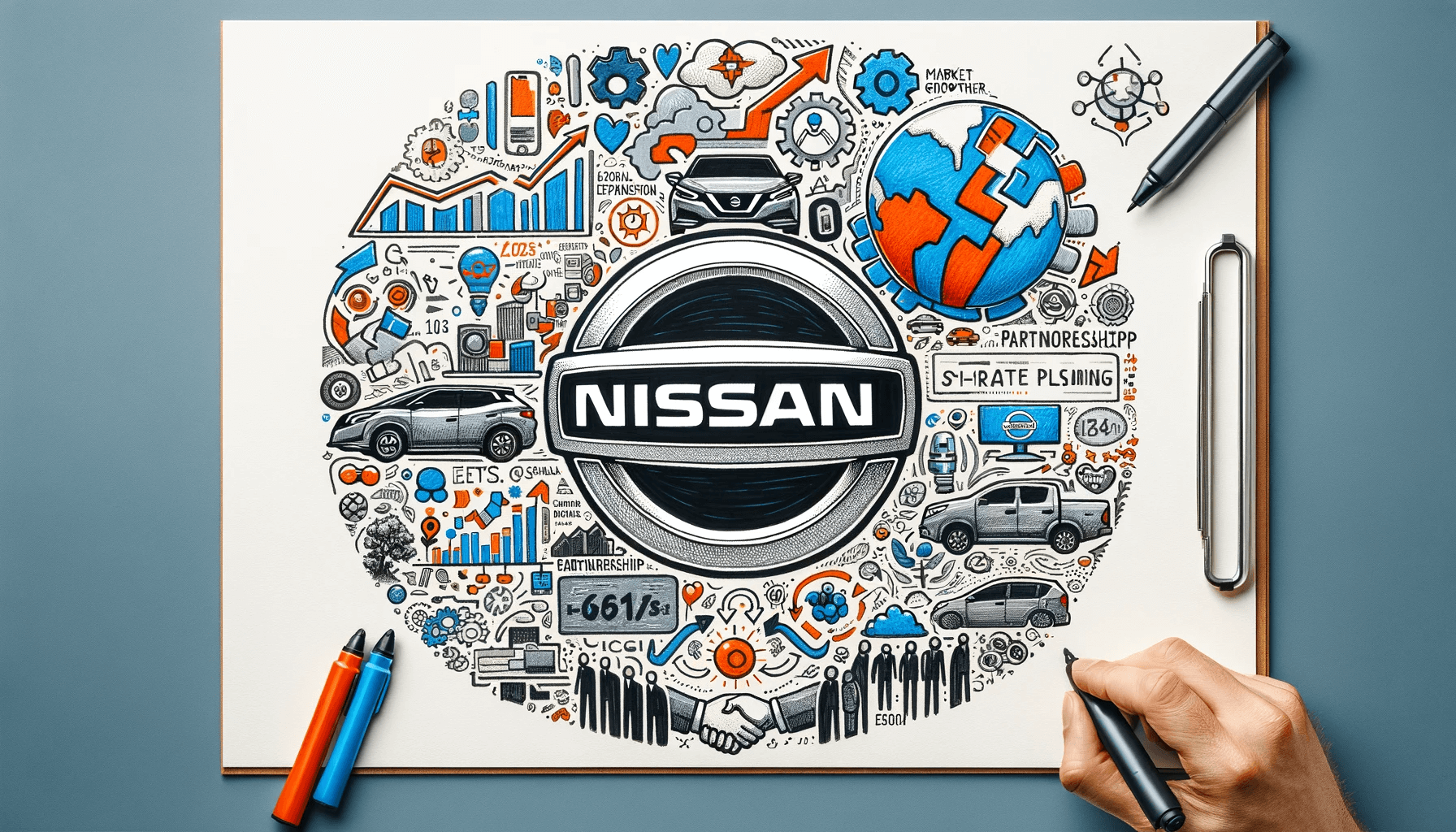 Here's a summarized version of Nissan's SWOT Analysis
| Strengths | Weaknesses |
| --- | --- |
| 1. Global Brand Recognition | 1. Dependence on Specific Markets |
| 2. Diverse Product Range | 2. Limited Presence in Emerging Markets |
| 3. Innovation in Technology | 3. Recall Issues |
| 4. Strong Production Capabilities | 4. High Operational Costs |
| Opportunities | Threats |
| --- | --- |
| 1. Growth in Electric Vehicles | 1. Intense Competition |
| 2. Expansion in Emerging Markets | 2. Economic Fluctuations |
| 3. Strategic Alliances | 3. Regulatory Changes |
| 4. Innovation in Autonomous Vehicles | 4. Exchange Rate Volatility |
This table provides a clear and concise overview of the elements in Nissan's SWOT analysis.
What are the main competitors of Nissan?
Nissan's main competitors include:
Toyota - One of the largest automakers globally and a dominant player in key markets like North America and Asia. Toyota competes with brands like Toyota, Lexus, and Scion across most vehicle segments.
Honda - A leading Japanese automaker competing with Nissan in segments like sedans, crossovers, SUVs, and trucks. Honda is strong in North America and Asia.
Ford - A traditional Detroit automaker and one of the top brands in the US market. Ford offers trucks, SUVs, crossovers, and cars competing with Nissan.
General Motors (Chevrolet, Buick, GMC, Cadillac) - Another Detroit giant competing in mainstream and luxury segments. GM has a significant global presence.
Volkswagen - The top European automaker and global leader in segments like compacts, SUVs, and luxury vehicles under brands like VW, Audi, and Porsche.
Hyundai-Kia - Fast-growing Korean automaker with a reputation for value and strong contenders in segments like compacts, SUVs, and EVs.
Renault-Nissan-Mitsubishi Alliance - Nissan's alliance partners Renault and Mitsubishi are also competitors in some segments and markets.
Other competitors include Fiat Chrysler, BMW, Mercedes-Benz, Mazda, Subaru, Suzuki, Tata Motors, and emerging EV startups. Nissan faces competition from mass market and luxury brands across geographies.
Frequently Asked Questions
What are Nissan's most significant strengths?
Nissan's significant strengths are its substantial brand equity, global scale and reach, broad vehicle lineup, and early leadership in electric vehicles. It also has a solid presence in growth markets like China and an alliance with Renault and Mitsubishi, providing synergies.
What are the main challenges facing Nissan?
Key challenges include falling profits and sales, recalls hurting brand image, overlapping brands and models, lagging in EVs, intense competition from traditional and new automakers, slowing sales in China, rising costs, and unfavorable currency fluctuations.
What opportunities can Nissan leverage?
Nissan should leverage the growing demand for SUVs/crossovers, expand in developing markets, establish leadership in EVs, commercialize autonomous driving, and pursue new partnerships. It can build on its early EV knowledge.
How can Nissan improve its competitiveness?
Nissan needs to revamp its brand image through quality and innovation. It must control costs, differentiate and streamline its lineup, expand EV options, customize products for local markets, and leverage synergies from its strategic partnerships.
What is the outlook for Nissan in the near future?
The outlook for Nissan is challenging, but it has the potential to recover with new leadership, competitive vehicles, and cost-cutting. Its fate depends on successfully executing business transformation initiatives and strategic roadmaps. Alliances and global scale provide advantages.
What were the main drivers of Nissan's financial performance in 2022?
The main drivers of Nissan's financial performance in 2022 are:
Progress in implementing the Nissan NEXT business transformation plan - This strengthened Nissan's business foundation by improving the quality of sales, enhancing product pricing, optimizing costs, and exercising financial discipline. The program helped drive improved profitability.
Favorable foreign exchange effects - The weaker yen compared to Nissan's expectations significantly positively impacted financial results.
Strong performance of new models - New model introductions in key markets were well received and contributed to higher net revenue per unit sold.
Cost control and fixed cost reductions - Nissan maintained strict control over costs and reduced fixed costs, which supported profitability.
Recovery in markets like North America - Improved sales in regions like North America compared to last year helped drive better financial performance.
What are the latest technological advancements in Nissan's electric vehicles?
New X-in-1 Approach for Electrified Powertrains37 Nissan has developed a modular design approach called "X-in-1" to share and standardize components between EV and e-POWER powertrains. This includes a 3-in-1 prototype combining a motor, inverter, and reducer for EVs and a 5-in-1 prototype adding a generator and increaser for e-POWER hybrids. The approach aims to reduce costs and improve production efficiency.
Next-Generation Lithium-Ion Batteries5. Nissan is working on next-gen lithium-ion batteries expected in the next few years. Goals include reducing costs, increasing energy density to extend range, and enabling faster charging. This will incrementally improve EV battery performance before solid-state introduction.
Piloting All-Solid-State Batteries4. Nissan plans to start pilot production of all-solid-state batteries by 2025 and introduce them in an EV by 2028. The ASSBs aim to increase energy density further, enable faster charging, reduce size/weight, and improve safety compared to liquid electrolyte lithium-ion batteries.
Wireless Charging Development. Nissan is developing wireless charging technology to provide more convenient charging. This allows EV charging by simply parking over a charging pad without plugging in.
New Driver Assistance and Self-Driving Tech. Nissan's ProPILOT driver assistance system is advancing with new capabilities for intersection handling, lane changes, and self-parking. The company is also researching fully autonomous driving technologies.
Concept Cars Previewing Future Styling/Tech. Nissan has revealed several EV concept cars, like the Surf-Out pickup and Max-Out sports car, providing a glimpse of future products with advanced styling and technology.
Nissan SWOT Analysis PowerPoint Template
free and fully editable PPT template
A SWOT analysis evaluates the strengths, weaknesses, opportunities, and threats impacting a company.
This free editable PowerPoint template provides a SWOT analysis framework to evaluate Nissan's internal strengths and weaknesses and external opportunities and threats. 
Download this free, editable SWOT analysis template in PowerPoint to evaluate Nissan's strengths, weaknesses, opportunities, and threats. Customize it easily for your presentations.
❤️
If my content and templates have saved you time or helped you get a project off the ground, I'd appreciate your support:

Nissan SWOT Analysis PowerPoint Template
Nissan SWOT Analysis PDF Template
Discover more
Clickworthy Resources
SWOT Analysis: Free PowerPoint Template
This PowerPoint slide deck contains five different layouts to complete a SWOT analysis.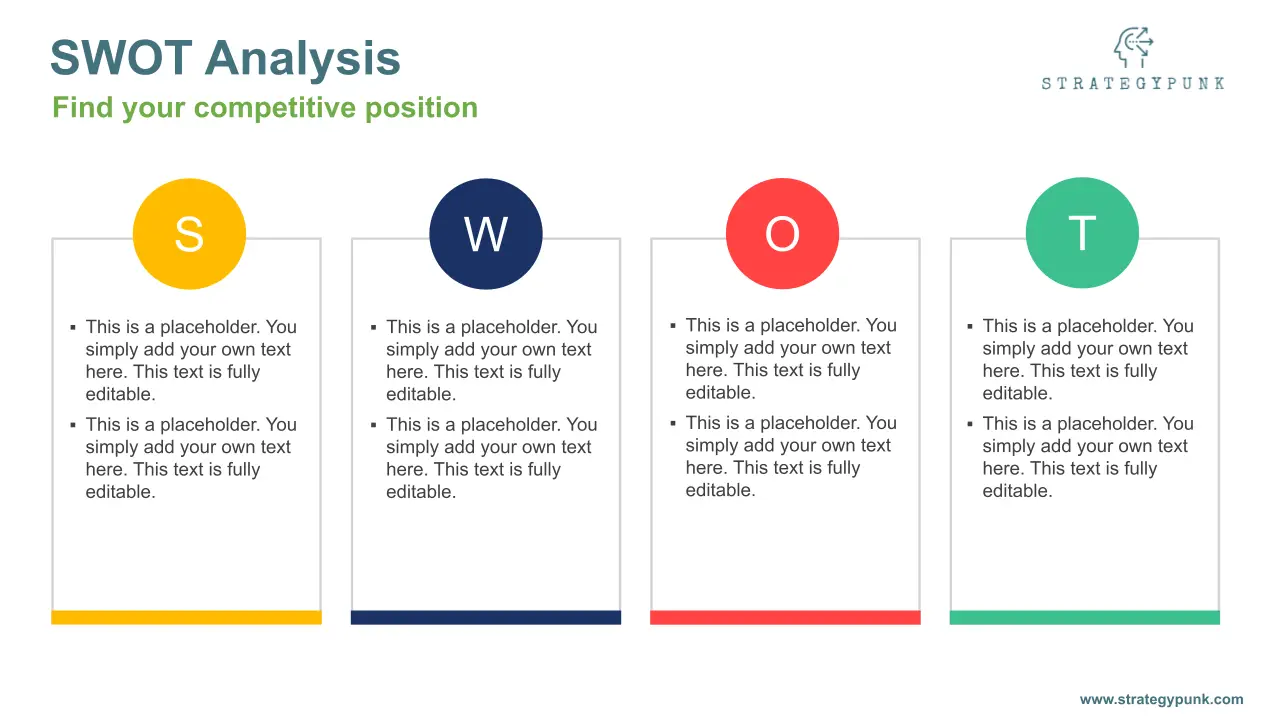 SWOT Analysis of Ford Motor: Free PPT Template and In-Depth Insights 2023
Embark on a journey through Ford Motor Company's 2023 SWOT analysis. This post unpacks Ford's heritage, market dynamics, and financials, culminating in a free, insightful PPT/PDF SWOT template.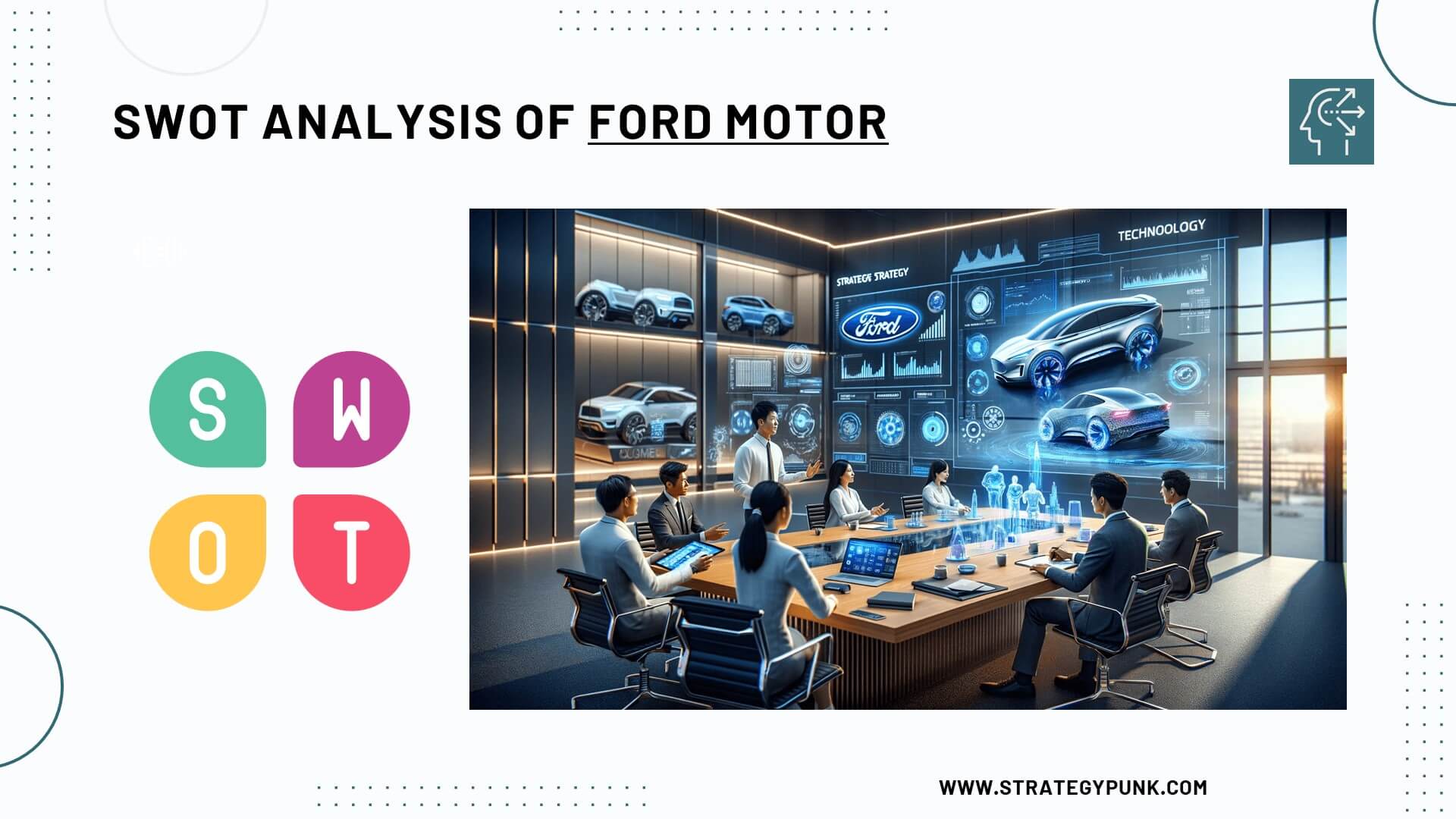 SWOT Analysis of Tesla: Free Templates and In-Depth Insights 2023
Delve into an in-depth SWOT analysis of Tesla, exploring the electric giant's strengths, weaknesses, opportunities, and threats. Uncover the driving forces behind Tesla's success.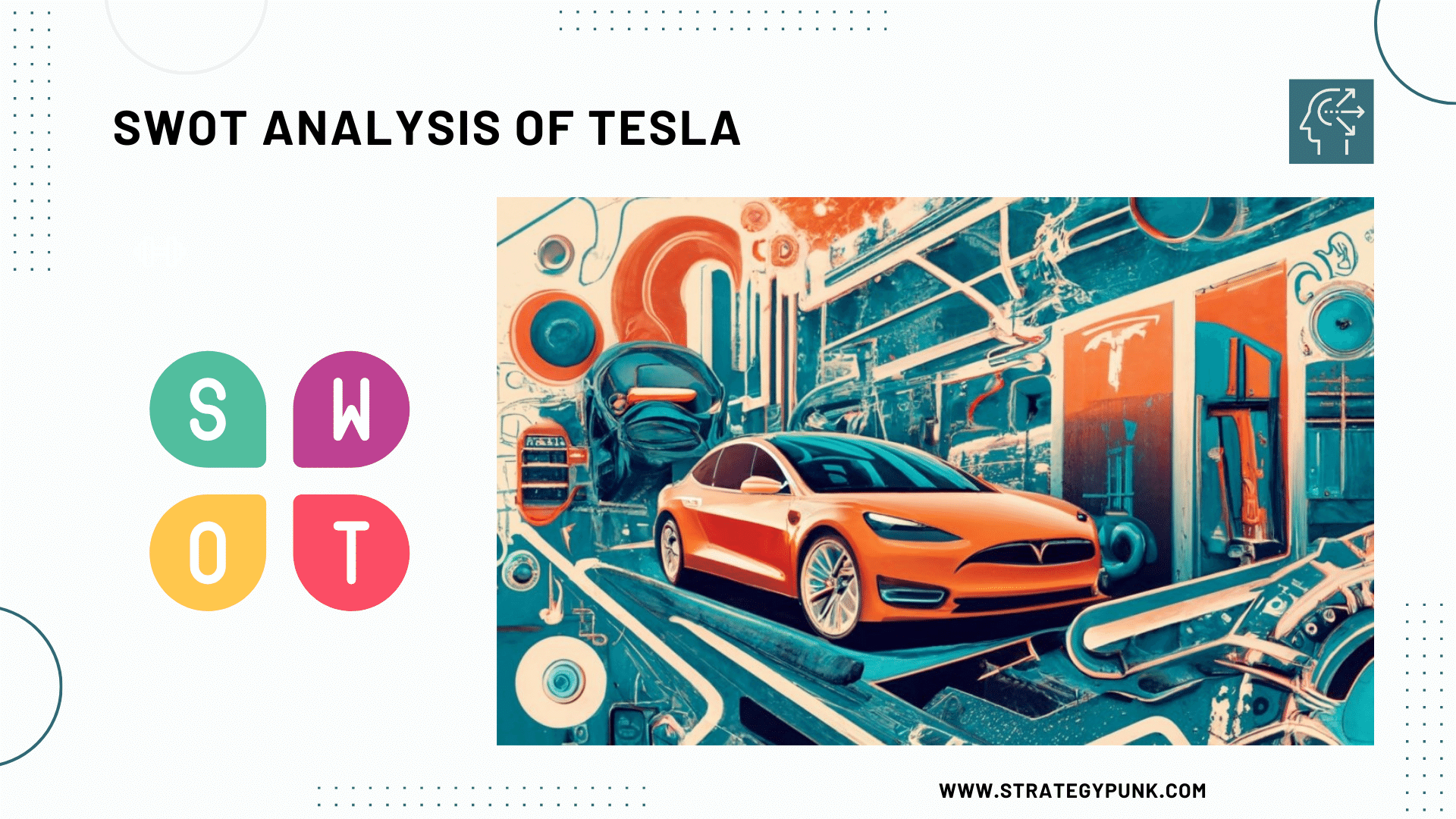 How does SWOT analysis contribute to strategy formation?
Explore how SWOT analysis shapes strategy formation. Learn to leverage strengths and opportunities while addressing weaknesses and threats with our free SWOT PPT Template.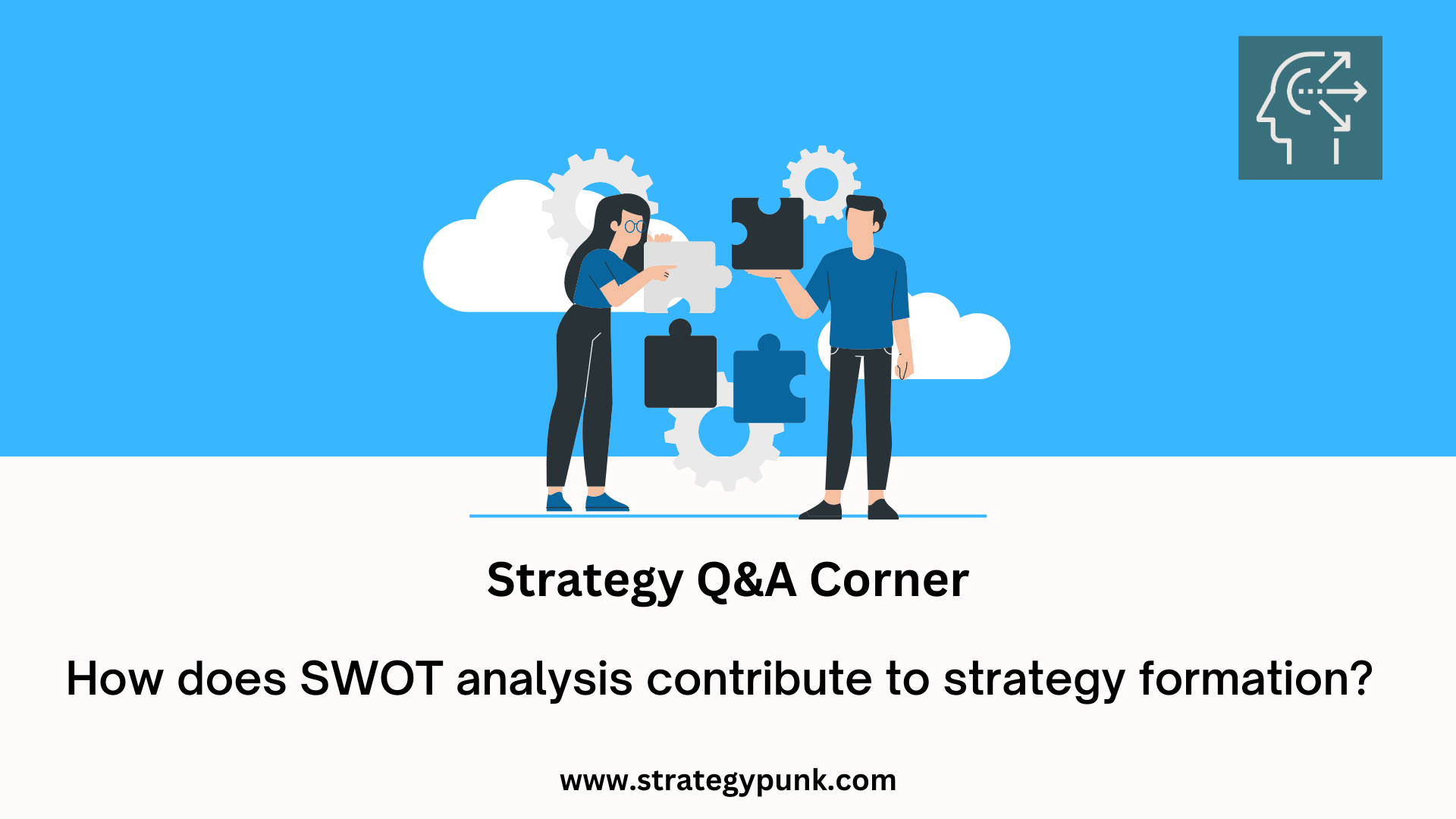 SWOT Analysis of Honda Motor: Free PPT Template and In-Depth Insights 2023
Download Honda Motor SWOT Analysis PPT Template for Free - Dive into Honda's market strategy with our in-depth SWOT Analysis. Explore opportunities and navigate threats in the auto industry.